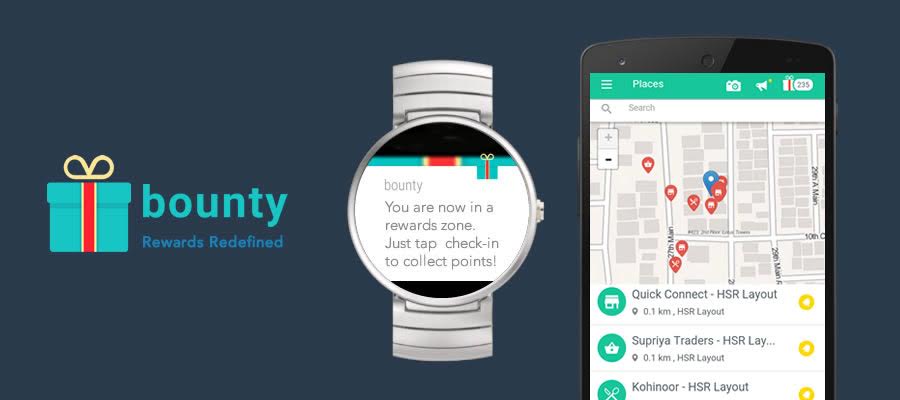 15th October 2015, Bangalore : The Bangalore based nanolocal commerce app, 'bounty' has announced that it has raised an undisclosed seed round of investment from Fireside Ventures, Mumbai Angels and MAPE Advisory Group.  The round also saw active participation from Basab Pradhan, former Global Head of Sales and Marketing at Infosys, and real estate group scion Apurva Salarpuria of Salarpuria Group.
Bounty is a platform for customers to earn rewards seamlessly and for retail businesses to drive footfall, track customer behavior within the store and incentivize purchases. Once customers download the app, bounty automatically checks in the user whenever they visit a bounty recognized business location. Users earn rewards for checking in, while retail businesses can promote their offers through personalized and targeted campaigns.
The app currently available in Google Playstore has more than 100K+ downloads and a high repeat user rate. bounty claims that as India's fastest growing rewards app, it is also the first to launch a smartwatch check-in in India. Bounty's app downloads grew more than 14 times in the last 6 months and check-ins by users grew by more than 25 times – all without any advertising or marketing. The app so far has driven more than 1 Mn check-ins and rewarded users with more than 20 million bounty points.
Satish Medapati, Founder & CEO says "Nanolocal commerce is about information that is predictive, realtime and contextual – providing you what you need at the right location, just in time. Brands need to personalize offers, services and experiences to suit a consumer starting with courting the customer, getting to know them better and tailoring contextual communication to drives sales or service. Bounty provides the perfect platform for brands to reach out to consumers in a cost effective and meaningful way.
Representing Mumbai Angels, Bharat Devanathan, former COO of Groupon APAC said – "Today, websites are able to identify a customer along various dimensions (new vs returning, customer demographics, customer lifetime value, customer purchase intent) the moment he/she visits the site. However, retail businesses do not know who has entered their store until the customer actually makes a purchase. Imagine if retail businesses have the same ability as websites – to identify customers at entry. That's the power of bounty for retail businesses. The benefits of this to the customer and the businesses are many fold…ranging from loyalty programs, rewards and personalized offers to customers"
On bounty's technology, Basab Pradhan said "Indoor positioning is 'the holy grail' for personalization for many location based apps as well as for social and ad network apps to better market to customers or to provide just-in-time information or to transact. Every business that wants to connect with shoppers is either already looking at Indoor Positioning or will be soon"
Indoor positioning as a technology has seen massive interest from Apple, Google , Qualcomm, Nokia, Samsung , Microsoft etc as well a host of valley based startups.
Jacob Mathew, MD of MAPE Advisory Group said "Rewards programs across the world have always had issues due to lack of flexibility and relevance. bounty solved the problem of hassle-free rewards for consumers through its patent-pending technology and I see a great potential for bounty"
Commenting on the investment, Kanwaljit Singh, Founder of Fireside Ventures, Co-Founder & former Senior Managing Director of Helion Venture Partners said  "Omni-channel consumer experience is beginning to take shape globally and the team at bounty is continuously working towards making consumer life easier through data sciences and technology, the smartwatch check-in being one. The global market potential is very high and bounty's traction has been great."
Kanwaljit Singh  represents the investors' on 'bounty' board and also sits on the boards of Yepme, Lifecell, Mast Kalandar, Qwikcilver and several others.
The 7-month-old startup will use the funds for expanding to other cities, adding new retail categories and enhancing the product and technology stacks.
Bounty is a hassle-free app that rewards users automatically with bounty points when they walk into business locations– restaurants, pubs, retail stores, saloon, spa, shopping places etc.  Every time a user walks into any of these business locations, the app's 'intelligent assist'  feature automatically recognizes the location and alerts the user to collect reward points. These reward points can be redeemed against a host of offline and online gift cards in the app. Interestingly, this patent-pending technology works without GPS and even without data being enabled.
Comments
comments