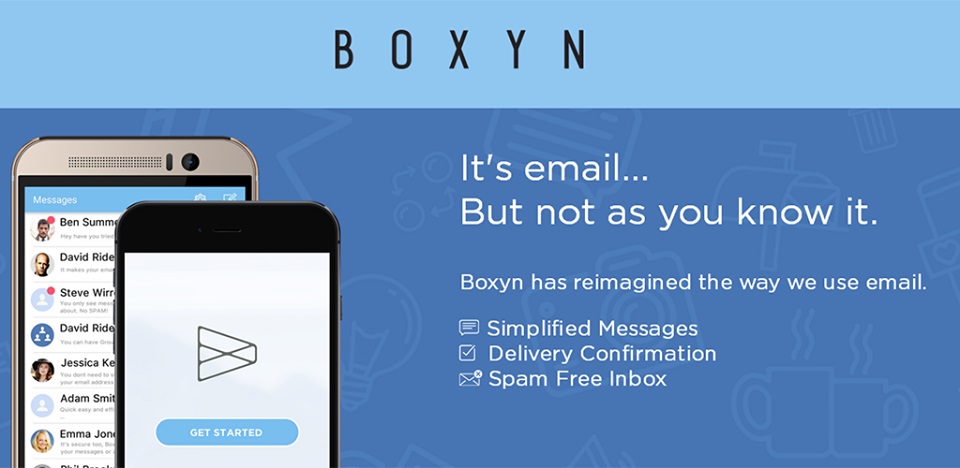 Are you tired of spam and other unwanted stuff cluttering your inbox? Ever wish that you didn't have to filter through the junk? Introducing Boxyn, the messaging app with a difference. Boxyn; Only the emails you want to see, from only the people that matter to you.
Boxyn is aimed at users that would like to communicate by email with a simpler and cleaner interface that's more like an IM experience, you can even use Boxyn as a primary IM client that allows you to communicate with other contacts directly to their email address. This is true IM to email capability, which no one else is delivering.
What sets Boxyn Apart?
Boxyn plays in the massive, but fragmented messaging industry. For simple IM like interfaces there are some who have similar functions, but none connect to as many email services on both iOS and Android.
A key differentiation is that Boxyn works with virtually any email server. Although aimed at email users, its also a clear IM competitive product. Boxyn has an infrastructure like no other IM app. Boxyn purely leverages existing mail infrastructure to deliver the experience. The Boxyn inbox only shows you messages from people in your address book (you can white/black list others easily if required), this means you do not get any spam at all.
The features that set Boxyn apart are:
Simplified messaging
No Spam
Deliver Confirmation
Picture Sharing
Artificial Intelligence Engine to 'clean' messages of unwanted content
Multi recipient emails are displayed as group conversations
Multiple email account support
Enhanced message and folder management
Automatically archive read messages
Boxyn offers Enterprise white label solutions to allow you to deliver branded IM or email functionality to your employees mobile devices, without any additional overheads.
Utilise current email infrastructure to deploy messaging services.
No Additional platforms to learn, pay for or manage.
No Cloud Security risks. Keep your IM messages in house and archived using your  existing email solution.
Lock down messaging by domain or AD group.
Creates interface between IM mobile client and desktop email.
Deploy customized Boxyn versions using existing device management solutions.
Feature development services for tight integration with other services, e.g. auto archive, compliance manager.
The Journey
Boxyn was launched in March 2016, originally as a paid application but user growth was less than initially planned. Here is a look at their journey.
To get more traction and to expand user base, the app was changed to a free app. Multi account support was added and the business model was changed to freemium – a business model, whereby basic services are provided free of charge while more advanced features must be paid for. The app supports one free account, and to add more, in app purchases are required.
Dave Ryder believes that the Indian market has great potential, currently with around 200 million email users and growing rapidly, Boxyn might be a really good fit for users.
The Team
Dave Ryder
is the founder of Boxyn. After 15 glorious years in sales and business development, donning multiple roles across a wide range of industry, Dave hit upon the idea of Boxyn.
Ben Cwilewicz, Boxyn's Technical Director is an experienced IT professional with extensive leadership and technical skills. He revels in a technically hands on role, and as a Software Engineer and Lead Systems administrator, he is involved in active development on many diverse platforms.
The Future
When asked about future plans, this is what Dave Ryder, the founder, had to say – "Our expertise lies in engineering mail application protocols. We have already engineered a large number of tools that leverage commands to move, archive, delete, monitor, confirm delivery and many many more. We will add some of these in up coming releases."
Currently, the app support an option to archive on reply, this means that messages are moved from the mail server inbox when replied to, but stays in the Boxyn conversation list. Multi recipient emails have been engineered to become group conversations.
Artificial intelligence has been added to strip out unwanted content (headers, footers, email signatures) when Boxyn receives messages from other email clients.
The founder is in discussions with some large enterprises to deliver white label messaging solutions and is at present, not actively looking for additional funding.
The next release will include a 'Boxyn to Boxyn' only option. This keeps the message conversation in the application, whilst removing from inbox/folder/sent items. It is a true over the top wrapper round email. There is some consideration for a desktop client that interacts the same, but also integrates with third party document storage.
Related Read: How Messengers Have Transformed Into Your Personal Assistant Chatbot !