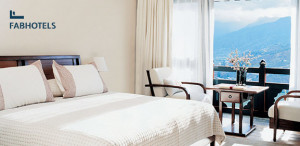 June 28, 2016: A tech-enabled hospitality start-up, FabHotels  formed by former Rocket Internet executives, has raised $8 million (approx Rs.54 crore) in a series A round of funding from Accel Partners and RB Investments, co-founder Vaibhav Aggarwal said. He also added that Mohandas Pai's Aarin Capital and Qualcomm Ventures also participated in the funding round.
Incepted by Vaibhav Aggarwal and Adarsh Manpuria in 2014, Fabhotels is the online aggregator for hotel rooms. It aims to provide standardized services at economical budgets.
The start-up raised a seed round of $2.25 million in July 2015 from Accel Partners and Qualcomm Ventures. In a market dominated by SoftBank Corp.-backed OYO Rooms, the company has so far raised $125 million in three rounds of funding. In August 2015, OYO Rooms raised $100 million in a funding round led by SoftBank. OYO's other backers include Sequoia Capital, Lightspeed Venture Partners and Greenoaks Capital.
"What we are building is a pure tech-driven franchise model for budget hotels. Our model is not about taking partial inventory in a hotel and branding that as FabHotels," said Aggarwal.
FabHotels enters into are proper franchisee pacts where the start-up gets involved in the operations of the hotel and also gets the exclusive distribution rights for the entire inventory, he said.
According to Aggarwal, FabHotels' franchisee model gives it better control over two critical parameters—customer satisfaction and RevPAR (revenue per available room) than what OYO's partial inventory model does.
"Each of these corresponds to two stakeholders—the customer and the hotel operator. To be able to build a successful business, you need to build both these legs. You need to have a highly consistent experience for the consumer and you have to have a very high RevPAR in the industry," said Aggarwal.
It is difficult to deliver on the promise of customer satisfaction in the absence of effective control over the operations of a property, Aggarwal added.
"Even on the RevPAR side, you do not command much respect of the hotelier because you are essentially selling rooms at a discount. The guy who was selling rooms at 1,500 per night, his expectation was that when a brand comes in, his selling rates will go up; but with discounting, that is not happening," he said, adding that one cannot build a brand in the hotel industry by discounting.
Aggarwal said the value addition FabHotels brings to budget hotels is in the form of increased occupancy and more optimized RevPAR, through superior online and offline demand generation.
"Today, our portfolio-level occupancy is 83%. So, within 3-4 months of coming in, we are able to increase occupa-ncy from 50% to 85-90%," he said.
"Homeinns, the largest player in China, has around 300,000 rooms under management, while China Lodging has about 270,000 rooms under management," said Aggarwal.
The market opportunity in the budget hotel segment in India, too, is huge, said Aggarwal.
"On the conservative side, a million rooms are available in supply," he said.
"In the US, the share of brands in the total hotel segment is about 70% and online penetration is about 55-56%. In China, this number is about 25-30%, and online penetration around 30-35%. However, in India, online penetration is roughly around 12% and share of brands is less than 10%," said Aggarwal.
Online penetration is expected to grow to about 35-40% in the next three years, he added.
The start-up is currently seeing a revenue run-rate of $1 million a month, said Aggarwal. FabHotels charges hotel owners a franchisee fee of around 20% of the monthly revenue. The average daily rate of FabHotels' rooms tends to be around Rs.1,800-2,000 per night.
Also Read: OYO Rooms Sets Up A One-Stop Shop, OYO Bazar For Hotels To Procure Daily Essentials
OYO Partners With Itzcash To Build Strong Omni-Channel Presence