So far, Bentley and Aston Martin were the luxury automakers who had stepped in luxury residential living. Now, the latest luxury automaker to apply their aesthetic to residential living is Bugatti. The decision came into light when the automaker released images of what the planned Bugatti Residences in Dubai will look like, via a partnership with Emirati property developer Binghatti. So far from the known information, the venture— at least in part — draws inspiration from the French Riviera.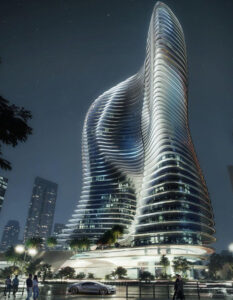 From what is known, the Bugatti Residences will constitute of 182 different living spaces, with 171 of them to be made as "Riviera Mansions" and 11 of them categorized as "Sky Mansion Penthouses," as per the luxe automaker's announcement.
What's the most astonishing part of the announcement is a mention of "a Riviera-inspired beach," which implies that the curved facade of the building won't be the only pinnacle of engineering on display here. The official announcement also mentioned various familiar luxury amenities, including a pool, spa and fitness center. The project will also include two elevators capable of taking a resident's car directly to their penthouse.
Based on the information available to us, the Bugatti Residences will stand 42 stories tall. Some important information about the project is yet to be announced, which also includes when the residences will go on the market and when the tower is to open. All of these questions will be answered in due time.