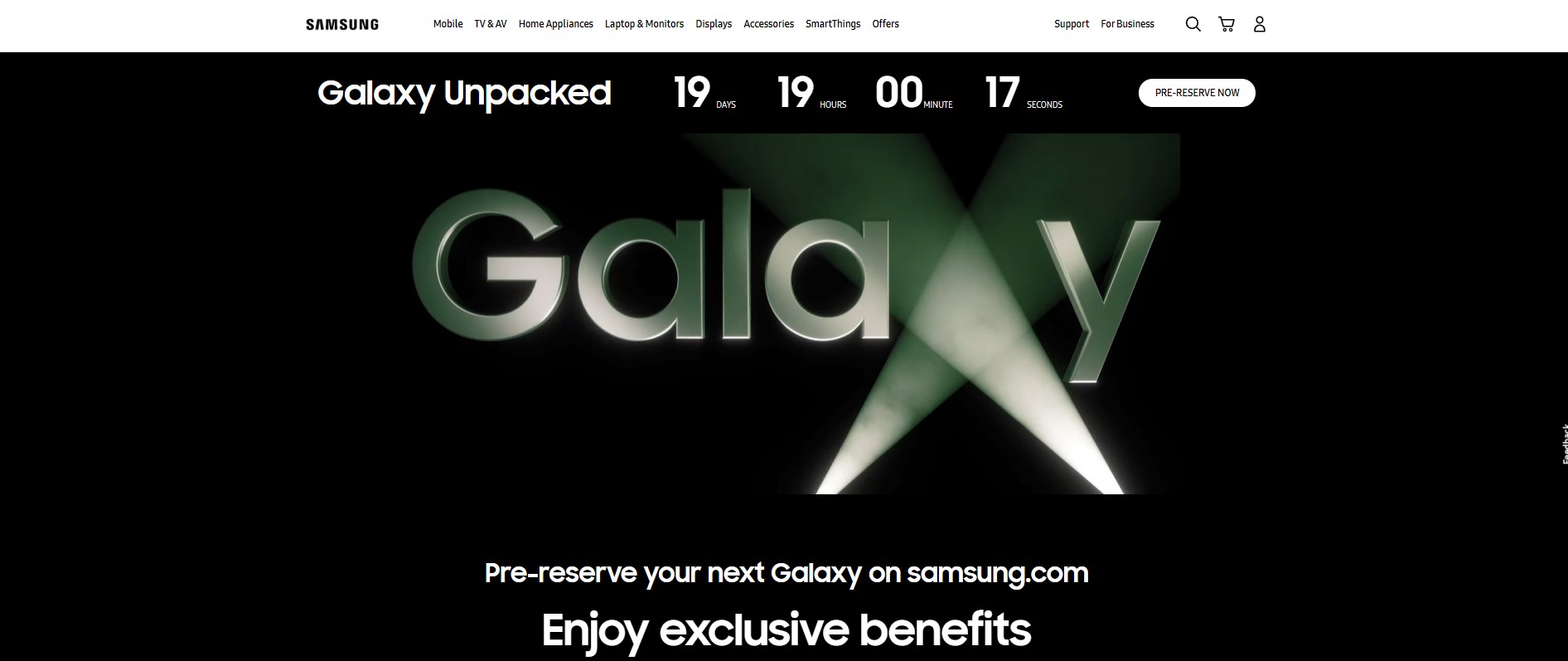 The Galaxy S23 series has been the subject of several speculations, rumors, leaks, and hypotheses regarding what the forthcoming flagship from Samsung would have. Finally, we have some good news for aficionados who have been waiting impatiently to update their phones to the latest Samsung flagships.
Now, there aren't many leaks, but we do have official news that the Korean conglomerate has begun taking pre-orders for their next Samsung Galaxy S23 series. What's more, guess what? The debut date, like all of the leaks and theories we reported, has been verified on the same expected day, February 1st.
Samsung Galaxy S23 Pre-Booking Started but there is a CATCH!
There is, however, a catch! If you were eager to get your hands on this smartphone shortly after it was released, you can now pre-order it, but you will do so without knowing the exact price.
But hey, Samsung will of course be giving you some extra offers to those who pre-booked their smartphones. So, if you have decided to get the smartphone no matter what, then this might be a win-win situation for you.
So, what does all of this mean? As previously stated, Samsung has begun pre-ordering, but there have been no leaks or clues that might confirm the smartphone's debut cost. It, if you decide to book ahead of time, you do so at your own risk. That was all for the disclaimer. Don't worry, as a faithful reader, we will provide you with at least an estimate of the cost for these future beasts.
How to Pre-book the Samsung Galaxy S23 smartphone?
If you are wondering about how you can pre-book the Samsung Galaxy S23 series smartphone before launch, then all you need to do is go to the official Samsung website where you will find a dedicated page for the Samsung Galaxy S23 series and then you just need to fill-in all the details from your address to your name and everything.
Also, as you complete with pre-booking, you will be required to pay a pre-book deposit which will be around Rs. 1,999. To make it easier for you, we will be adding the link to pre-book the Samsung Galaxy S23 series in India down below, so you can directly pre-book the smartphone.
Samsung Galaxy S23 Series Pre-Book in India

, 

click here

.
As we mentioned, Samsung will be proving exclusive offers to those who pre-book their smartphone before launch, so let's have a look at what are the offers you will be getting if you happen to pre-book the Galaxy S23 series right now.
Pre-booking offers for Samsung Galaxy S23 Series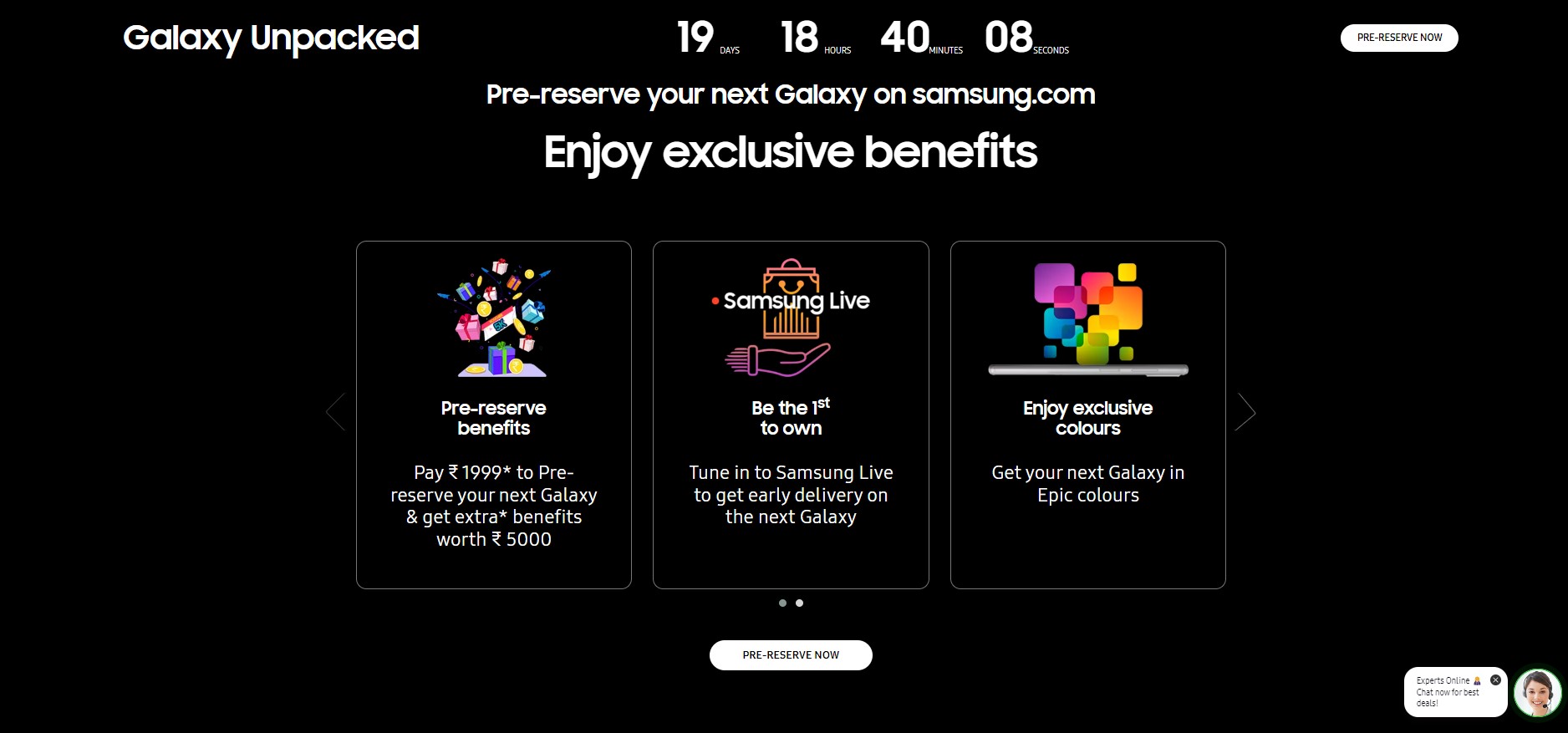 Samsung cares about the people who have taken a risk by paying the pre-booking price for their products; as a thank you for having faith in their brand, the Korean conglomerate has come up with exceptional deals for these pre-booking ticket holders.
The first and biggest promotion provided by Samsung was that pre-booked consumers who purchase the new Galaxy S23 smartphone would receive a special e-voucher worth Rs. 5,000. Furthermore, Samsung will ensure that pre-booked consumers are among the first to receive their new smartphones before everyone else.
In addition to all of this, Samsung will provide a special Welcome Voucher worth Rs. 2,000 and 2% loyalty points within the Samsung app store.
If you want to upgrade from an older smartphone to the Galaxy S23, Samsung claims to provide you with the greatest exchange value in the industry.
Samsung Galaxy S23 Pre-Booking FAQs
How to reserve S23 Ultra?
You can go to the official Samsung website, and after paying a pre-booking amount which is around Rs. 1,999. You will be eligible to buy any of the Samsung Galaxy S23 series smartphones. So, this also includes S23 Ultra.
How do I redeem the Samsung pre-book offer?
All you need to do is go to the official Samsung website (link mentioned below) and you can directly pre-book the smartphone by paying Rs. 1,999. And after the smartphone is launched and you make an order for the new smartphone, then you will be able to redeem the offers promised by Samsung.
https://www.samsung.com/in/unpacked/
Comments
comments