Shares of BuzzFeed Inc (BZFD.O) rose significantly on Thursday due to reports of a deal with Meta Platforms Inc (META.O) and plans to use artificial intelligence (AI) to enhance the company's online quizzes and content.
The stock jumped 19% in extended trading, following a report by the Wall Street Journal that said BuzzFeed would use OpenAI's publicly available API to personalize and enhance its content.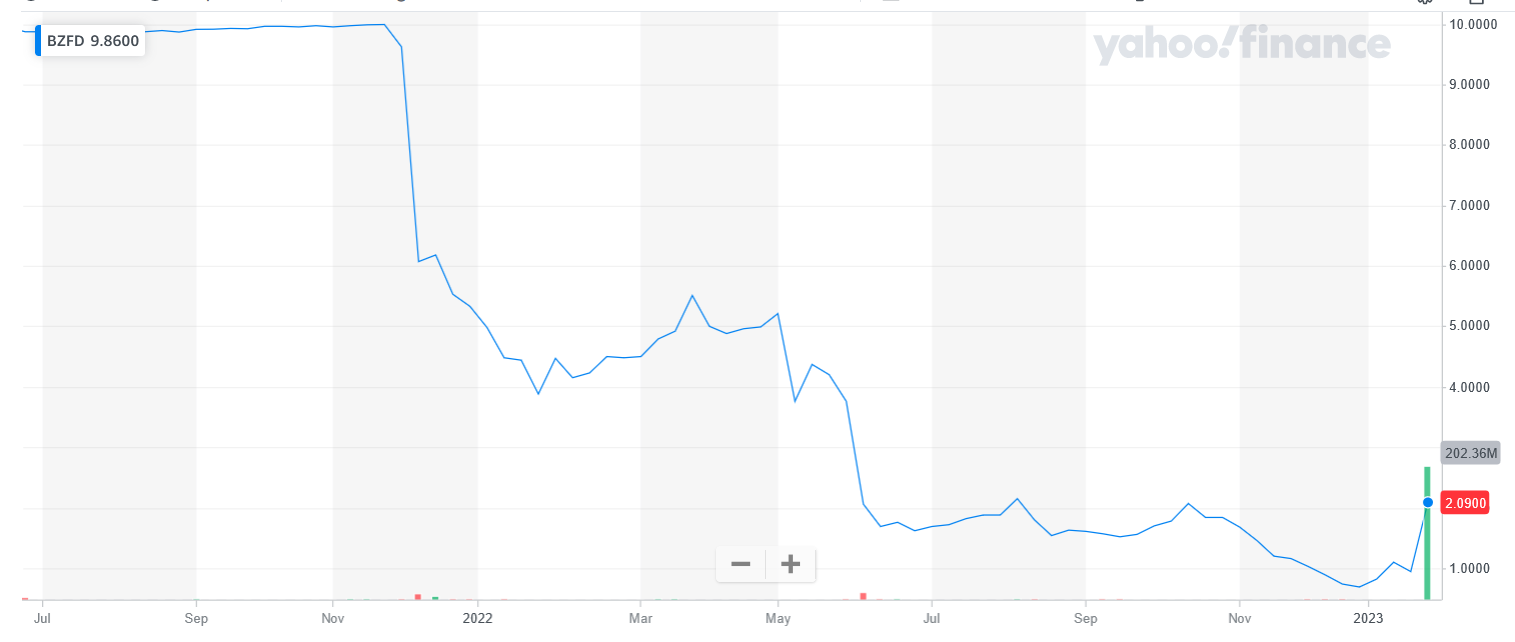 The stock also saw a 50% increase earlier in the day following a separate report by the Journal that said Meta was paying BuzzFeed millions of dollars to bring more creators to Facebook and Instagram.
In a memo to employees, BuzzFeed CEO Jonah Peretti stated that in 2023, AI-inspired content would move from an R&D stage to being a core part of the business, enhancing the quiz experience, informing brainstorming, and personalizing content for the audience.
However, shares of the company have decreased more than 90% since going public in December 2021 through a reverse merger with a special purpose acquisition company (SPAC). BuzzFeed also announced last month that it would cut about 12% of its workforce to cut costs.
Digital landscape growth of BuzzFeed
The partnership between BuzzFeed and Meta Platforms highlights the growing trend of media companies using AI to personalize and enhance their content. By using OpenAI's publicly available API, BuzzFeed can leverage the power of AI to create more engaging and personalized quizzes and content for its audience.
This can potentially lead to increased user engagement and revenue for the company. Furthermore, the deal with Meta Platforms also demonstrates how media companies are looking to expand their reach and bring in more creators to social media platforms like Facebook and Instagram.
With the increasing importance of social media in today's digital landscape, it makes sense for companies like BuzzFeed to invest in this area.
However, despite the potential benefits of these deals, the stock performance of BuzzFeed has been uncertain.
The company also announced job cuts to rein in costs. This highlights the challenges that media companies face in the current digital landscape and the need for them to find new and innovative ways to stay competitive.
Overall, while the partnership between BuzzFeed and Meta Platforms and the use of AI to enhance content may bring potential benefits, it is important for the company to also address the financial challenges it is facing. By finding a balance between innovation and cost-effectiveness, BuzzFeed can potentially secure a sustainable future for itself in the digital media industry.