The used car market in India witnesses the sale of around 3 million cars annually. But most of this market is unorganized which limits the choices available for the consumers. CarTrade.com is a platform designed to solve this issue by organizing the market through the use of technology.
The used car market is currently witnessing more and more consumers using online platforms to buy and sell cars. Nearly 80% of the users of this online space belong to the age group of 18-34 years. Most of the consumers have a budget preference of under Rs 5 lakhs. The number of used car listings on the site and its large consumer base makes CarTrade.com leader in this space.
Know About CarTrade.com
"Coming from an automobile background, I had a clear understanding of the highly unorganized used car market and the difficulties faced by the consumers in purchasing a car of their choice" says Vinay Sanghi, founder of CarTrade.com.
CarTrade.com was founded by Vinay with the vision of simplifying the process of car purchase and sell and making it more transparent. Vinay Sanghi, Founder & CEO, CarTrade.com has been the driving force behind CarTrade.com since its inception in 2009. With almost two decades of experience in the auto industry, Vinay is a leading figure in the industry. He has a demonstrated track record of excellence in the industry and has been responsible for conceptualizing and executing numerous successful business ventures. Coming from a family background of renowned automobile dealers gives him a well-rounded perspective of the market.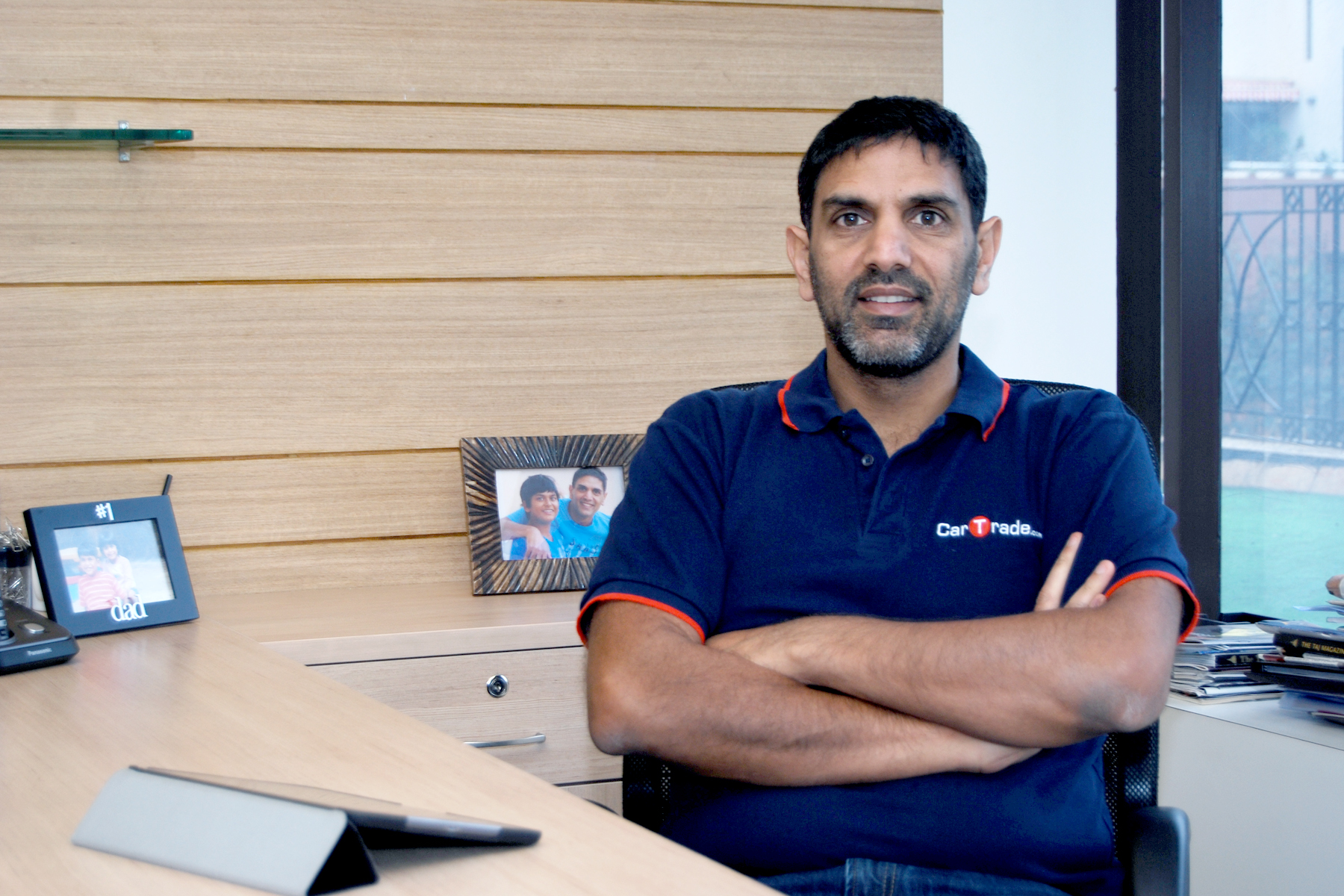 Vinay designed CarTrade.com to be a structured platform that enables buyers and sellers to meet and transact in new and used cars more efficiently. Vinay is determined to ensure that CarTrade.com changes the way people buy and sell cars in India.
Rajan Mehra is a Founder-Director in the company. He is the Managing Director at Nirvana Venture Advisors and former country head of eBay India. Shareholders include Warburg Pincus, JP Morgan and Epiphany Overseas Ventures.
CarTrade.com is one of India's largest marketplaces that help consumers to buy or sell a car with ease. The website has unique offerings for consumers in both the new cars and used cars segment which helps it differentiate from its competitors.
In the used car segment, it has over 1.6 lakh used car listings on website out of which many cars are certified by its experts and become eligible for free 100 days warranty.  The unique offerings in the used car space includes a large inventory (1,60,000+ used cars), used car price information (CarTrade Right Price Buying Index), Certification for cars (condition report) that comes with free 100 days warranty, and free road side assistance. For consumers looking to sell their used car, we provide Instant offers from the dealers. These tools enable the consumers to make an informed choice.
For New Car Buyers, CarTrade.com offers the most up to date information, reviews (user & expert), specifications, research tools and On-Road prices from dealers. In the new car segment, features like 'Book a test drive', 'Check on-road price', and the offers from the manufacturers are some of its unique offerings. Over 5 million unique consumers visit the platform every month to use the services and tools that CarTrade.com offers.
CarTrade.com was started in 2009 as a platform that enables car buyers and sellers to transact efficiently and transparently. Over 3 million used cars are sold annually in this highly fragmented market. CarTrade.com is looking to aggregate this market which will provide convenience and transparency to consumers. CarTrade.com functions as a one stop destination to buy and sell cars.
The Days Ahead
"Over the last five years we have grown significantly and I expect the same trend to continue in the future as well. This entire journey has been exciting and it has been a great learning curve" says Vinay.
However there are challenges ahead as well. The biggest challenge CarTrade.com faces is in changing the traditional mind-sets of car dealers on using technology and online mediums to benefit them. The company is trying to overcome this by delivering high quality enquires through its technology enabled tools. This ultimately helps them realize that the adoption of technology is crucial for success over the long term. On the consumers' side, the challenge is adding elements of trust in product which will help them choose the right car for themselves with confidence. CarTrade.com has addressed this by adding tools and reports like Price Guides, Certification reports, free warranty, etc, which also helps in reducing the burden of the buying process.
Currently, the company has 1300+ employees and operates in 50 cities. The company's head office is in Mumbai with operations across India. Its branches function in Delhi NCR, Bangalore, Ahmedabad, Pune, Chennai, Kochi, Hyderabad, Kolkata, Nagpur, Indore, Coimbatore, Jaipur, Hubli, Ludhiana, Guwahati andPatna,with new cities being added every month.
The company is looking to expand to 25 more cities within a year which will increase its inventory. It also is looking to provide consumers with more innovative tools that will enable them to make informed decisions on buying and selling cars.
"The most recent trend is the propensity of the consumers to use mobile as the preferred platform as it contributes to over 55% of our traffic. With the further penetration of internet, we expect our customer base to expand over 5-6 times over the next five years along with the used car market expected to double over the same time frame".
Links:
Download the Apps: Android
More links:
Read about JustRide: Advancing The Future of Car Rentals with Smart Vehicle Technology!
Read about CarWale launches CarWale Guarantee