The Unchartered Territories!
A city's transportation system is vital to its productivity. With rapid urbanization across the country, the demand for faster and cheaper means of transport has witnessed a tremendous rise. While investment has flown in from both government and private enterprises to upgrade the existing public transportation infrastructure, little has been done to meet the demand of personal transport.
Moreover, a car in the Indian society is often seen as a status symbol and a prized possession as for most 'it is a luxury more than a utility'. Price sensitivity of consumers in India has prevented motorization of our cities till now.
However, over the years, rising population has forced innumerable cities across the country to expand at a rapid rate. People today cover considerable distances in order to get to their place of work. In the absence of a robust public transportation system, the need for personal commute has never been greater. Automobiles today are a necessity and not a luxury as they had been a decade back.
JustRide is Solution to All Your Needs!
Launched by alums of IIT Bombay and NIT Allahabad, JustRide is a next generation technology aggregator in the car rental industry with the prime products being Micro and Macro leasing of vehicles.
Through its web and mobile based service network, the company links and facilitates transactions between vendors and consumers. Unlike existing market players, JustRide is not the proprietor of the vehicles it rents. The company leases vehicles from individual vendors by providing them a minimum guarantee value. JustRide's economic model complements the existing ecosystem, guaranteeing fixed return to all stake holders.
The company is currently conducting a massive test of its in-house Smart Vehicle Technology (SVT) in the cities of Mumbai, Bangalore, Pune and Gurgaon. The technology, a worldwide first, is predicted to soon challenge the monopoly of Taxi aggregators as self-driven cars on hire have always been a cheaper alternative to taxis.
Founding Partners
Hemant Sah: previously application developer at Oracle ,Service Now
Vasant Verma: previously in the Fixed Income Division at Nomura
Abhishek Mahajan: previously consultant at Price Water Coopers
Amit Sahu: previously R&D engineer at Honda, Japan
Ashwarya Pratap Singh: previously in the investment banking division at Nomura
Investors
Alok Mittal: Co-founder of Angel India Network, Ex- Managing Director & Advisor to Canaan Partners
Zeeshan Hayat– CEO and Co-founder of Topper.com
Niraj Singh– Founding partner of Outbox Ventures
Nikunj Jain Co-founder of Frankly.me
Anirudh A Damani – Partner of Artha Energy Projects
Punit K Goyal: Co-founder and Managing Director at PLG Clean Energy Projects
Rohit Chokani– Company Director, Lakshchandi Realty
Palaash Venture
The Smart Vehicle Technology!
JustRide's focus lies in redefining the way cars are made, purchased and rented. The company has constructed a Smart Vehicle Technology (SVT) which is crucial for the implementation of a hyperlocal service model. SVT taps into a vehicle's electronic system and provides a real-time access to the location and performance parameters of the vehicle, ranging from tire pressure to the current load on the engine to the G-force experienced on each of the individual suspensions.
How is JustRide Different?
Multiple car rental services have mushroomed to cater to the demand of personal commute in the recent years. Zoomcar and Bookcab are few enterorises working along the same line. Traditional 'rent-a-car' companies are service based enterprises which procure their own vehicles and charge a hefty security deposit when renting them out. Though refundable, the deposits take weeks and at times months to process which in turn hinders scalability of services. Moreover, heavy investments must be made in order to procure the vehicles.
From a customer's perspective renting a car in India is quite cumbersome as the rented vehicle must be collected from the company's retail outlet. This is where JustRide stands apart from the rest.
As a technology oriented aggregator enterprise, JustRide's focus lies in connecting existing vendors in the car rental industry to the end-user through a hyperlocal service network and not merely renting cars. Customers can reserve their vehicles through the company's website or on their smart phones and order their vehicles to be delivered right at their doorstep.
With the implementation of SVT, the company gets real-time data on the location and performance parameters of the vehicles which is then utilized for efficient fleet management with minimal manpower through a central server. The implementation of SVT negates the requirement of high security deposits as the vehicles are under 24×7 surveillance and can be stalled from a remote location if needed.
The Journey So Far!
Since commencement of testing of its SVT and hyper local service system in Mumbai and Bangalore on April 2nd this year, JustRide has gained 700 customers and generated over 1200 transactions. The company has so far expanded its operations to 4 cities with Gurgaon and Pune being the latest addition to the list.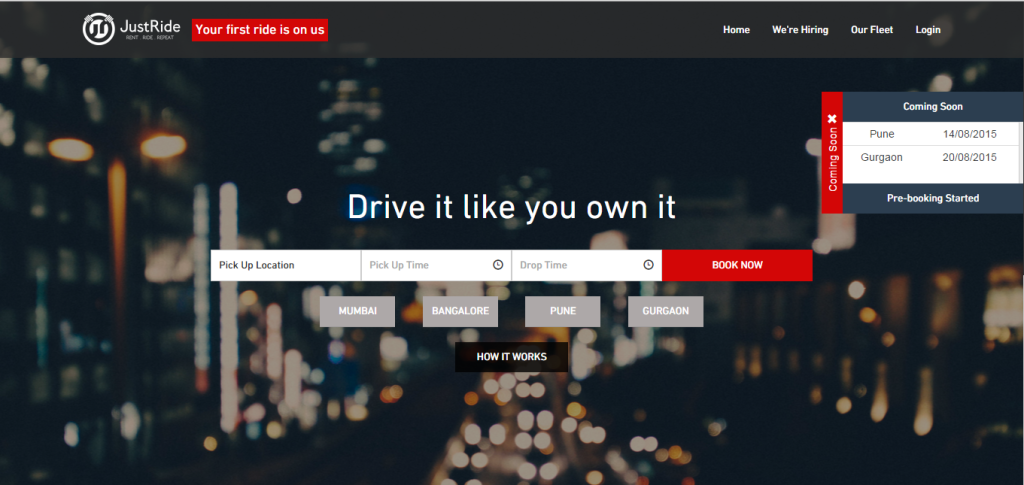 The company's quick rise in popularity shows the extensive gap which exists in demand and supply for personal commute. The facility of home drops and pick-ups has struck a chord with customers with roughly 30% of the total customers demanding the vehicle to be delivered to their home or place of work.
Adding Value!
JustRide's operational model is based on the concept of shared economy where resources are shared by individuals. It has been observed that an average car owner does not drive his vehicle for more than a couple of hours in a day. Most vehicles remain idle for over 90% of their life cycle. As the years pass by, maintenance costs keep piling up making the vehicle uneconomical to retain. In such a scenario it makes perfect sense to rent a car for daily commute.
With a double-digit CAGR of 12.5% motorization rate in India is one of the highest in the world. Rising population of motor vehicles comes with its own set of problems. Traffic congestion and unavailability of parking being the major concerns. Car rentals offer an innovative solution to this predicament as a single car is used by multiple customers. This has an immediate impact on the number of cars on the road, thereby reducing the pressure on existing road infrastructure across cities in India.
Customer Safety!
Apart from timely service, customer safety is a top priority at JustRide. All vehicles in the fleet comply with the stringent Federal Motor Vehicle Safety Standards (FMVSS) of America. The entire fleet of vehicles has been equipped with essential features such as Dual Air Bags and Anti-Lock Braking System to ensure passenger safety at all times.
The Road Ahead! 
As the demand for car rental services in India rises, JustRide plans to switch to a marketplace model where individual vendors could register their fleet of cars on the company's website. The vehicles shall be upgraded with the company's SVT service and rented out to individual customers for a minor service charge. The company is refining its hyperlocal service model to deliver vehicles in less than 10 minutes from their time of booking.
Also, expansion plans to major cities across the country are in pipeline and the company expects to add another 8 cities, bringing the total to 12 cities, by the end of this year. With such a huge demand for automobiles in the Indian market, JustRide expects to turn into a profitable venture within the next 18 months.
JustRide has ambitious plans for its SVT system. The highly versatile system can be easily implemented in alternative modes of transport over water and air and the company is currently analysing future prospects for the same.