The much-anticipated Ernie Bot chatbot from China's Baidu was introduced on Thursday, but shareholders have been let down by its use of pre-recorded clips and the absence of an open debut, which drove its stocks to collapse.
The demonstration, which lasted just over an hour and arrived two days after Alphabet Inc.'s Google announced a flurry of AI tools for its e-mail, collaboration, and cloud applications provided the public with a sneak peek of what might prove to be China's greatest competition towards the ChatGPT system created by the American research facility OpenAI.
But still in comparison to ChatGPT, which was made accessible to everyone as a freeware chatbot last November, Baidu's demonstration comprised only a few small clips of Ernie conducting arithmetic operations, conversing in Chinese dialects, and creating a clip and a picture in answer to textual prompts.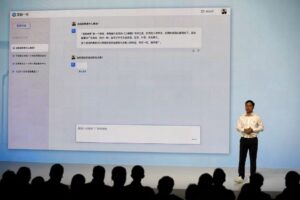 Just a select group of individuals with invitation codes will be permitted to utilize it beginning on Thursday, and firms can apply to implement the chatbot into their services using Baidu's cloud infrastructure.
While CEO Robin Li was addressing, Baidu's Hong Kong stocks fell quite as much as 10 percent before closing 6.4 percent down, devaluing the Chinese search engine powerhouse by over $3 billion.
"It seems like the presentation was more of a monologue and scripted rather than an interactive session that people were looking for. There was no soft launch date either which likely led to negative sentiments," said Kai Wang, an analyst from Morningstar.
The battle to design a competitor to Microsoft's (MSFT.O) ChatGPT, which caught the world's attention by showing the potential of so-called generative AI, which can develop additional text, images, as well as other material using inputs from historical data, is perceived as being led by Baidu in China.
The company's Ernie bot is based on its AI-driven deep learning model, Ernie – short for "Enhanced Representation through Knowledge Integration".
Li expressed concern that it wasn't flawless at the event at Baidu's Beijing headquarters, which was additionally live-streamed across nine platforms. "So why are we unveiling it today? Because the market demands it," he said.
A request for an explanation on the stake fall failed to respond at first, but Baidu afterward issued an announcement stating that all 30,000 enterprise clients had joined up for testing the business-facing version of Ernie Bot's Application programming interface and that traffic to Baidu's cloud portal had grown.
"After the release of ChatGPT, only Baidu has made a benchmark product among the major tech companies in the world," it said.