Off late, we've been coming across a lot of news on Internet of Things and it's broad range of applications, there is one application of IoT that grabbed everybody's attention in the beginning of last year and that was Smart Homes. Given the fact that IoT's service is here to make your life easier, Smart Homes is the perfect example depicting Sir Thomas Browne's quote "Charity begins at home" or in this case the charity can be replaced by smart services.
[box type="shadow" align="aligncenter" class="" width=""]Smart Homes is one of the most discussed application of IoT. Basically, if you can connect every appliance in your house to the internet, you can remotely manage it. For example, while leaving office, switch on the AC of the car, check what all groceries you have in your fridge, draw the curtains of your bedroom, tell it to switch on lights in 15 minutes, and start recording the next episode of The Legends of Tomorrow. All this while going down the stairs to your car. [/box]
Companies have realized the potential of smart homes and have started working on it. 2015 saw big names like Google's Nest and Samsung's SmartThings spear heading the Smart Homes area, startups are not far behind in terms of technology. In order to understand the application better, Techstory spoke with Archit Gupta and Harmeet Singh, co-founders of CloudBlocks about their new Smart Home device.
Smart Idea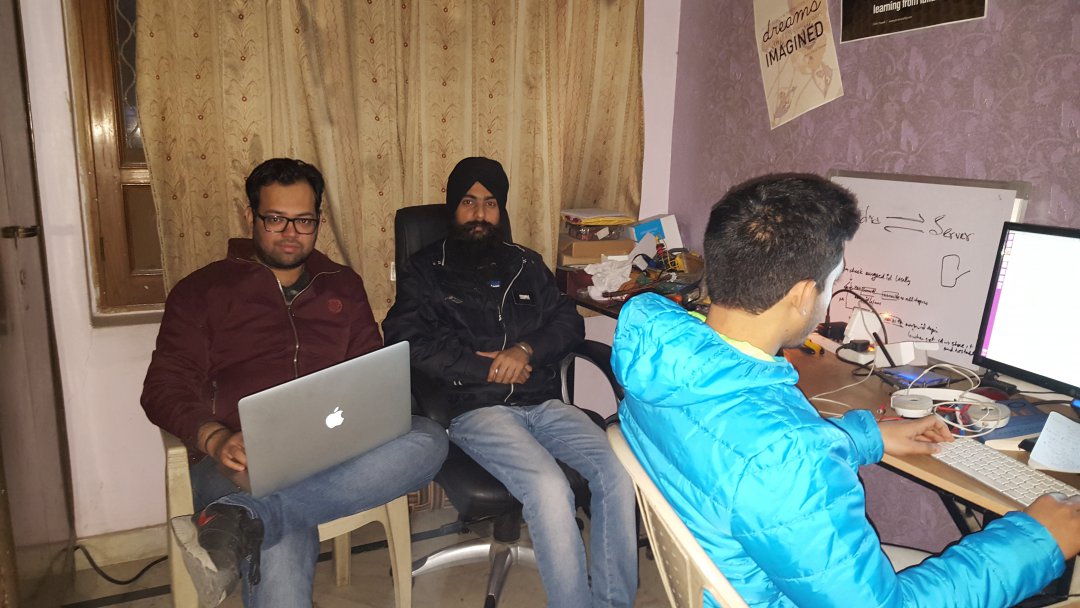 Archit Gupta and Harmeet Singh, Co-Founders of CloudBlocks
Archit was previously the co-founder of a native android app development company AppZollo. When he met Harmeet while working on one of the projects, they both shared similar thoughts "to build something". This duo realised that with so much technologies living amongst us, it is important to promote interactivity between them, rather than try to control them. They started with research and market analysis as a part of their weekend survey.
India doesn't have a market, but it has to be created.
The idea of smart homes haven't reached many fundamentally because of the price that one assumes it would cost. Having said that, it is time to highlight that the price is only assumed by many to be too costly and hence a luxury.
[box type="shadow" align="aligncenter" class="" width=""]Cloudblocks brings their smart home devices at the most affordable prices. It is to ensure that smart homes become a necessity, rather than a concern of affordability[/box]
CloudBlocks
CloudBlocks is aimed at revolutionizing the way people interact with their electrical devices and to be a top tech product and exporter in India.
"It is not another chip in the market to control the house wirelessly, but it is to make electronic devices interact with each other"
People have experienced controlling devices, but have never acknowledged them unless they have experienced the true sense of control. In order to explain the above better, imagine the situation where you're sitting in front of your television and your food is getting ready in the microwave or induction. Usual control type smart home devices let you switch off the microwave by sending an alert to your device (usually a mobile phone) and the rest is known to us all, but what if your phone is charging? How will you get to know the status of your microwave or induction? Cloudblocks solves this problem, the interaction between technologies, helps it to sense that you're watching television and sends a message directly to your TV screen. Sounds awesome right? All of these features could be yours, once you book your orders now.
Smart Features
CloudBlocks are coming up with every feature that a smart home must have at the most affordable cost ever imaginable, their PCB's are manufactured in Germany and are assembled here. Their basic device can control upto 5 appliances and a power plug and the controller app has features like timeline, notifications, and instant messaging.
Check out the video for more !
[youtube https://www.youtube.com/watch?v=g2JLuDEpofE]
The personal dashboards can be configured and it is also not limited to number of users. Imagine a situation where your house is completely integrated with your smart home device (that includes control, interactivity and security), and you have a sudden guest at your place. You need not toil much on getting a new key for them, but just add them as a guest user from your device.
The IM feature lets you quickly identify who has controlled previously and you can directly chat within the app to the other members connected to your smart home. Another cool feature that will be added is once the home server is installed, members can make voice calls within the house for free offline too.
[box type="shadow" align="aligncenter" class="" width=""]
Similar Reads:
Disruptive IoT Product AIR From IIT B Will Compete With Google's NEST, Samsung's SmartThings !
[/box]
Energy Consumption is another major advantage of using a smart home device, the current sensors are integrated and power consumption value is notified in real-time via the app for individual devices. This enables the user to take smart decisions for consuming more power and even incentive coupons are given to encourage more consumption.
The security includes drop cams detecting and monitoring the motion and these data are accessible from the cloud storage (optional). The cloudblocks app will be available in Windows, iOS and Android and for non-smart phone users they are also coming up with call center function too.
CloudBlockers' Journey
Having started in 2015, they are currently a team of 5 handling development, installation and service of the smart home device. Their mentor has an experience of over 35 years in the field of electrical engineering and runs a successful software company for over 11 years. They are processing the device in batches of 200 and are presently catering to the pre-orders. Starting with Delhi, they are delivering their products across the nation, they have also attracted international clients from Germany, Bangkok and Kenya.
[box type="shadow" align="aligncenter" class="" width=""]In terms of product development, they have initially started with controlling the appliances via a phone, and they are slowly looking forward to eliminate the control features of phone and integrate the appliances directly with each other.[/box]
Their current operations are bootstrapped, but for scaling and adding more features into the smart home device they are presently looking for funding too.