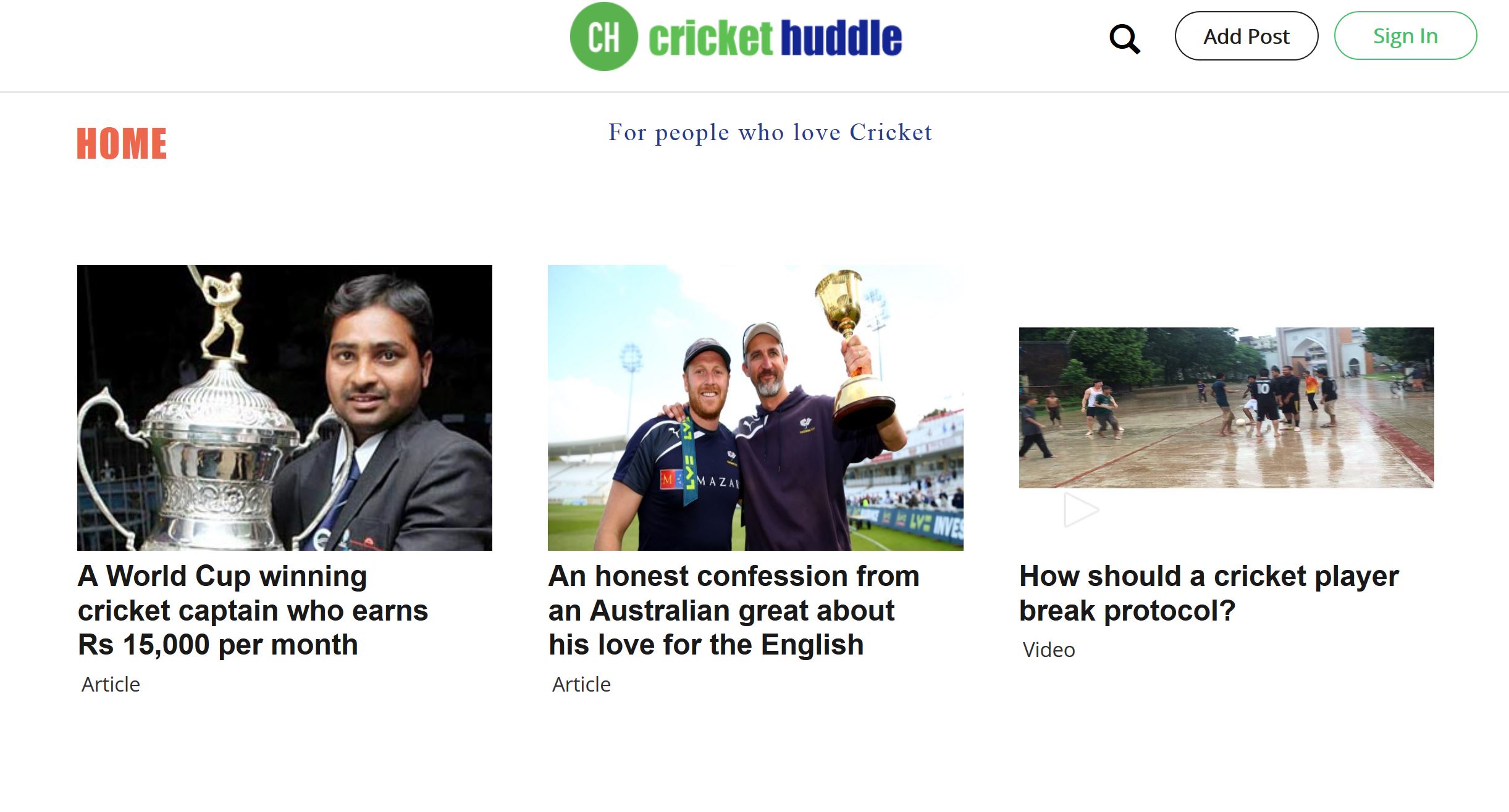 Sport, Entertainment, Passion, Religion, Career – Cricket might mean different things to different people in India but it sure does mean something to every Indian. As Indians, cricket does form a big part of our identity.  And when it comes to our favorite sport, we want all the latest and most relevant information available to us.There are a number of online resources today that allow you to get information or express your views about cricket. However to find the best of cricketing information in one place or to interact with fellow cricket lovers one has to search through multiple sites and follow different social media/ bookmarking channels to strike a chord.
4 cricket enthusiasts (2 of whom were players for Maharashtra under 16 team) have set out on a mission to connect the cricketing community through their venture – Cricket Huddle. Cricket Huddle is community for cricket followers, writers and professional cricket players. The company envisions to be a one stop spot for everything cricket on the internet.The website caters to all the stakeholders in the cricket world.
[box type="shadow" align="aligncenter" class="" width="600″]Cricket Huddle is a cricket centric platform that is creating a powerful combination of of news and media services, reddit and linkedin for the cricketing community.[/box]
For the Cricket Enthusiasts the site has a lot of content created each day to cater to the cricket fans. A lot of content available on internet today is repetitive and non interesting and looking for good content among all this big heap of cricketing articles is like finding a needle in a huge hay stack. Also a number of times  there is a lot of good content written by cricket bloggers that does not get noticed as it is not widely published on social media. The cricket lover is therefore left bereft of a lot of good information and insights.
For the cricket enthusiasts and followers, Cricket Huddle brings the best of content from across the web on your news feed. Cricket Huddle's machine learning algorithm helps find the best content online depending on current trends and your personal preferences. Therefore now you can be assured that the content you see is the best content available online for a particular topic and is also personalized for you according to your likes. The company also has a group of 30 cricket influencers including well known writers, editors, statisticians who help them curate the best of content available online.
Cricket Huddle also brings with it a reddit like platform for cricket followers where people can comment on and upvote various topics.
For those who have choosen Cricket as a career, be it as a writer, podcaster, player, coach, etc, can build their reputation using their Cricket Huddle profile.The company provides these professionals with a platform where they can showcase their skills to the entire cricketing community. The platform provides a way for these professionals to connect with prospective employers / brands / teams to help them get to the next level.
Cricket Huddle started in 2014 as a platform centered around professional cricket players. Cricket Huddle associated itself with various under 14 and under 16 state level organizations and allowed these  players to register their scores which would help in creating a player ranking. The company makes this service available to players even today.
However as the platform grew, the founders realized that a lot of people who were not really players were using the platform a lot more. This is when the founders decided to create a platform to cater to a larger audiences and thus was born the current version of Cricket Huddle.
The company has recently launched the new version of their platform and will be launching an Android and an iOS app soon.Since the time the founders started Cricket Huddle in 2014, they have been networking aggressively within the cricketing community and now know a number of influencers and  players within the community which they believe is one of the biggest assets the company has today.Cricket Huddle is already enjoying a strong following among the fans as well and is expecting the follower base to gallop as the new platform becomes popular by the day.
Comments
comments