Mukul Nanda, a Post Graduate from Dilip Chhabria Institute of Automotive Design, has always been passionate about bike and racing. He desires of Motorcycles which represent his thoughts- design of his own mind and thus displaying the personality of designer himself. Mukul decided to make his dream take its shape and partnered with 'icustommadeit' to bring his thoughts to design and build them. Watch the video here to know the story of Mukul:
So far, Mukul has designed around 50 bikes for his friends and customers. This is story of just one Mukul who is excited to give shape to his talent; there are many more Mukul around eager to offer something special that someone will cherish for a lifetime. icustommadeit.com is making dream of all such 'dreamers' come true.
icustommadeit is Asia's largest online marketplace connecting individuals looking for unique bespoke creations with curated professional creators globally. With the growing need for custom-made products, icustommadeit provides a forum to bridge the gap between manufacturers / creators and shopaholics who love everything custom-made.
The company was incepted in 2013 and went live in April 2015. Its founder Mr. Raj Iyer and Co-founder Mr. Kundan Dhake want to address the huge lacuna in customer expectations and the merchandise that large companies make available to them. The platform is bringing together a new breed of independent artisans, designers and customised products to the mass market.
Pilots of icustommadeit
Raj has over 25 years of corporate experience, with an expertise in strategy, product development, process flow development, marketing, business trending and concept launching. He has been a serial entrepreneur with ventures in knowledge process outsourcing, hospitality and e-commerce. He has been running his own KPO for the last 15 years with leading clients such as The London School of Economics, the United Nations, Harvard University and Stanford University. He also dabbled in the hospitality sector in 2006 by starting a fine dining multi-cuisine restaurant which was rated as a very popular restaurant in Ahmedabad within four years of its establishment.
A few years back, when Raj was looking to sell off his old car; he was in talks with a businessman. 'The gentleman' was wearing an exquisite ring adorned with a 3-D Lion cub. When Raj asked him where he got it from, he replied that it was customized for him by his brother in Belgium. And that was Raj's Eureka moment! He started to imagine the possibility of an exclusive platform where he could just click the photo of the ring and upload it, and talented jewellers from all over who have executed similar projects before, could bid on the product and then he could choose a creator based on his past projects, feedbacks, etc. When he thought deeper, he realized that this could not just be for jewellery, but also for other categories like furniture, wearable, and many more.
Imagine a world with no boundaries. And that was the driving thought behind icustommadeit.
Raj and Co-Founder Kundan know each other for last 8 years. Kundan is a serial entrepreneur as well. Both, Raj and Kundan share similar passions as entrepreneurs and were intrigued with the idea of bespoke products, this is how they joined hands to pursue this promising idea. Dhake has been a pillar of great support to Raj by all means and has stood by him even in most tormenting times as they worked to build the project.
The Journey so far
Well! Not every idea seems to be very promising at start. But that does not mean 'Do not take it forward'. If you are unsure of the success of the idea, start venturing into it and you will know it already before it's too late. Before starting up, Raj spoke to a lot of people, especially family and friends, to test the idea and the concept. In his talk with Techstory, he recalls how he travelled extensively to exhibitions to get feedback straight from the ground and as to know whether there was a market for bespoke products. That's when he realised that it is a 'blue sea' segment and there is definitely a need for a matchless platform through which creators can sell bespoke products, in sync with what the buyer is looking for. "We are building an exceptional one-stop shop for customers who can get the products that they dream about. We love this newly adopted role of 'dream-makers' and 'wish-fulfillers' with the sole support of our creators" Raj smiles.
icustommadeit is designed on a vertical marketplace model, and at its core – is a dialogue between the buyer and the creator. With over 1000+ creators on board, 8000+ products across 33 categories, it is Asia'a largest marketplace for customised merchandise. The platform provides transparent communication between creators and buyers through an internal messaging system which not only facilitates exchange of information from the buyers to customize, but also  involves and updates them at every stage via messages, photos, videos etc. This enables creators to entrust, since they feel they had a hand in building a worthy creation.
https://www.youtube.com/watch?v=hL10pDMFpGY
Presently, The Company is operating in the unchartered segment and sees no competition. "There are sites which are into customization of items like cups, t-shirts, etc, but no one is offering a bespoke mall in the sheer size that we are offering and envisaging" Raj explains.
Challenges & Growth
Initially, the challenge was to put the idea into shape and showcase it to the world. Doing the research and designing the website was a real challenge, and explaining the concept through it. But with a very skilled & focused team, icustommadeit has managed to do just tackle them all. The next part was to scout and find those awesome skilled creators in our country who are not available on any online platform. The company is very clear and focussed on what exactly it looks for in a creator and his/her products, interaction through the online platform and timely deliveries and updates. However, initially the company had to educate creators about the immense possibilities in the bespoke industry and it has been very satisfying. "I am proud to say that each one of us involved in icustommadeit.com is very passionate about what we are doing, where we are trending and we have laid the foundation for a very strong everlasting relationship" Raj brags.
In a dynamic customization industry where the firm operates, everyday's journey is indeed full of challenges and excitement. For icustommadeit as a team, the fact that they get to scout the talent of artisans and craftsmen and render a platform to them is highly stimulating. Raj goes on to say that it is definitely a challenge but an 'enjoyable one' because the team is able to bring together a new breed of independent artisans, designers and customized products to the mass market. Carpenters, shoemakers, metal workers, jewellery and fashion designers amongst others can connect with the buyer to co-create special products. Because conversation is imperative to this process, there is a lot of back and forth between the buyer and the creator, not only limited to communicate what the buyer wants, but also to track the entire building process to make sure it meets the buyer's expectations.
Initially, main arsenal for the firm was 'through the word of mouth'. Nevertheless, the company has shown immense growth. Raj adds that in the process of getting creators on-board, the team has developed deep respect for people who are passionate to create extraordinary products. Their dire passion for creativity and exclusivity inspires and drives the team. Today, rather than just driving GMV, team is also focussed to get these creators to sell online and express their creativeness. Moreover, adding a creator to platform is an overwhelming affair. For the team, it is gratifying to dispense work that has never been seen before!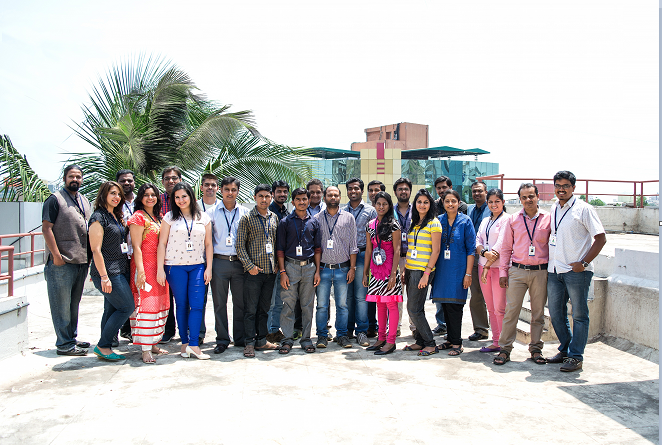 Team 'icustommadeit'
The Company started off with a team of 7-8 employees and now consists of 35 members and still is expanding.
In many ways, 'icustommadeit.com' is emphasising the root of e-commerce, which is 'vibrant exchange of ideas and merchandise'.
Currently, icustommadeit is looking for funding and is in talks with several potential VCs. They are seeking support from veteran industry players who will help them to grow & expand exponentially!
With their last round of funding, they aim to go global within the next six months and become a much admired and respected global concern. "We aim to empower sellers and brew one lakh millionaires within the next five years from the local artisan pool by connecting them with enthusiastic buyers through icustommadeit. We are also tying up with various NGOs in the country as they do formidable work with indigenous artists and craftsmen, this would be our humble contribution in promoting & supporting the expert craft of many who go unnoticed" Raj concludes!
Comments
comments