Most of the startups I know invest heavily in paid marketing channels to grow. They buy Ads on Google, Facebook and even on Linkedin to promote their product. However, there is one very effective channel which is often ignored. Its 'word of mouth' publicity. Problem is, its not as simple as it sounds. In fact, its a very difficult nut to crack.
From my experience at my startup, I've realised that if we focus our energies to make the customer super happy, it can do wonders to the business. Lets understand why delighting your customers should be your top priority:
1) People Won't remember what you said, they will remember how you made them feel
No matter how much information you put up on your website, customers will only remember the interactions they had with real people.
In case of SaaS products like an online accounting software, customers can't really touch the product. They have to explore it on their own. But any purchase like this is an investment for the customer and he is comfortable to commit  only when the trust factor is established.
So, when they have a nice experience with the brand, they are more likely to invest in it. This experience starts right from the first visit to your website or store.
2) It sets the tone for future relationship
In this competitive market, customer acquisition cost is very high in every business and hence most businesses have complementary products that they upsell or cross sell to their existing customers.
It becomes possible only if your existing customer is very happy with the current product. So, if his initial experience with the product is good, it will be easier to sell him other offerings.
3) It can be your product differentiator
I often think about the new mobile handset companies that seem to be entering in Indian market every month and wonder how difficult it must be for them to differentiate their products. In most of the cases, technical specifications for these handsets are almost identical. So, what happens when you have to choose from a set of very similar products?
Answer is simple, you stop comparing common features and start to look beyond them.
Take another example of automobile industry. Why do you think Maruti-Suzuki is able to sell more cars than their peers?  Well, they have more than 3000 authorised service centers in over 1500 cities. This acts as an important differentiator which is difficult to match by other competitors in short period of time.
4) It builds loyalty
I use Vofafone as my cellular service and my brother uses another mobile network. When I run out of data, I just need to send one SMS to upgrade my data plan. If my brother is in same situation, he needs to visit his cellular company's website or contact their call center.
As my experience with Vodafone is better, I never think of shifting to any another service. A good customer service builds a strong foundation for loyalty.
If you do quick math, you will find that its always cheaper to retain customers than to acquire them.
How to delight your customers
There can not be a definitive guide to delight your customers as every industry is different. I will start by sharing what we do at ProfitBooks so that it can get you thinking in this direction.
1) Keep conversations human
We all hate automated calls and mails. Most of the companies send 'template' mails while sharing quotations or sending invoices to their clients. Even during customer support, conversations do not have a human touch.
Check the mail from Flipkart below which we recently received in response to one support query: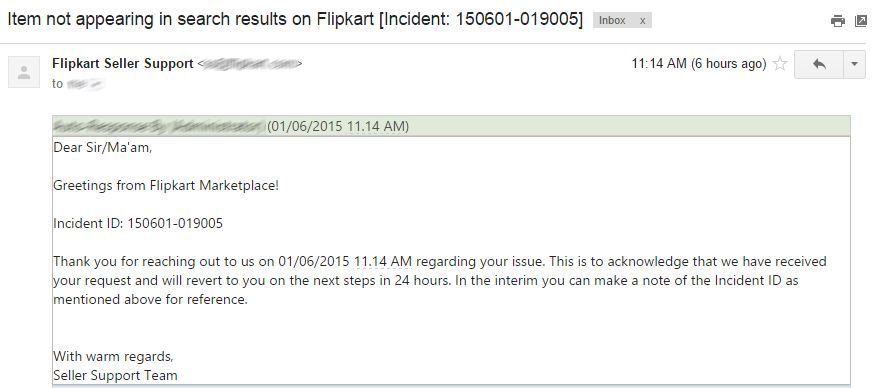 In this mail, sender's or receiver's name is not mentioned and it clearly lacks the personal touch. Normally, such mails are ignored and deleted immediately.
Now, check the mail below which we send to our inactive customers :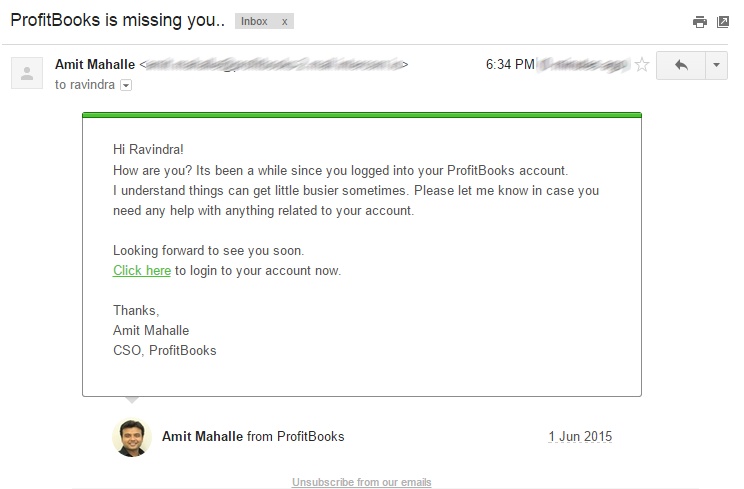 So, even when you need to send such automated mails, you should mention the customer's name. Rather than writing 'XYZ Support Team', if you write a person's name, customer will be able to relate with it more easily. In our case, we have gone one step further and added a photo of sender.
We get reply from the customers 78% of the time for this mail.
2) Educate them
Humans have reciprocative nature, which means, if you do something good to the people, they feel obliged to return the favour. And if you give away something valuable, they will be delighted and will start trusting you.
At ProfitBooks, we send educational emails periodically to registered users. These mails contain tips to grow the business and we never include any marketing material in those emails. We have seen inactive users returning to the application after reading those emails. Apart from this, we often conduct small workshops for our local customers and invite industry experts to speak at those events. Our customers highly appreciate these gestures.
You can delight your customers by educating them about the industry you are operating in. You can either write a blog or host an event. Even webinars (online sessions) work wonderfully.
3) Surprise them
One of my friends recently order a Xiomi phone online. He got the delivery next day but thats not all. After a week, Xiomi sent him a small package. It contained SIM card holder and a nice screen protector. He was pleasantly surprised and shared this experience on Facebook. He has more than 350 friends there and most of them re-shared that post.
When a customer submits a query in ProfitBooks, he expects a reply to come in a day or in few hours. We often surprise them by responding in less than 5 minutes. They are even more surprised when this happens during week-ends and off business hours.
Small things like these can delight your customers and they will not easily forget the experience.
Author Bio:
Harshal Katre is a founder at ProfitBooks – An online accounting software. He often writes about business growth, technology and user experience. Follow him @harshalkatre.
Comments
comments