Dailycacy is India's dish-oriented delivery app which brings at one's fingertips an amazing variety of dishes. Right from signature and popular dishes from famous restaurants and hotels to street food from around the neighborhood.
Dailycacy's Unique Selling Proposition
Food has a way with a person's heart. Eating delicious food has some sort of psychological connection with a person's mind. It not only tends to increase one's physical energy but mental energy too. It gives a sort of satisfaction that a person requires in his everyday life.
When one's hungry or wants to eat luscious and delicious food and doesn't have the time to visit a good restaurants, one starts browsing the list of food online. Now ordering food online in India is a complete mess at present. One has to go through a long list of menus first, then select a few items from them and then again read another long list of reviews. Gambling with food is something which most people can't afford to do. Here is when Dailycacy comes to the rescue.

With Dailycacy, one can explore dishes directly as opposed to selecting restaurants first and then face the scary task of going through endless menus. Once the dish search is done, one would instantly get expert reviews and ratings specifically about the dish. The app includes only the best dishes that a restaurant serves. Users of Dailycacy can scroll through the best dishes available in a particular area and then select the most appealing one. Once the selection process is over, the company sends a rider to the restaurant to collect the food and deliver it to it's customer's address.
Dailycacy has created a revolution in the food ordering online. Selecting and Ordering has become a soothing process.
Dailycacy's Rootage
The founder of this amazing startup Mr. Praveen Parihar gained his inspiration for the concept from his own experience of going through an endless list of menu while ordering Chinese food. The experience forced him to think over the prevalent situation of food ordering online in India.
This led to the formation of Dailycacy- a unique dish-centric portal.
The startup consists of other team members including Mr. Girish Valecha who works as a Consultant,  Mr. Avinash Panwar & Mr. Siddharth Iyer who are part of the core team and handle the operations of the startup.
 Working of Dailycacy App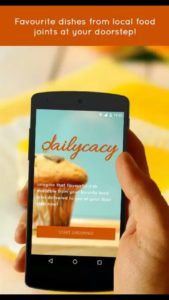 Future Expectations
Dailycacy, with it's unique and astonishing concept, has already revolutionized the marketplace. It further expects expand its operations. The startup aims to become the Largest Dish Based Review Platform globally. It also aims to furthermore ensure making selection a more easy & pleasurable experience for its users and in turn create a centralized platform with expert curation across globe.
Comments
comments