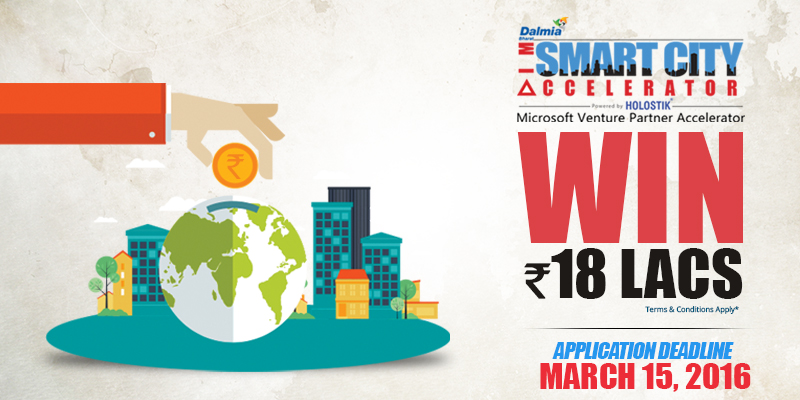 15 February, 2016, New Delhi: Dalmia Bharat today announced the Dalmia Bharat AIM Smart City Accelerator Program (powered by Holostik) for startups. The program is a joint initiative between two of the finest institutions of India i.e. DLabs at the Indian School of Business (ISB) and the Centre for Entrepreneurship at Ashoka University. Supported by Microsoft India, the program is aimed at nurturing the best start-ups focused on building a smarter and sustainable India. It will focus on four broad verticals: healthcare, education, logistics/ transportation and infrastructure.
B.K. Singh, Senior Executive Director, Dalmia Bharat Group, said; "We are delighted to launch the Dalmia Bharat AIM Smart City Accelerator Program with support from Ashoka University, ISB and Microsoft. As per NASSCOM, India ranks third in the global start-up ecosystem and stands amongst the first five largest start-up communities in the world.  Through this program we want to sensitize today's young entrepreneurs how best to utilize the start-up boom for smart city development."
The smart city accelerator program, spread over a period of four months, will be open to early stage entrepreneurs.  Applications will be shortlisted by mid-March on the basis of financial viability, technology feasibility, desirability to target audience, sustainability of the solution and track record of the team. An investment support of up to INR 10 lakh will be provided to each team selected.
Microsoft will support this through its BizSpark program and a recently announced special initiative for Indian technology start-ups for smart cities. Qualifying start-ups can apply for individual access up to US $120,000 (INR 80 lakh) worth of Azure cloud computing.  The cloud computing capability may be used to create innovative solutions and pilot projects for smart cities.
Narendra Bhandari, General Manager – Developer Experience, Microsoft India said, "We are pleased to be associated with the Dalmia Bharat AIM Smart City Accelerator Program as the incubation and technology partner. We believe that this program will help entrepreneurs leverage Microsoft technology to develop innovative solutions that can support cities to become smart, sustainable and future-ready."  Over the last five years, Microsoft has powered over 4000 start-ups in India through its various programs.
Indian School of Business and Ashoka University will together provide access to some of its finest academic and industry networks, which will provide mentorship and assistance to the start-ups. The Holostik Group will also support the accelerator through its mentor network and access to funding.
"This is a unique initiative in the spirit of translating the government's focus on smart cities into action. Beyond funding and mentoring, we also going to liaise with the government to consider the solutions proposed by our start-ups." quoted Priyank Narayan, Director – Entrepreneurship Programmes, Ashoka University.
"Each start-up will work with the in-house team to develop tangible milestones, creative content and unique propositions to be presented at the end of the course. During the course of the program, teams will receive regular mentoring sessions and tech & financial support," said Dheeraj Batra, CEO of Dlabs at ISB.