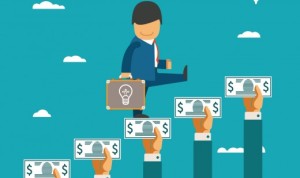 July 1, 2016:  The government has exempted any advance of more than Rs 25 lakh to a startup from being treated as deposit provided that the person giving the money does it in the form of convertible note in order to make it easier for startups to secure funding.
According to the Companies Act of 2013, any company including startups that received money from any person for over 365 days, it was considered as a deposit and the company had to follow the stringent acceptance of deposit rules to keep that deposit.
The exemption has only been made for companies that could be defined as startups under the notification issued by Department of Industrial Policy and Promotion (DIPP).
A convertible note means an instrument either converted into equity or repaid within five years from the date of funding. "Acceptance of deposit rules makes it difficult for startups to raise money as a lot of compliances have to be made, including informing the registrar, maintaining the deposit repayment reserve and getting credit rating before raising the money from for over 365 days," said Lalit Kumar, partner, J Sagar Associates
Ansul Jain, partner, Luthra & Luthra Law Offices said, "Crowd funding and raising money through angel rounds for more than a year was earlier considered as a deposit. Start-ups were flouting this norm. Now, they have been exempted."
The startup definition of DIPP is  "start-up is a company up to five years from the date of its incorporation only If its turnover for any of the financial years has not exceededRs 25 crore, and it is working towards innovation, development, deployment or commercialization of new products, processes or services driven by technology or intellectual property. "
Jain said, "The money received by companies for a period of more than 365 from alternate investment fund, domestic venture capital funds as well as mutual funds registered with SEBI will exempted from acceptance of deposit rules."
 The tenure of the convertible debentures has been raised from five to ten years and has also exempted money raised through unsecured NCBs by the corporate affairs ministry.
Jain said, "It will be a big boost for infrastructre investment as earlier the money received through convertible debentures were to be converted within five years else it was considered as a deposit. Now the tenure has been increased to 10 years as infrastructure projects need a longer gestation period."
Also Read:  Indian Government Removes 'Angel Tax' To Promote Start-Ups