The challenge of technical recruitment has two sides to it. On one side it has haunted all companies big and small for ages now. Companies struggle to find the qualified candidates according to their project needs. On the other side, talented individuals get passed up because the resume screening processes is biased. This creates a lose-lose situation for both companies and candidates. Too concerned about this talent problem, Sasha Matison, while working with Amazon.com as a Development Manager, decided to start his own company to find a better way to deal with this situation.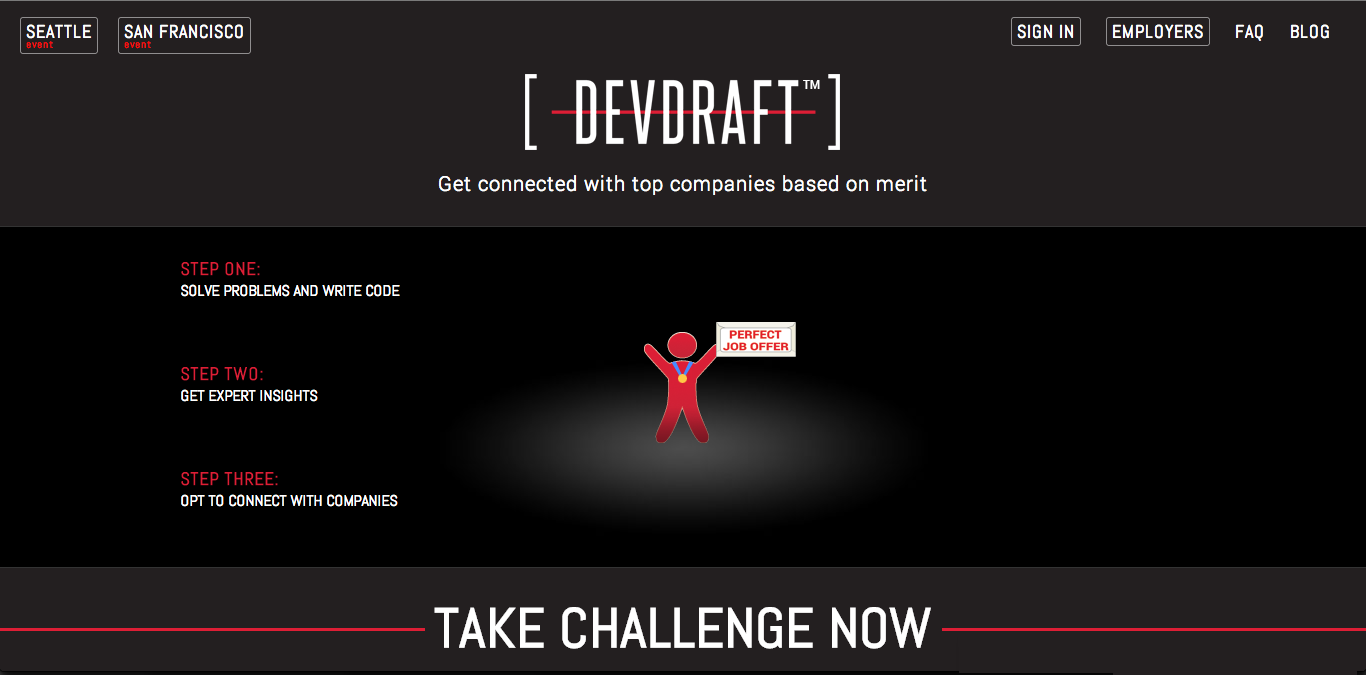 Sasha founded Kitovet in June 2013.
"The candidates I used to recruit during my corporate career were so weak in fundamentals that it was a waste of time to train them. There had to be a better way to deal with this problem."
he says. Sasha then spent a number of months trying to look for a perfect solution for this problem and in May 2014, came up with a product called DevDraft, a self-service platform that connects ambitious developers with companies based on merit.
[box type="shadow" align="aligncenter" ]DevDraft is built with a fundamental principle of creating a technology platform where companies get instant access to strong, qualified talent and candidates can get an unbiased, data-driven technical profile based only on merit.[/box]

DevDraft operates by organizing online quarterly online tech hiring events where they market companies to candidates. Candidates can register and solve real life coding problems designed by experts from DevDraft. Once a job seeker has solved the problems, their code is analyzed by the backend Kitovet Analytics Platform which generates a candidate profile based on parameters such as code correctness, depth of thinking, attention to detail, debugging and advanced computer sciences. These profiles then are made available to the companies who can select a profile based on their requirements. Names of each candidate are made available to the company only after they show interest in a particular candidate thereby removing any kind of bias in the initial screening process. Candidates can then choose which company they would like to pursue further.
This kind of recruiting model solves a problem for three stakeholders. First, for bigger companies, it allows them to get a lot of qualified information, technical and non technical, about the candidate before starting their interview process therefore making it easier for recruiters and hiring managers to make their hiring decisions. The smaller companies and startups get access to the same talent pool as the bigger companies therefore making it a fair game for company recruiters. Lastly, strong candidates get a chance to get presented to companies completely based on their coding talents and core fundamental skills. Candidates come in, take the challenges once and then their technical profiles are made available to a number of companies thereby increasing their chances of getting a great job. DevDraft thus creates a win win situation for big and small companies and jobs seekers through their hiring process.
Until now DevDraft has conducted one such hiring event in the month of September in the Seattle area and already has 1700 job seekers registered on their portal for the next event. The company is currently working with 10 companies on a revenue generation basis and is working on pilots with 10 other companies.
Quite clearly DevDraft is an extremely useful service that will address key pain points of both the recruiters and job seekers.  It took a number of months for Sasha just to come up with the value proposition for this product.
"It took us 9 months to come up with a value proposition that was monetizable. Adoption of metrics methodology for hiring is a new concept and it was initially difficult for us to convince recruiters to work with us. However, they have looked at the benefits that we bring to the table and our concept is being welcome by a lot of companies now"
says Sasha.The company currently offers coding challenges in 14 different languages with plans to add more in 2015. Going further the company plans to expand outside of Seattle very soon, adding an online event for San Francisco in Q1 2015. The company plans on expanding to at least one metro area each quarter starting in 2015. By the end of 2015, the company also plans to expand overseas. DevDraft is currently self- funded and is looking for funding to aid their sales and marketing efforts for their expansion plans.
https://www.youtube.com/watch?v=TpnwxQDQA1w
Comments
comments