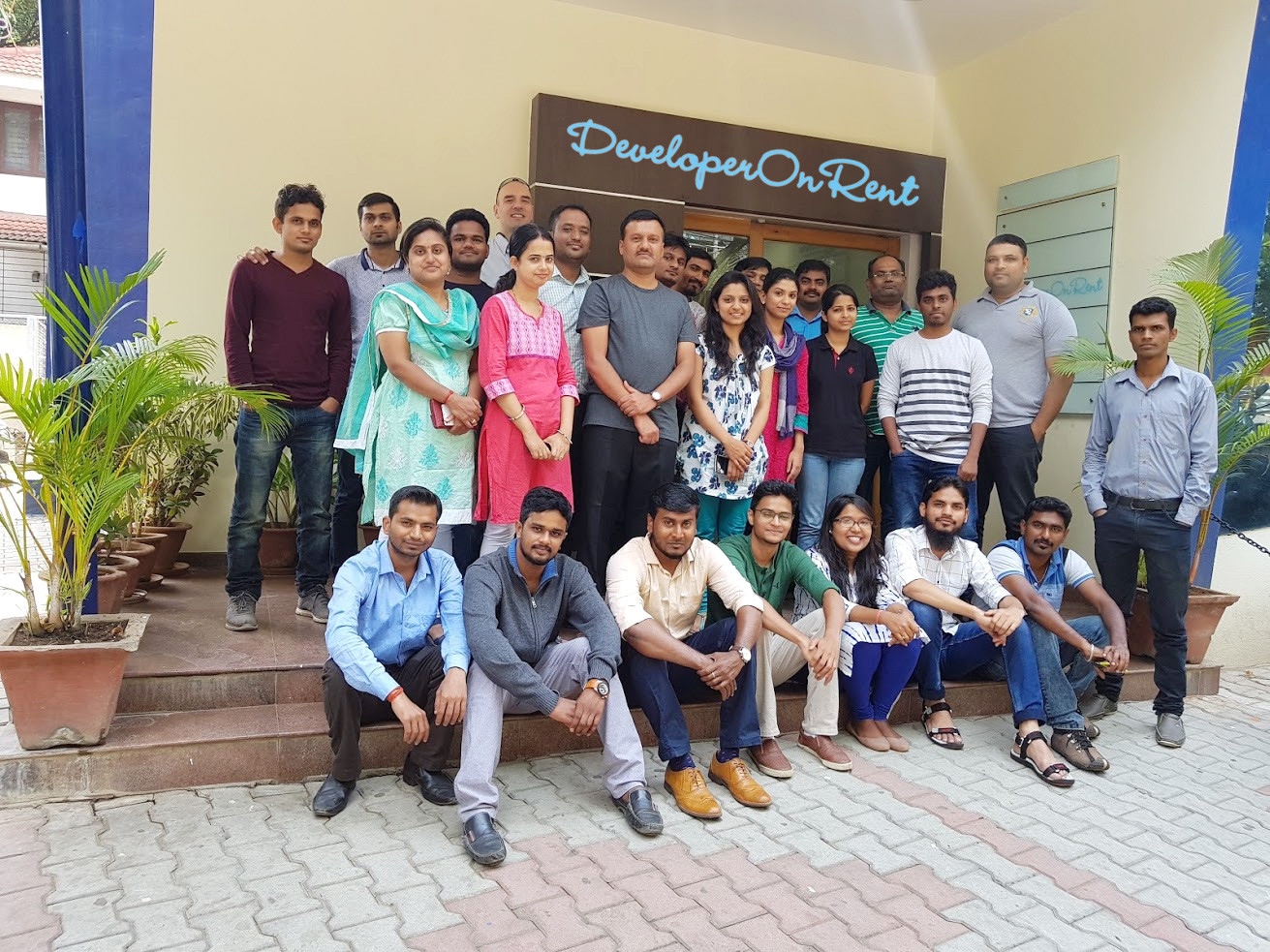 DeveloperOnRent allows you to hire a developer for your upcoming or existing business.It gives you an all new renting model for developers giving you the much-needed freedom to innovate and work in collaboration with a developer who knows exactly what you need can be refreshing.
The Eureka Moment Of DeveloperOnRent
The idea got generated when the founders initially planned to build their own e-commerce product. They met various companies and all of them submitted their quotes. Across the quotes, pricing was different with almost similar timelines, processes, deliverables but yet no confirmation as guaranteed towards launch. They faced various problems and issues.
That was the Eureka moment when they thought and got the idea to define a model where anyone can RENT developer – the way customer want. Hence "DeveloperOnRent".
Benefits To Developers
When developer work with them, they get an opportunity to work on three to four different products in a year, different business models, different stakeholders, different technology stacks, different customers, different tech team and most importantly there is an immense learning throughout.
This helps him/her build a great tech career with abilities to lead, govern, communicate at different levels, being responsible and lot more which makes him complete professional.
The Building Blocks Of DeveloperOnRent
The man behind this amazing startup is Kapil Mehta. Being a Founder it was really necessary for him to find the "HANDS" which can work with him and live this passion each day.
In the journey, he found Jitesh, who is family to him and shared the idea along. Jitesh worked at Infosys for years on various technologies with great International exposure. Jitesh started leading the tech team with a handful of developers and delivering state-of-the-art solutions with latest tech trends, ease-of-use, User Interfaces and meeting all business processes at customer side.
Coming to employees, they identified five resources which can deliver complete full stack development with hands-on experience on various technologies. They brought them in and spent a lot of time putting various business scenarios and applications which a customer may ask.
They went through those detail deep-dive sessions many a time towards technologies, processes, procedures, re-usability, trends, what can make them deliver fast, learning new concepts and various behavioral aspects.
Related Read: A Step By Step Guide For Mobile App Development
That's how their team got ready and they decided to go and face customers. They spent almost 3 dedicated months spending time defining everything and building a platform with no business, which actually worked out well.
Growth Chart
They have touched revenue of more then 2.5 Cr on a yearly basis and with each growing day as and when they are meeting customers requirement. Traction is building each day and most of it is through references, connections, and a bit of marketing.
They started with 3 customers and today they are delivering services successfully to 60+ customers plus their developers have built and deployed and deployed almost 49+ products across various domains such as Marketing, Retail, E-Commerce, Fintech, Edutech, Innovative solutions, Healthcare, Travel, Automobiles, Mythology, Education and others.
The X-Factor
One thing which sets them apart from competitors is complete transparency in process and communication. They charge Markup percentage on the cost of resource which includes various elements, which most of the time is charged to a customer.
The renting model of developers has cost benefits of over 38%, saving a lot more on the worries that come along with hiring developers on a contractual basis.
Developer on Rent has a client base of 60+ which spread in over seven countries.Developer on rent is here to bring about a mammoth of change in the current trend of product and solution development across web, mobile, analytics and others.
At times, they had situations where giving salaries on-time was an issue and that is where they saw a great teaming when everyone had utmost trust on the platform, hard work and patience to overcome the same.
As a Founder it was never easy to bring all on the same page with passion to grow, innovate, trust in platform and most important mindset to win and achieve.
-Kapil Mehta
Funding And Future Deals
Development on Rent is a purely self  bootstrap till date. They have set a few goals for themselves as a team. They are pretty close in achieving the same, then is when they will start looking for funding. They would like to raise funding purely for growth, technology enhancements and to cover different geographies.
Related Read: Key Drivers For "First Amazing Impression" Of Your Mobile App
Their main focus is to double the revenue, increase the client base and ensure that they remain focused on innovation as a tech platform and  make it a global platform.
Technologies and team stack
Today DeveloperOnRent team is working on technologies such as NodeJS, Angular JS, Python, PHP Frameworks, Magento, Java, Express JS, WordPress, Android, iOS, IoT Solutions, Linux Engineering, DevOps, Industry Standard Tools, UX / UI Ninjas and lot more.
Awards & Recognition:
Brand of the Year 2016
Entrepreneur of the Year
Business Mentor @ Symbiosis
Tech Mentor @ DERBI Innovation
Mentor @ NEN