Discord, one of the most popular communication apps, has announced a major change in the platform. The company has announced that they will soon be removing the unique four character codes assigned to every user and would force each user to have a unique username. This would now make the app somewhat similar to other social media platforms and chatting apps like Instagram and Twitter where having a unique username is a necessity.
About the famous platform:
Recently, the app has gained widespread popularity for its out of the box idea. Most gamers are familiar with the application as it was initially developed with the gaming community in focus. However, it has now become the preferred platform of people with varied interests and backgrounds.
Discord is an easily accessible and operable app. The fact that several children who struggle with basic math have created successful discord servers and run them efficiently is a testament to the ease of usage of the application. The platform which is free to use can be accessed on most types of devices including smartphones, laptops, and desktops. The app lets users create and join virtual communities called servers which are focused on particular topics. If there is anything that interests you from the vast cosmic sciences to tips to improve your tennis, it is safe to assume that there would be not one but multiple servers that you could join and get your questions addressed.
Moreover, there are multiple voice and text channels within each server that users could join to talk or text each other. In most servers there are text channels dedicated to cater a particular segment of texts, gaming channels often consist of multiple text channels for different games. Similarly, a study group on discord will have separate text and audio channels for different subjects and grades. Discord has made it easier for its users to get connected with like minded people who are interested in achieving a common goal. There are numerous instances where people have found good friends on the platform while working with them on something they both are interested in.
Another reason for the platform's popularity is their focus on communications. Their voice channels are especially useful for gamers who otherwise struggle with in-game communication in games which require steadfast action like Valorant and CSGO. The platform also supports screen sharing and video calls and is now being used by users to meet and collaborate with others who they might not be able to work offline with. Furthermore, Discord offer numerous customization opportunities to users. They can change their usernames, profile pictures, and server icons as many times as they wish.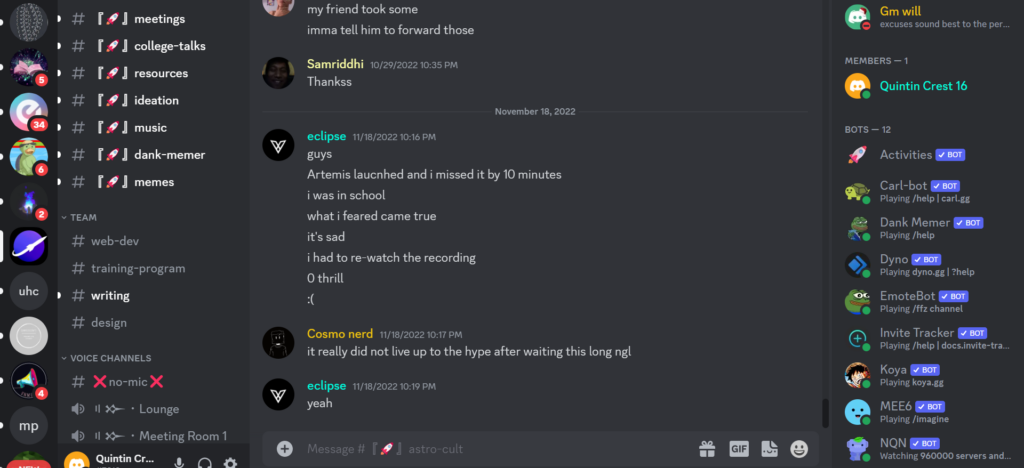 The interface of a discord server that I'm a part of. The text channels and audio channels are visible in the image above.
Credits: Ishaan Negi
The Use of Discriminators:
Although the platform allowed users to have the same username, there was no confusion with connecting users with the same username as the platform made use of a unique four character which was associated with each user. These unique codes are known as "Discriminators" and help in differentiating users with the same username. These codes are randomly assigned to each user when they first login to the platform. These unique codes are also used by users to connect with their friends on the platform. Discord is a community where a server could have numerous people and it is quite common for some of the users in the same server to share the same name. In these cases, discriminators help to distinguish between these users and often help server moderators to not take action against the wrong person.
What will change:
The platform will now eliminate the concept of discriminators and will not allow users to have the same username in the first place. Although this might seem like the prefect solution to many problems, some users of the platform have argued that they use it to chat with selected people and this might make it too easy to find them on the platform. However, apart from the concerns of people who used the platform as a private chatting app, the move is expected to make managing large servers easier.