Finding a good office space for your startup  in the initial days without shelling our a huge sum of money can be a big pain. The huge deposits pinch the pocket and we usually end up in a place that is much bigger than we need, much costlier than what we can afford and usually a little 'not so nice' than what we would want. A new coworking space in Pune- E-Loft now solves this problem for the startups.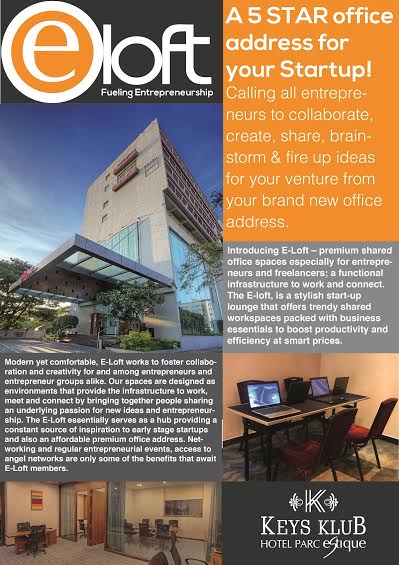 E-Loft is based on the concept of creating a collaborative working space with all amenities by converting idle inventory in a hotel into a  coworking space for startups. The idea was developed by Prashant Maharaj, Sim Khirid and Vinit Chauhan all entrepreneurs along withJai Advani of the Advani family who are the owners of Parc Estique Hotels.
Currently E-Loft has its first co–working space in Viman Nagar created by converting part of the idle space at the Keys Club Parc Estique Hotel into a working space.
 "We decided to target the hotels because we realized that there was a lot of idle inventory lying around in these hotels and there was a lot of requirement among the entrepreneurs to find a good and affordable co–working space"
says Prashant Maharaj, one of the founders of E-Loft.Prashant is also the co-founder of 14square, a pan India branded chain of service apartments in the mid market segment. He is also one of the founders along with Sim Khirid and Vinit Chauhan of Ten Entrepreneurs Network, a networking and experience sharing platform for entrepreneurs. He believes that his experience in the real estate industry and network with entrepreneurs has helped him to align the services of E-Loft to the requirements of the entrepreneurs.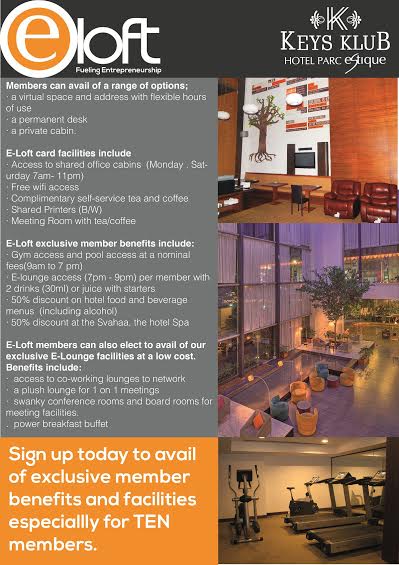 E-Loft provides a space where entrepreneurs can work from 8am -10 pm. ( Prashant says that they are open to converting it into a 24 hours working space depending on the demand.). 24/7 supply of power and internet are also provided. Tea and coffee services are placed  in the co-working space  to provide the entrepreneurs with the required energy boost. Small additional sums can get you access to Meeting rooms and conference rooms, gym andswimming pool. Food is also made available at 50% discount. Going ahead E-Loft also plans on hosting a number of entrepreneurial events in the hotel banquet. E-Loft plans on providing a one stop place for all the needs of the entrepreneur.
All these facilities will be made available to the first 40 entrepreneurs at a preferential price of 2000 INR per person per month.
"The best reason to choose a hotel as your startup address is that you can hold all your client meetings there, you can book rooms for your clients if they need to stay and have a nice upstate address for your startup making your clients take you more seriously"
says Prashant. So what are some of the challenges that the team at E-loft faced ?
"The biggest challenge for us till now has been convincing the hotel staff. They are used to cater to a very different crowd in a different environment and this new phase is definitely a shift from their usual expectations"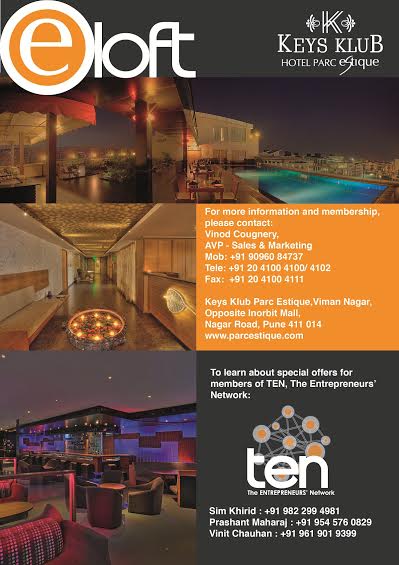 says Prashant. The place is going live from the end of January 2015 and is currently being swamped by requests. The team at E-Loft is currently working towards creating a unique collaborative working space where entrepreneurs can "Feed of each others minds ". A place where they can work together and be mutually beneficial to each other in growing their respective ventures.
Comments
comments