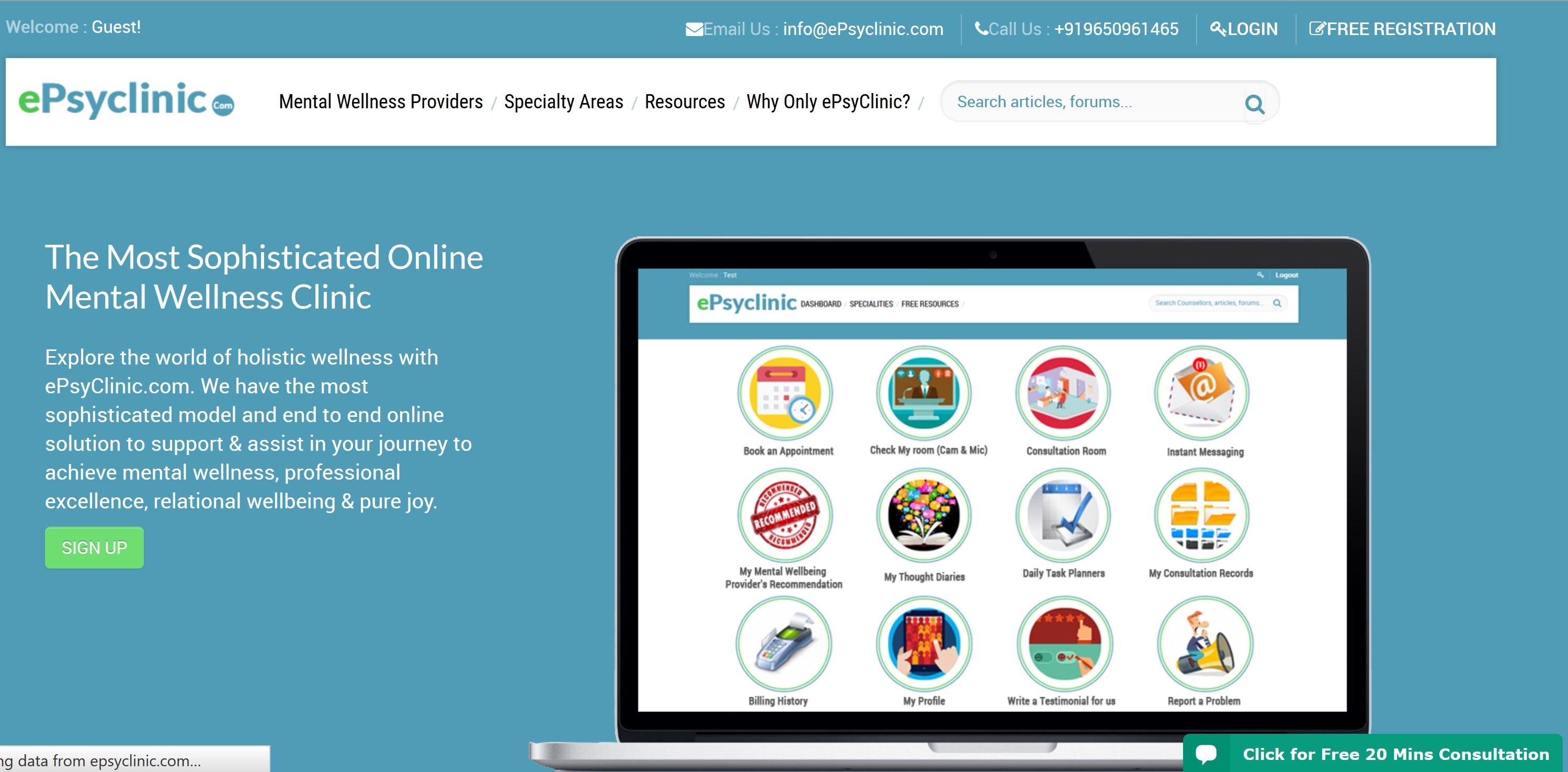 Consultations, treatment and management of mental illnesses and disorders at your fingertips
New Delhi, August 11, 2015: ePsyClinic, the online platform that promises the best of emotional and mental wellness and healthcare to clients has come up with the world's first virtual mental wellness and emotional happiness clinic today. Launched in Select City Walk, Saket, New Delhi, the clinic is set up for a period of 11 months. With two consultation rooms, the clinic will be manned via web interface by ePsyClinic's doctors and therapists. The clinic will have two doctors available to serve the patients in the two virtual wellness rooms. Besides this, 17 doctors will be on roster to avoid any situation in which there is no medical help for patients.
Shipra Dawar, Founder & CEO, ePsyClinic commented, "Our primary objective behind launching this one-of-its-kind virtual clinic is to bring mental and emotional wellness healthcare to the mainstream. We have become the first entrants to offer these services online with such a unique concept resulting in an industry first. The launch goes in sync with our core mandate of offering the best-in-class emotional and wellness services through our world-class therapies."
There will also be special awareness months during which ePsyClinic will be offering pregnancy emotional wellness, young adults' emotional wellness, seniors' wellness, child and parenting wellness and professional wellness. ePsyClinic will utilise the two virtual clinics for researching on the efficacy of the virtual mode to deal with emotional and mental issues. Besides this, there will be special promotions to raise awareness on such issues, build normalcy around seeking emotional and mental wellness and erase the social stigma attached to them. Hands on trials regarding how the virtual clinic works will be provided to the patients besides the consultation, treatment and management.
"Mental and emotional health issues are a ubiquitous phenomenon which a majority of people are not ready or are hesitant to address. By giving easy access to our services, we wish to encourage them to open up and nip the problem in the bud before it has long-lasting detrimental effects. This clinic is a step in this direction," she added.
ePsyClinic's endeavour goes beyond revenue at present, and instead aims to promote mental and emotional wellness among Indians. In line with this thought, it is offering the first sessions at the newly-launched clinic free of cost. The clinic will be open from 11 am to 9 pm on weekdays and from 11 am to 10 pm on weekends.
ePsyClinic.com is the country's leading online platform that provides mental health care through world class therapies, psychiatric interventions and counseling services to clients in the comfort of their homes, offices or wherever they may be. It delivers such impeccable services through the interactive modern technologies of audio, video, chat and messages. Svieda Ventures Pvt. Ltd., the parent company of ePsyClinic, was incepted in July 2013 and is based out of Delhi. ePsyClinic.com was launched, on 12th March 2015. The USP of ePsyClinic lies in its fully online and convenient accessibility and its Quality focused private and safe mental health and emotional wellness services. Delivering uncompromising and unparalleled quality of care, management and treatment is what ePsyClinic specializes in. The company aims to consistently promote mental wellness services and provide customer-centric and satisfying experience to its patrons.
There is a compelling need to erase the stigma attached to mental and emotional issues, make people aware of the ubiquity and normalcy of such issues and encourage them to seek help & care before such conditions aggravate. ePsyClinic was incepted to address these issues by ensuring easy accessibility and privacy for patients while utilizing its services.  Initially, the company was in stealth mode, had a small team and was operational in a few service areas, sans any technology or product designs for reference.  Within merely seven months, the company has progressed to being well-equipped with the right resources, attracting the best mental & emotional health care talent and working across all realms of mental and emotional health. The company is going extra miles to expand its services by focusing on global partnerships. It is also bringing path breaking, tried and tested positive mental & emotional concepts from developed nations into the company to fortify its supply & services and demand ends. Enlarging its panel of experts, it is also roping in experienced and renowned professionals in the mental health care field from countries like USA and UK.
Comments
comments