The bank's customers will be able to trade important digital assets such as Bitcoin, Ethereum, and Chainlink. The Commonwealth Bank of Australia has revealed intentions to allow customers to exchange Bitcoin and Ethereum. Although Bitcoin is in a decline, the outlook is positive.
According to Marcus Sotiriou, Sales Trader at the UK-based digital asset broker GlobalBlock, Estonia has become the latest country to give Bitcoin bulls reason to rejoice. Here's a quick rundown of the most recent Bitcoin and digital asset developments and news.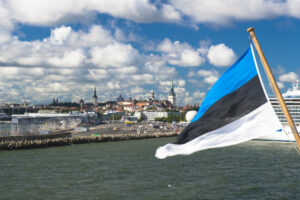 Estonia has joined the list of countries that have adopted Bitcoin. Customers can now purchase cryptocurrency through LHV, Estonia's largest bank. Starting next week, LHV clients will be able to trade significant assets such as Bitcoin (BTC/USD), Ethereum (ETH/USD), and Chainlink (LINK/USD) through the LHV mobile app.
LHV has joined the Commonwealth Bank of Australia, which recently revealed plans to allow customers to trade Bitcoin and Ethereum. Let's overlook the fact that Estonia's population is smaller than the bank's clients in Australia. This is significant news because it demonstrates how far cryptocurrency has progressed. Every bank will be forced to include it in its offers one day.
Bitcoin is currently trading at a little around $57,000, a significant drop from its all-time high. On smaller time frames, however, the flagship cryptocurrency is in a downtrend, as seen by decreasing resistance.
The confirmation of a double bottom pattern would be a break above the $60,000 mark. This is a bullish indication, and the asset could resume its rise in the near future, possibly reaching a new high.
Another cause for Bitcoin bulls to rejoice: Mercado Libre, eBay's South American rival, has announced that crypto investments would be available in Brazil. This level of adoption from high-tech e-commerce enterprises demonstrates how unlikely it is that the crypto industry would undergo a multi-year bear market, as it has in the past. It will soon become absolutely widespread.
If you find this article informative then do share it with your friends and family!
Also read: Why Harmony's Cryptocurrency is skyrocketing today