A task group on ChatGPT has been formed by the organization that unifies Europe's state privacy watchdogs, marking a potentially significant initial move towards a uniform policy on establishing confidentiality rules for artificial intelligence.
The action by the European Data Protection Board (EDPB) comes after an autonomous choice by Italy to limit ChatGPT last month, an approach that Germany's commissioner for the security of information suggested should be adopted in Europe's largest economy.
On Thursday, Spain's AEPD authority stated that it, too, would begin an initial probe into possible ChatGPT security breaches.
With more than 100 million active users every month, ChatGPT, an AI program that attracted the interest of the general population for its ability to compose responses swiftly to a variety of requests, has become the fastest-growing app for consumers in history, raising worries regarding the risks it could bring to security, privacy, and work.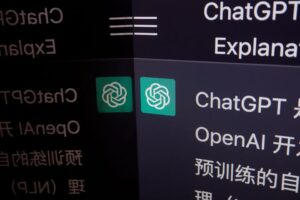 Concern has also been raised by specialists, the U.S. government, and numerous other governments in Europe over the quick use of ChatGPT along with other comparable artificial intelligence (AI) technologies.
"The EDPB members discussed the recent enforcement action undertaken by the Italian data protection authority against OpenAI about the Chat GPT service," the statement said.
"The EDPB decided to launch a dedicated task force to foster cooperation and to exchange information on possible enforcement actions conducted by data protection authorities."
The member states were seeking to align their regulatory views, but this would require some time, according to an insider at one national watchdog who requested to remain anonymous since they were not authorized to provide information to the media.
According to the source of information, the member nations were not looking to penalize or enforce regulations that could adversely affect Microsoft Corp.'s (MSFT.O) supporter OpenAI, owner of ChatGPT, instead attempting to establish broad regulations that "are transparent."
They said that policy professionals, as opposed to decision-makers, attended the conference on Thursday and offered their views and suggestions.
The European Data Protection Board (EDPB) is an autonomous body made up of state data protection watchdogs that regulate data protection laws in the European Union.
A response from the organization was unable to be obtained right away.
Following an appeal from Spain to debate the subject a few days ago, the subject of ChatGPT was recently added to the governing body's agenda.
Earlier this month, the Garante, Italy's information security supervisor, released an agenda of requests on Wednesday that addressed its doubts over the products and services offered by ChatGPT and whether to permit the OpenAI-backed bot to continue functioning in the nation.
Weeks before, ChatGPT in Italy had been taken down by Microsoft-backed OpenAI. The governing body soon prohibited the collection and use of personal data and began an inquiry into an invasion of privacy.
In a statement released on Wednesday, the Data Protection Agency, Garante, presented a number of "concrete" demands that must be met by the conclusion of the current month.
The regulator instructed OpenAI to stop operating ChatGPT when it announced just a few days ago that the organization would launch an official investigation into suspected GDPR concerns. It is stated in a news event that clarifies what OpenAI must do in order to lift the ban:
"OpenAI will have to comply by 30 April with the measures set out by the Italian SA [supervisory authority] concerning transparency, the right of data subjects — including users and non-users — and the legal basis of the processing for algorithmic training relying on users' data.
Only in that case will the Italian SA lift its order that placed a temporary limitation on the processing of Italian users' data, there being no longer the urgency underpinning the order, so that ChatGPT will be available once again from Italy."