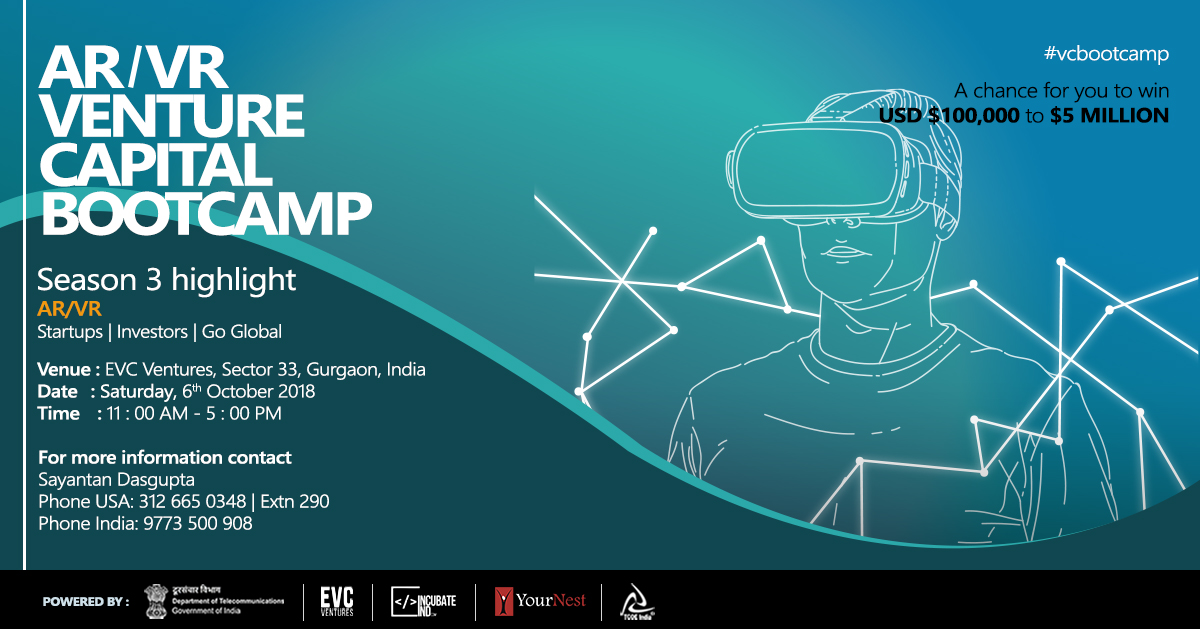 After two successful Seasons of  Artificial Venture Capital Bootcamp & Blockchain Venture Capital Bootcamp, EVC Ventures is all set for its Season 3 AR/VR Venture Capital Bootcamp on the 6th of October, 2018.
In the Season 1 & 2, this initiative for startups was supported by Oracle Scaleup Ecosystem, Sequoia Capital, Businessworld, The Boston Consulting Group, TCOE, DoT, YourNest VC Fund, IAN, TLabs, IVCA, etc., among others.
Why VC Bootcamps?

The odds of getting access to Venture Capital funding for an early-stage startup is about 1 in 1000. So, it's unsurprising that every year many startups approach Venture Capitalists to know the best way to raise capital and scale their companies. Keeping this in mind, EVC Ventures is creating a series of Bootcamps for Startups, where they can showcase their business ideas and get VC funding between $100,000 to $5 Million.
The idea behind the AR/VR VC Bootcamp initiative is to get startups working in the AR/VR Technology domains for more than 12 months with a proof of concept (POC), to come and present their concept to a set of VCs/Experts, who could potentially be willing to look at these ventures for their respective portfolios or help them accelerate their journey.
Only Top 10 selected AR/VR startups will be invited to make a pitch at the Bootcamp. Leading venture capitalists, industry leaders, and mentors will preside over the Venture Capital Bootcamp. This event is their endeavor towards creating a conducive ecosystem for the new economy and technology companies in India, enabling them to have better access to global markets, investors, and mentors.
AR/VR Startups can Apply Here: http://bit.ly/arvrvcbootcamp
Comments
comments