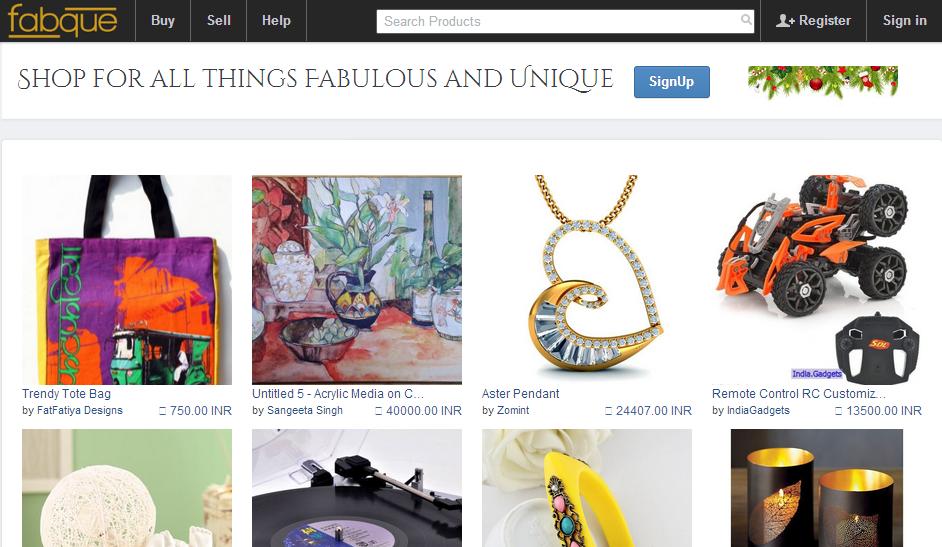 "While looking for a perfect gift for a friend and after browsing mindlessly, pages and pages of some of  the best e-commerce sites in India, we discovered that same brands and products were being sold by the same sellers on different sites. We also realized that when trying to find a gift many times the users don't know what they are looking for.That's when it struck us, a  website, showcasing only selected specially curated, hard to find and unique products, across all verticals."
And thats how Yogesh Kumar and Rohit Sethi started Fabque in October 2014 .They are now also joined by Nikhil Khatar and the three of them run operations at Fabque.
[box type="shadow" align="aligncenter" ]Fabque is an online "social" marketplace that displays carefully curated products across all verticals for Indian consumers and also assists in product discovery. [/box]
Fabque focuses on the alternate products market – geeky gadgets, home decoration, handmade products, fine art and sculptures, retro and collectible items, men and women fashion, jewelry, car accessories etc. The company is working towards creating a platform where sellers of unique products can setup stores with almost no cost and reach out to a wider customer base.
"Brands and Stores are part of our vision. We want to be a platform where small scale home based businesses can come in and build a brand and relationship with their customers and can also get feedback and improvise where they can. That's the most important mission of Fabque."
says Yogesh. The company wants to position its offerings in a way that anyone who ever wants to buy anthing differmt should first think of  Fabque. Their product discovery and brand building tools is what differentiates them from the market.
Yogesh Kumar and Rohit Sethi are the brains, backbone, heart and sole of Fabque. Both Yogesh and Rohit have over 10 years' experience in IT. They are serial entrepreneurs and have been friends for over 10 years now, though they have been on different continents, the common urge to change their own lives and lives of others around them, have kept them in touch.
Both of them are serial entrepreneurs and have started two companies together – CarbonFreeZone and  ApnaCashback – before working on Fabque.
They have also found another enthusiast who shared their beliefs , Nikhil Khatar,who is also part of Fabque now, taking the total strength to 3.
So what are some of the learnings that these serial entrepreneurs have to share ?
"One of the biggest lesson has been that you don't always have to be the first one in a market to carve your niche. Sometimes it's actually more difficult to be the first one. Opportunity will always exist in a market if you know where to look and how to look."
The company is currently working on on-boarding more sellers on their site and increasing the range of products they offer. The company is looking for funding to expand their operations.
Comments
comments