14 July, 2018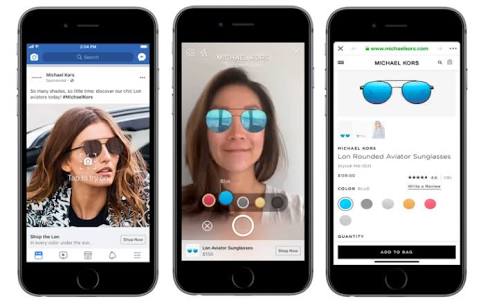 Facebook is mesmerising us by bringing augmented reality (AR) to its ads by letting you "try on" clothes and makeup before you buy.
The ads will appear in the news feed with a new "Tap to try on" option in the photo. If you do so, Facebook accesses your phone's camera and allows you to see how the items would look on you.
Michael Kors was the first brand to test the ads, by allowing people to try on and purchase sunglasses.Nyx Professional Makeup, Bobbi Brown, Pottery Barn and Wayfair will follow their lead. 
"We see augmented reality as an emerging and important part of our customer-centric mobile strategy," Michael Kors tells BuzzFeed News. "We know our customer is highly visual, and we are always looking for ways to deliver experiences that are not only unexpected but relevant, personalized and useful to her in her shopping journey."
"80 million people in the US engage with AR on a monthly basis and BCG expects this number to grow to more than 120 million by 2021."
(Image credits:- Techcrunch.com) 
Comments
comments