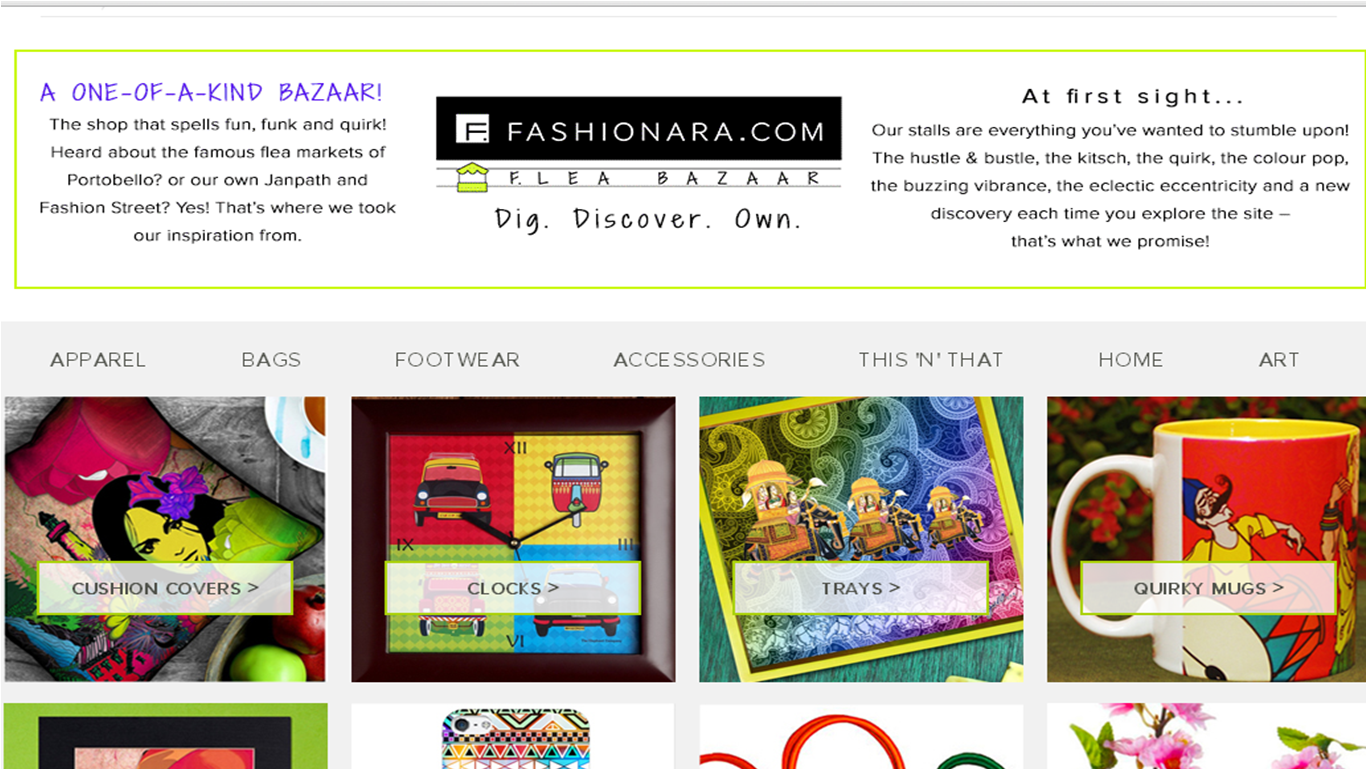 Bangalore 2014: Fashionara.com, India's leading women's e-fashion mall today announced the launch of a first of its kind initiative in Indian ecommerce. F.lea Bazaar, will be an online marketplace that brings together a curated collection of the best off-beat, eclectic products from select sellers and boutiques from across the country. With this move, the company has also effectively changed its model from being a pure play fashion portal high on brands, to a curated marketplace for fashion of all hues.
Inspired by the famous Santa Fe Flea Market in Mexico, London's Portobello Road Market and our own Janpath and Commercial Street in Delhi and Bangalore respectively, the F.lea Bazaar marketplace currently offers an array of over 15000 products ranging from quirky home products and stationary to kitschy mugs, fancy accessories, personal care products, funky footwear and one-of-their-kind bags and Apparel. F.lea Bazaar will be a platform for niche sellers who may not have a branded shop but sell through stalls at renowned flea markets and platforms like Facebook. Fashionara aims to have 500 merchants on the F.lea Bazaar, by this Diwali.
Fashionara already has on-board over 400 brands from across the country who get to showcase their products on the website, including the likes of Elle, Lee, AND, Levis and Biba. With F.lea Bazaar, Fashionara takes the shape of a fashion mall with branded showrooms, surrounded by a curated flea market, enabling shoppers to dig, discover and have the best of both worlds.
Arun Sirdeshmukh, Co-founder and CEO, Fashionara said, "Women are our largest segment of customers and as a brand we aim to map and satisfy their requirements closely. A close look at the wardrobes of our customers, show that while branded products form a large part of what they wear, they are also keen on unique and kitsch products which they can mix and match to design a unique and sophisticated look for themselves. However, finding these products is a tough task as they are not available online or in the comfort of a mall, but in small chic shops at flea bazaars!. We thought if we could get the best of these sellers to sell online, we could satisfy the needs of a large number of our customers, add a lot of variety to what we offer on Fashionara as well as enable flea merchants to sell their products pan India. This win-win combination made us work at a breakneck speed and in just 4 months from conception, we are proud to offer the largest online flea market to our customers."
F.lea Bazaar promises to showcase everything from bohemian chic couture to latest designs from young and upcoming designers to kitschy products that one can lust after. You will find an eclectic selection of products in categories like apparels; footwear; bags; accessories – jewelry, eye-wear and digital. There is also a "This 'N' That" category where one can find unique stationary, travel accessory and personal care products. The 'Home' category comprises of some attractive home decor, living, outdoors, lighting, and study& office items.
 "We are extremely excited about the ecommerce platform which Fashionara has provided us. For us this is a big opportunity; to make our brand visible across the country and to be able to sell to interested buyers everywhere", said Elephant Company who is already on the F.lea Bazaar platform.
You can visit the F.lea Bazaar here.
About Fashionara.com
 Fashionara.com is an e-fashion mall that offers premium merchandise in the space of fashion and lifestyle. The company aims to provide best-in-class shopping experience to customers by way of stunning visual content, unexpected customer service, constantly building on trust and dependability, and offering best of the premium and luxury brands in the country. The company has been founded by former CEO, Reliance Trends, Arun Sirdeshmukh and global e-commerce expert, Darpan Munjal.
With game-changing features, Fashionara has many firsts to its credit. The company was the first e-commerce portal to introduce a video catalogue and has Look Book, a fashion magazine, featuring international trends. The company aims to provide best-in-class shopping experience to customers with features such as hassle-free assisted returns, assured date of delivery, express / 24-hour delivery, Try@Home, Instant Exchange and has introduced for the first time – 'Alterations' in Indian E-commerce.
Some of the key brands that Fashionara.com retails are: Adidas, Benetton, Elle, Urban Yoga, Jealous 21, W, 109F, Biba, Inc 5, Catwalk and more. Fashionara.com is based at Bangalore and funded by two large VC firms – Helion Venture Partners and Lightspeed Venture Partners.
For editorial queries, please contact:
Deepansh Agarwal / Priya Kumari
+91 7838324168/ +91 8884751916
Aim High Consulting