Elizabeth Holmes case: A federal judge has denied a plea made by Theranos founder Elizabeth Holmes that requested to permit her to stay free as she appealed the forgery conviction that could serve her more than 11 years in prison.
US District Court Judge Edward Davila in his ruling late Monday stated that he found the victim was not a flight risk or danger to any community. The judge noted that Holmes' "misrepresentations to Theranos investors involved more than just whether Theranos technology 'worked as promised,'" rejecting her statement that the "accuracy and reliability" of Theranos' blood tests were the major cause behind her conviction.
However, in Davila's ruling, he found that the assertions for appeal against Holmes will not result in the relapse of convictions of the jury for three fraud and one conspiracy case.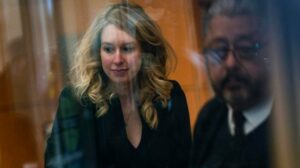 Elizabeth Holmes was earlier ordered to self-surrender herself to federal custody on April 27. She had the option to appeal to the Ninth Circuit but that would most likely buy her only a few weeks of freedom if that plea is denied.
In January 2022, a jury convicted Holmes, aged 39 on four grounds, which includes defrauding investors in her Palo Alto startup, a now-defunct startup through false information about her company.
The judge sentenced her in November when she was pregnant with her second child. Holmes appealed her conviction and sentence in December, stating in a court filing that she was condemned only for defrauding investors and arguing that the court record "is teeming with issues for appeal."
She also asked Davila to postpone her prison sentence until the appeal finishes. But that could take a year or longer, therefore rejected.
On the side of prosecutors, they opposed the request arguing that Holmes did pose a flight risk or danger to the community and claimed that she earlier tried to escape to another country on a one-way ticket to Mexico after her conviction.
On Holmes' part, the attorney denied the statement by saying that her two children were the reason why she wouldn't flee to another country. Holmes gave birth to two children – one was born in the past few months and the other was born in July 2021.
Judge Davila has considered serving a more than 11-year sentence to Holmes with a minimum security facility in Bryan, Texas. Federal prison authorities are left to say where and how she will serve the sentence.
KEY BACKGROUND
Elizabeth Holmes was a former billionaire that promised a major medical startup business to her investors. The company sincerely became one of the getaway stars of Silicon Valley claiming that its machine could carry out multiple tests on a single drop of blood.
For this reason, different companies funded the project like Rupert Murdoch, the Walton family, Larry Ellison, and several other high-profile names. However, after an investigation, the company and its machines failed to provide any promised trials as published by the Wall Street Journal in 2015.
A wider investigation was then started when both Holmes and her business partner Sunny Balwani were caught with federal charges in 2018. US prosecutors suggested Holmes, founder of Theranos receive imprisonment of at least 15 years or more and should pay a fine to investors of $800 million for her deceitful act.
"Considering the extensiveness of Holmes' fraud … the sentencing of 180 months' imprisonment would reflect the seriousness of the offences, provide for just punishment for the offences, and deter Holmes and others," the prosecutors said.
Her tests were unrealistic and fraudulent. She couldn't prove that her tests would diagnose multiple diseases through a single drop of blood. In defense, Holmes' lawyer stated that his client never stopped trying to create a different world of technology until her company was destroyed in 2018.
"Holmes is not a danger to society," Downey penned after he made an effort to protect her at all costs.