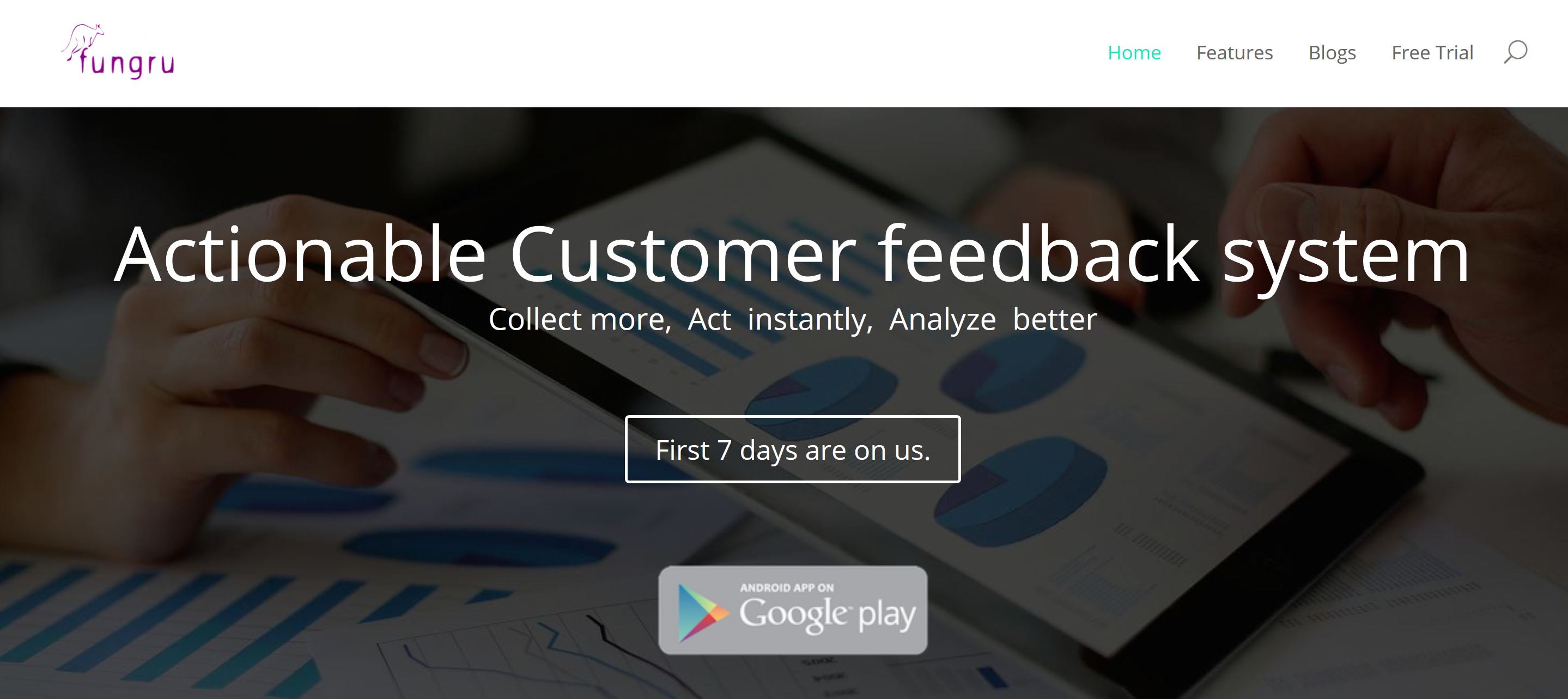 The well connected and well aware customers of today have become a very central factor in success of any enterprise. Not only can a positive social media review from a customer bring you a lot more business but on a number of occasions, acting on customer feedback has opened new and untapped opportunities for businesses. And in times like these Fungru is defining effective ways of collecting and analyzing customer feedback.
The Fungru Product
Fungru is an actionable customer feedback system that works largely with a focus on offline feedback.
Fungru feedback system allows companies to configure their own questionnaires. These questionnaires are made available to the end customers via portable devices (smartphone, tablets etc). Their product provide multilingual support to make these questionnaires available in multiple languages making it a very personalized experience for the customers.  Once this feedback is obtained, Fungru allows companies to generate analysis reports in multiple formats so as to understand customer behavior. In case of a negative customer feedback, the concerned department is notified immediately.  When a customer comes back to same restaurant, Fungru system uses feedback from the last time to generate a new feedback form for this repeat customer.

Outcomes of using the Fungru Feedback mechanism.
Having a personalized feedback has helped a number of companies improve feedback engagement with their customers. While earlier, companies reported only 2% engagement from an email feedback are now receiving more than 25% engagement according to team Fungru. Along with the engagement the quality of responses has also improved.Fungru also reports that companies are now getting more valid responses from their customers than before.
They say 'It takes years to build a reputation and only minutes to loose it' . On the same principles, a negative feedback on social media does a lot more damage than a number of positive feedbacks. a number of times, it is observed that more than having a problem with the services, customers are affected if their complains are not listened to. With the personalized Fungru feedback system, customers feel that their grievances are being attended to and responded to. As a result, companies who have implemented the Fungru system have seen sharp declines in negative customer feedbacks on review sites.

Fungru – The Story Till Date
Fungru was started by Nitin Bhadauria and Niteesh Kumar in April 2013. The idea came to the founders when they were sitting at a restaurant which they otherwise liked but the behavior of one service employee spoiled the entire experience for them. The founders felt that they would never want to come back to the restaurant but soon realized that it was unfair on the restaurant owner who had worked so hard to create a good restaurant but had to pay the price for one rude employee. That how the idea of Fungru was born.
Nitin is now the CEO at Fungru and has done his masters from IIM. Niteesh is a Computer Science graduate from IIT Guwahati and takes care of the technology part of the product. He is the CTO at Fungru.
Today Fungru is a team of 8 based out of Bangalore.
How Fungru captured the market.
It is true that Fungru did not meet with a lot of competition in the offline feedback market. Prior to using Fungru, most of the restaurant owners were using paper based feedback.
Fungru however adopted a very smart go to market technique – the one suggested by Malcolm Gladwell in his very famous book – The Tipping Point. The company found influencers in the market (restaurants who were trend setters and being looked upon and followed by the industry). The founders spent a considerable amount of time researching the same. Once the founders convinced these influencers to buy their product, the rest of the industry also wanted the Fungru feedback system. Fungru today has a very well established presence in the market.
The road ahead
On the product side, Fungru will be focusing on building products with an aim to create better engagement of brands with their consumers.
The company also plans on adding a number of clients to their list.
The company is currently angel funded with 30 Lakh INR.The company will look to raise funds in a seed round in the coming months.