Repair and maintenance industry is a highly unorganized and untapped market segment of India. It is really difficult to locate a good technician in 'just-in-time' in any city. However, attempts have been made to organize the segment by listing relevant information on various sources like newspaper, pan-India classifieds services but none of them provide complete information on 'how qualified your technician really is?'. Add to that- a hectic lifestyle of employed workforce of today's generation and voila!
As stated above, there isn't any organized market for service repairs which can work its way both for a customer and a technician.
From a customer's perspective- There are many options available for calling a technician but concerns still revolve around his expertise, time taken by him, replacement of Original Parts, etc. Moreover, for different electronics the customer has to rely on different people. And then comes the point of convenience, now it's the other way around- Customer has to wait and be available at a convenient time of the technician!
Four good friends from IIM-B & NMIMS University, India chose to rectify the problems posed to customer as well as technician. They seek to bring together both parties on a common platform to facilitate real-time, on demand communications. They thought of redefining services for this segment by coming up with a business focusing on providing good technicians for doorstep home repairs. And that is how Geekscraft, a brand representing the synergy of Geeks – "Nerds of technology" with Craft -"Collection of good things, was incepted.
It is a network of expert technicians 'called geeks' who undertake in-house repairs of Gadgets & Home Appliances. Geekscraft provides the convenience of a doorstep service to fix Mobile Phones, Computers, TVs, ACs, etc. at very affordable prices. It provides customers with verified and skilled technicians to address their electronic repair needs. Geekscraft seeks to establish itself as a brand to reckon with when it comes to door-step repair services in India with superior customer service, commitment and quality repairs.
Pilots of Geekscraft!
The Founders!
Deependra Singh: An IIM-Bangalore Graduate of Batch 2013. Also, studied B.tech in EC- HBTI Kanpur. Deependra takes care of financials for the company and future planning.
Shivendra Singh: A NMIMS Post Graduate of Batch 2013; studied B.Tech in IT and MBA Major in Marketing. Shivendra takes care of strategy and day-to-day management.
Vinit Gupta: A NMIMS Post Graduate of Batch 2013; studied B.Tech in IT and MBA- Major in Finance and Minor in Marketing. Vinit takes care of Customer and Partners Engagement to establish a bridge between the two entities.
Ravi Tripathi: A NMIMS Graduate of Batch 2012; studied B. Tech in IT. Ravi takes care of Technical Aspects. He is responsible for uptime of website and related things which serves as interface for the Customer.
Other strategists in team!   
Keerthi Chetty: Keerthi takes care of marketing and communications. She is playing a key role in generating external visibility for the brand on various platforms.
Sagar Raut: Takes care of Technical Aspects. He is working with Ravi!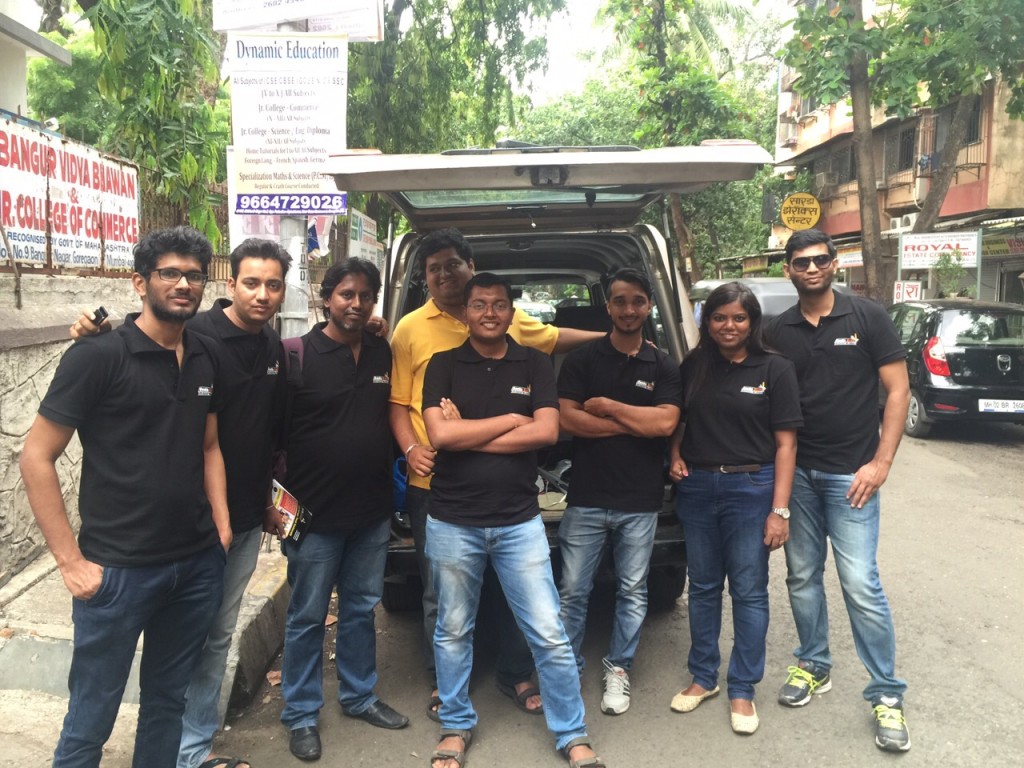 (Team Geekscraft)
Know More about Geekscraft
The name 'GEEK' in Geekscraft stands for
G – Genuine
E – Educated
E – Enthusiastic
K – Knowledgeable.
In a short span of time, Geekscraft has been able to establish itself as an esteemed brand due to its strategies which are unique to company:
Rigorous background screening of the technicians to ensure quality service
Connect customers with skill experts using online portal/mobile call/whatsapp in real-time
Reliable and Secure Service, Right Services for the Right Price
Loyalty Points to keep customers engaged
Choose Geekscraft, and all you got to do is give a call to lodge a complaint, then sit back and relax. It will do all the backend work for you. The right geek will be assigned at a convenient time and date as per the customer's convenience.
"The sheer joy of making a difference to our society drives us at work. We are very excited by our quest to help people find a good technician/geek. Our business motto revolves around this and we are striving to provide everything under one basket" founders utter.
Challenges! Decisions! Growth!
Currently, the company is confronting the following challenges:
Rise in Purchasing Power – Electronics/Household Equipment. As a higher number of electronics flood the market, the need to service them also rises and a lack of skilled technician makes it hard to cope with the demand
Traditional System for Servicing still widely prevalent
Difficulty in locating Verified Technicians
Also, service appointments are more often according to the convenience of service provider and not customer
Talking about decisions they are making to tackle challenges all, founders say that "It's not about hard or easy decision. It's about taking a decision and making it right. Our entire team is out there doing their job because they believe in the business and that it will change people's lives. They are passionate about the work they are doing and definitely we will tackle each one and achieve success".

As of now, company is looking forward to grow along following lines:
Marketing: Scale up brand's presence online and offline
Operations: Expand presence in various areas other than Mumbai. In coming future, Mark its presence in all major cities across India
Service Offerings: Diversify beyond electronics too in the future.
Business Back End: Connect with Service Providers for it is never-ending process
To achieve the goal, Geekscraft has scaled its marketing aggressively and has pulled up sleeves to obtain more investment followed by plan to expand operations to more cities!
Also check: spray foam insulation edmonton
Comments
comments