Hello there, technologists! Your voyage into the world of Apple's forthcoming iPhone models is about to get exciting. Even if we're still impatiently anticipating the introduction of the iPhone 15 series later this year, we've already heard some intriguing rumors about the iPhone 16 Pro models scheduled to debut in 2024. In order to dig into the juicy details, buckle up.
Bigger, Bolder, Better: iPhone 16 Pro Series Promises Larger Displays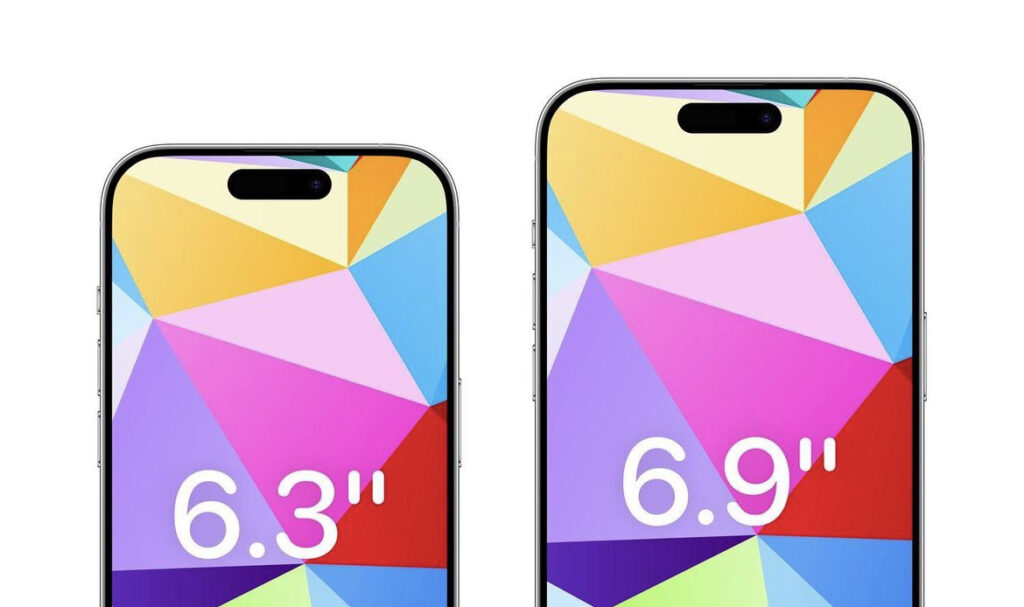 Imagine a phone with a screen so immersive that using it is like entering another universe. The iPhone 16 Pro series makes that commitment. While the screens on the iPhone 14 Pro and Pro Max have won us over, the speculation around the iPhone 16 Pro models suggests that Apple intends to go much larger. It's time to boost your watching pleasure!
Unveiling the iPhone 16 Pro Display: What's in Store?
We know everything about the iPhone 16 Pro's display, and we can assure you that it is excellent. We have some juicy information on the screen sizes and aspect ratios of the iPhone 16 Pro and Pro Max variants thanks to some fascinating tweets from Ross Young, the CEO of Display Supply Chain Consultants and a trustworthy source of tech leaks. Let's get into the intriguing details.
The Base Models: A Perfect Blend of Style and Functionality
Let's discuss the standard iPhone 16 and iPhone 16 Plus models first before moving on to the Pro variants. According to rumors, the iPhone 16 will have a 6.12-inch screen, while the iPhone 16 Plus will have a slightly bigger 6.69-inch screen. The iconic 19.5:9 aspect ratio we've grown to adore from the iPhone 14 series is reportedly maintained in both models. With a 60Hz refresh rate, they might not have the same high refresh rate as their Pro counterparts, but they're nonetheless ready to provide an amazing user experience.
Let's focus on the iPhone 16 Pro and Pro Max variants, which are the true show-stoppers. Your mind is about to be blown! The Pro Max will reportedly have a large 6.86-inch screen, while the iPhone 16 Pro is said to have a gorgeous 6.27-inch display. These gadgets' higher aspect ratio of 19.6:9 will immerse you in a world of a brilliant film. The iPhone 16 Pro series continues Apple's tradition of pushing the envelope of innovation. Be prepared for ProMotion display technology, which is expected to come in the iPhone 16 Pro and Pro Max. These gadgets will provide unmatched fluidity and responsiveness with a silky 120Hz refresh rate, making every swipe and scroll feel effortless.
Design That Stands Out: LTPS Backplane and Dynamic Island
When it comes to design, Apple never makes concessions. According to rumors, the iPhone 16 series will have an LTPS (Low-Temperature Polycrystalline Silicon) backplane, guaranteeing vivid colors and clear pictures. Not to be overlooked is Dynamic Island, which resembles the iPhone 14 Pro version and is shaped like a pill. With each tap and touch, our intelligent design gives you a seamless experience while optimizing performance and efficiency.
Future Models of the iPhone: A Sneak Peek
Because we still have work to do, hold on tight! Apple reportedly has great plans for the iPhone 17 series as well, based on the leaks. According to rumors, the standard iPhone 17 and iPhone 17 Pro will have 6.27-inch screens, while the Plus and Pro Max variants will have magnificent 6.86-inch screens. The desired 120Hz refresh rate is anticipated to be offered by all four models. Not only that, but the Pro models might also include a punch-hole design with an under-screen Face ID. The iPhone's future just keeps becoming more fascinating!
Rumors Galore: Take Them with a Pinch of Salt
Now, it's important to keep in mind that these leaks are still only rumors at this point before we get carried away with all this fantastic information. Even though we're excited by the possibilities they open up, it's important to treat them with caution until Apple formally confirms or refutes them. Apple is known for surprising us, so who knows what they have planned? While you wait, indulge your fantasies as you picture the gorgeous iPhone 16 Pro series with its bigger screens, ProMotion technology, and svelte design. iPhone's future appears to be more promising than it has ever been, and we are eager to see what Apple has in store for us.