Recently, Air New Zealand has asked passengers to step on a scale before they board some flights out of Auckland International Airport, according to the reports.
In a statement, the airline said that it is applying the new boarding procedure in order to easily balance weight across an aircraft on international flights. Knowing an aircraft's weight is also significant to calculating fuel consumption, while having more accurate information about a traveler's weight can ensure a safer flight, the carrier said.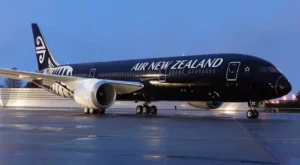 Air New Zealand load control improvement specialist Alastair James said, "They have nothing to worry about", he assured passengers in a video stating the measure, which is part of a periodic survey.
In an official announcement, Air New Zealand said, "For safety reasons, we need to know the weight of all items onboard the aircraft. For passengers, crew and carry on bags, we use average weights that we get every five years through this survey."
The move is in line with the Civil Aviation Authority of New Zealand's rules concerning aircraft operations, which mentions that operators must determine "the total weight of passengers and their carry-on baggage."
In a video, James said, "It's a regulatory requirement for us to know the weight of everything that goes on the aircraft. From the cargo to the meals on board to the luggage in the hold. By weighing in, you'll be helping us fly safely and efficiently every time."
It has been said that neither passengers themselves nor airline personnel can see a passenger's weight; instead, the number is entered automatically into a computer and saved anonymously. The data is neither added to a passenger's name or profile in a database. Participation is entirely optional, according to Air New Zealand.
"No one can see your weight, not even us," said James. The airline also said that they acknowledge that standing on the weighing scale in public "can be daunting". However, they have asked people not to worry as the scales will not display the passengers' weight and the data will be "directly into a computer and recorded anonymously along with thousands of other passengers."
The weighing process, which will take place at a plane's departure gate, will not cause delay n any flights, as per the carrier. Moreover, the airline in June will ask more than 10,000 international passengers to participate in the weight survey.
He added, "For customers, crew and cabin bags, we use average weights, which we get from doing this survey." Air New Zealand also told NPR, that it is for "safety reasons" that they weigh everything onboard the aircraft and the survey is also made compulsory by the country's civil aviation authority.
"It's simple, it's voluntary, and by weighing in, you'll be helping us to fly you safely and efficiently, every time," said James. The survey started for selected Air New Zealand flights departing from Auckland, on Sunday and will continue till July 2. However, this is not the first instance when Air New Zealand has asked the weight of its passengers.
In 2021, customers flying domestically were weighed. "Now that international travel is back up and running, it's time for international flyers to weigh in."