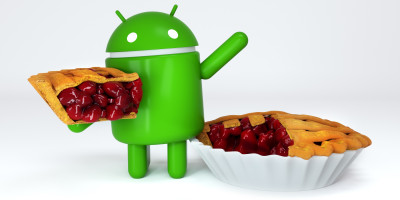 7 August, 2018 
Google today revealed Android P stands for Android Pie, succeeding Android Oreo, and pushed the latest source code to the Android Open Source Project (AOSP). The latest version of Google's mobile operating system, Android 9.0 Pie, is also starting to roll out today as an over-the-air update to Pixel phones.
If you don't have a Pixel phone, you won't be getting Android Pie for a while (if at all). During the beta testing phase, Android P was made available on the Sony Xperia XZ2, Xiaomi Mi Mix 2S, Nokia 7 Plus, Oppo R15 Pro, Vivo X21, OnePlus 6, and Essential PH‑1. Google has shared that these devices, as well as all qualifying Android One devices, will receive Android Pie "by the end of this fall." Google added that it is working with "a number of other partners to launch or upgrade devices to Android 9 this year." Android Pie will not be coming to Nexus devices.
Google wants you to know that Android Pie includes a "heaping helping of artificial intelligence baked in to make your phone smarter, simpler, and more tailored to you."
Android Pie offers of a slew of new features, including built-in support for display cutouts (read: notches), a tweaked Quick Settings panel, a notification drawer with rounded corners, messages in notifications when replying inline, smart replies in notifications, a consistent UI for fingerprint authentication, privacy enhancements to limit what apps can do in the background, Adaptive Battery and Adaptive Brightness features (courtesy of Google DeepMind), App Actions for predicting what the user will do next, App Slices for surfacing an app's user interface inside the Google app's search results and inside Google Assistant, a BiometricPrompt API for a system-managed dialog to prompt the user for any supported type of biometric authentication, and multi-camera APIs that let you access streams simultaneously from two or more physical cameras.
Since Android 1.5, Google has named each version of its mobile operating system after a sweet food — moving sequentially through the letters of the alphabet. The tradition started more than eight years ago. Here are all the releases so far:
• Android 1.5 Cupcake (April 2009)
• Android 1.6 Donut (September 2009)
• Android 2.0/2.1 Éclair (October 2009, January 2010)
• Android 2.2 Froyo (May 2010)
• Android 2.3 Gingerbread (December 2010)
• Android 3.0/3.1/3.2 Honeycomb (February 2011, May 2011, July 2011)
• Android 4.0 Ice Cream Sandwich (October 2011)
• Android 4.1/4.2/4.3 Jelly Bean (July 2012, November 2012, July 2013)
• Android 4.4 KitKat (October 2013)
• Android 5.0/5.1 Lollipop (November 2014, March 2015)
• Android 6.0 Marshmallow (October 2015)
• Android 7.0/7.1 Nougat (August 2016, December 2016)
• Android 8.0/8.1 Oreo (August 2017, December 2017)
(Image:- venturebeat.com)