Google CEO, Sundar Pichai stated in a statement that the bonus payouts that are given annually to the top executives of the company would be cut as well following the massive layoff going around in the company.
According to the Wall Street Journal, the statement came after Google's parent Alphabet laid off around 12,000 jobs, which accounts for 6% of its total workforce.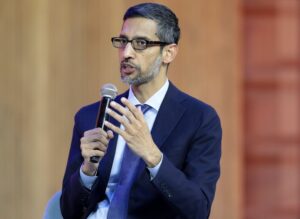 The CEO informed the top executives like the senior vice president and many more that their level of bonuses would be cut as part of cost-cutting measures that are going on around the company.
This has not only been the condition of Google but of many tech companies right now. Many tech giants such as Meta, Amazon, Microsoft etc have been cutting jobs in order to save costs as the economic condition worsens around the globe.
Generally, the employees get a huge portion of their paychecks through bonuses and grants provided by the tech employees. So a decrease in bonuses would mean they will lose a huge portion of their salary.
The move to cut down jobs is Google's biggest move ever where the company has cut down so many jobs and laid down several employees. This has hit the employees for which the company has guaranteed that severance pay will be provided to the employees who lost their jobs which includes bonuses and healthcare services.
In an email, the CEO of the company Sundar Pichai told employees that the layoff of the parent company Alphabet will affect the employees around the globe and the overall working of the company.
However, Pichai let out that he takes "full responsibility for the decisions that led us here."
"Googlers, I have some difficult news to share. We've decided to reduce our workforce by approximately 12,000 roles. We've already sent a separate email to employees in the US who are affected. This will mean saying goodbye to some incredibly talented people we worked hard to hire and have loved working with. I'm deeply sorry for that. I take full responsibility for the decisions that led us here. Over the past two years we've seen periods of dramatic growth. To match and fuel that growth, we hired for a different economic reality than the one we face today," said Pichai in his letter to his employees.
Google joins other companies:
With Google cutting jobs, the company entered the list of the companies that have laid off its employees from last year onwards. The companies include Meta, Amazon, Twitter, Spotify and many more.