A Republican and China Hawk, Josh Hawley (U.S. Senator) stated that he would present a bill in the United States to restrict the use of the short video-making app TikTok.
Earlier, the States announced that federal employees must obstruct themselves from using the app or even downloading the Chinese application on any government device.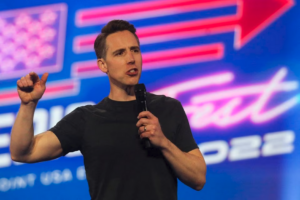 "TikTok is China's backdoor into Americans' lives. It threatens our children's privacy as well as their mental health," he said on Twitter. "Now I will introduce legislation to ban it nationwide."
Hawley, however, hasn't reported as to when the bill would be presented in the House. Meanwhile, ByteDance owned Tiktok in a statement expressing that whatever Hawley is doing or will do is a wrong approach.
"Senator Hawley's call for a total ban of TikTok takes a piecemeal approach to national security and a piecemeal approach to broad industry issues like data security, privacy and online harms," said spokeswoman Brooke Oberwetter. "We hope that he will focus his energies on efforts to address those issues holistically, rather than pretending that banning a single service would solve any of the problems he's concerned about or make Americans any safer."
TikTok's story so far:
TikTok, a Chinese company, has been facing huge criticism and comments. Several allegations of data stealing and misappropriate use of data have been put up against the company for which many countries have already started banning the usage of the application.
Recently, the United States has banned even downloading the application on any government-owned devices for security purposes.
Many cases have been filed against the app for data breaching and harming the minds of youths. One such case was filed by the Seattle Public School that held TikTok responsible for depleting children's mental health.
The school accused TikTok and other social media of the rising cases of depression, anxiety, eating disorders and bullying among children.
"Defendants have successfully exploited the vulnerable brains of youth, hooking tens of millions of students across the country into positive feedback loops of excessive use and abuse of Defendants' social media platforms," the complaint said. "Worse, the content Defendants curate and direct to youth is too often harmful and exploitive …."
"Plaintiff is not alleging Defendants are liable for what third-parties have said on Defendants' platforms but, rather, for Defendants' own conduct," the lawsuit said. "Defendants affirmatively recommend and promote harmful content to youth, such as pro-anorexia and eating disorder content."