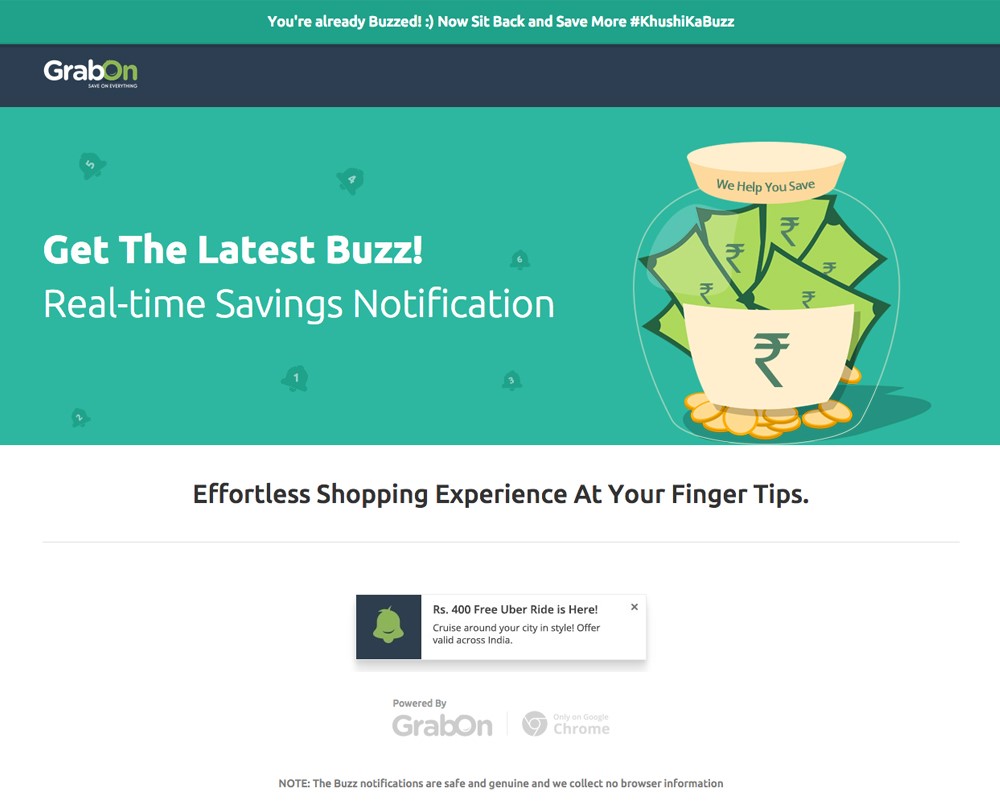 July 02, 2015, India -The excitement is running high and everyone are power-boosted at GrabOn today with the launch of its third version – V3. The spotlight is being taken by its brand new feature called "Buzz Me" notification. Buzz Me – a feature that will allow every online shopper to have a personalized anytime notification popping-up on their desktop. Users need not register or download any app/plugin for this feature to work. This exceptional element will enhance the user experience and is first-of-its-kind to be launched in the e-commerce space. The feature is designed for today's smart online shoppers who prefer on-the-go shopping and wants a website that understands all their shopping needs.
GrabOn's "Buzz Me" was formulated meticulously by creative developers and UI experts to make sure that the users land the latest and best coupons and deals in a snap. A feature that does not require the user to have a browser window open and is supported by major browsers. "With this new launch and the existing database of users, GrabOn is in the process of raising 'Series A' funding which will be spent to expand GrabOn services to hyper-local offline space while pushing the technology to the next level," says Ashok Reddy, Founder and CEO of GrabOn.
Mr. Reddy believes that the e-commerce space in India lacks user-friendly experience and interface. He plans to invest a major share of the funds in hiring smart and creative techies. "We have also patented this new feature to avoid idea stealing," says Mr. Reddy.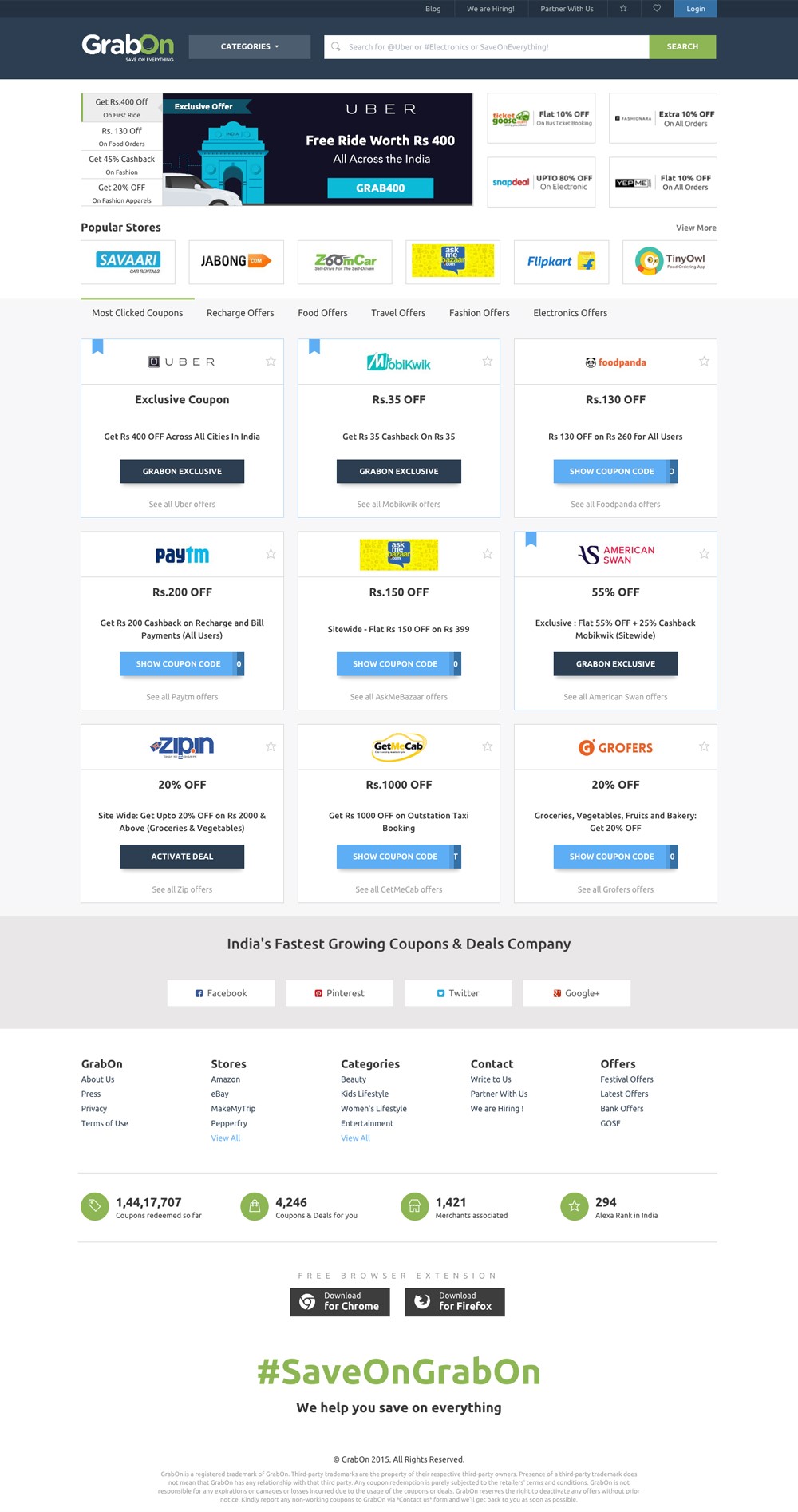 The 'Buzz Me' notification will be available starting July 1st to all the GrabOn users in India. "We love e-commerce and believe this new notification add-on will offer an incredible shopping experience to all our users at just one-click" explains Sylvester Simon, Chief Business Officer, GrabOn.
Effortless Shopping Experience
Apart from notifying the users about the latest coupons and deals, 'Buzz Me' is also infused with a clever   hi-tech wherein it will adjust automatically to any browser upgradation. Users don't have to install add-ons or plugins time and time again. This feature pops-up at a perfect spot of your desktop to make sure that it will not hamper the workflow. Our experts built this feature keeping in mind the user's perspective and attitude towards the acceptance roadblocks such as user privacy, browser load time, stickiness, annoying nag of 'click me', no subscription policy and more.
This notification was built based-on a 8-month long market readiness report that scrutinized the buying patterns of online shoppers. This intelligent feature understands the users' buying needs and accordingly pushes the right coupon on their screen promptly to make sure that the users don't spend much time on searching for offers. To explain better, every month from1st to 6th this feature will push-in the best and most exclusive recharge category coupons so that the major users who search their browsers to get the best mobile recharge offers need not search anymore. Now, users can get the best Jabong coupons, Flipkart coupon, Uber free rides, Paytm coupons and many more in a blink.
To add to this, 'Buzz Me' has a time/seasonal sensitive functionality which automatically recognizes the current seasonal sales and sends out notifications to ease users' shopping experience. "We understand how busy the online users are and they often tend to forget the important days like 'Valentines Day', 'Father's Day', 'Mother's Day' etc., so this feature will be a life-saver for our users and help them to be on top of their personal life as well," exclaims Mr. Reddy.
GrabOn So Far:
1: 4 million unique visitors a month with an Alexa rank of 294
2: 4.3 million coupon redeems monthly
3: Estimated market value (GMV) of $80 million per year
4: Over 2300 online merchants and 5000+ coupons
GrabOn is the fastest growing couponing company in India and is one of the very few players in the market to achieve these milestones in such a short time. From a team of 6 about 15 months ago to a team of 35 right now, GrabOn is looking to expand its team to 100 by the end of December 2015. The new funds will help the company expand into various streams such as offline, technology expansion and sales.
GrabOn V3 and Future:
 Mr. Reddy adds, "We will be soon raising Series A funding and will be on a hiring spree in the coming months. Our in-house data scientists have been researching for months on the right areas to tap-in the offline space. We are expecting the funds to come in by the end of September 2015 and will take on any player which is present in both offline and online space."