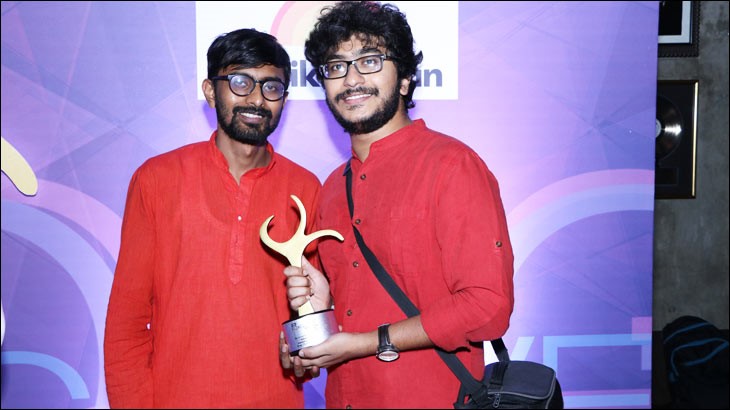 The Gurgaon-based Blue Vector is making a lot of buzz in the media and all for good reasons. The creative agency has recently won the AFAQs' National gold for " The Best Content Marketing Launch" for strategizing and executing an intriguing brand launch for "The Drunken Botanist".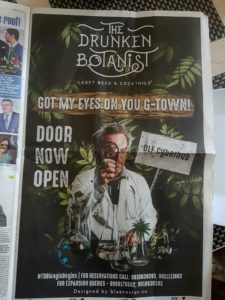 The Drunken Botanist is a new Brewery in Cyber City Gurgaon, themed after the book by the same name written by Amy Stewart. Blue Vector took the character of the 'Drunken Botanist' and weaved an engaging, quirky narrative around him and integrated it across various digital touchpoints.
For example, they created curiosity posts for Facebook and Instagram and a digital teaser film to introduce audiences to the 'Drunken Botanist'.
They also used a full-page print ad based on the Botanist and employed blogger outreach program to promote the brand at the micro level. Post launch they created a live-shot social-engagement Digital Film as well.
Elaborating more about the branding campaign, Piyush Kedia, the CEO of Blue Vector said, "The brand (The Drunken Botanist) required a launch campaign that could help it stand out in the hyper-saturated local market of bars, restaurants and QSR chains. The Food and Beverage Social Media landscape was saturated with Food Photography, Food Influencers, and Advertorials which gave audiences a great feel for the food and the place but didn't do much to build a memorable 'Brand experience'. We thought that we should completely push the envelope for the 'Content' that a standalone food and beverage brand could delight audiences with and also challenge long-established local brands like 'Social'."
He also talked about his company Blue Vector, the kind of services it provides and also its USP. In the words of Piyush Kedia, "We are a service company which provides everything an ad agency does but with higher affordability and explorability in terms of the creative approaches that we can take."
Their client, Sahil Sambhi of the Drunken Botanist was all praises for Blue Vector. He said, "Blue Vector has been instrumental in giving Drunken Botanist this awesome, crazy brand image that it has today. They created a truly 360-degree campaign with a strong narrative thread flowing through everything. I take care of multiple restaurants but none of them have been raved about as much as TDB! My favorite, and everybody else's also, was the teaser video with its crazy rap. I wish them the best."
More About Blue Vector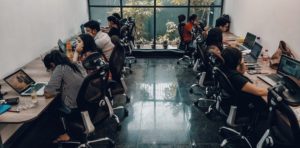 Blue vector is a creative agency specialized in providing services like social media marketing, video making, branding identity design, and print design.
At Present, Blue Vector is a team of 40 young people coming from mixed experiences and backgrounds, right from the most amazing illustrators to nerdy strategists to ex-salespeople from the likes of companies such as Volkswagen, Ernst & Young, Mu Sigma, Dentsu WebChutney, Publicis, JWT, and many more.
According To Piyush Kedia, this unique blend of minds and backgrounds has shaped the company culture and has been instrumental in its success. To put it in his own words, "Our unique congregation of minds has organically distilled this environment of sharing ideas, work, jokes, and opinions. This is what we believe will continue driving us into more success – our culture, and because we value this culture and people responsible for it."
He further added, "We approach the market one industry at a time, creating an expertise in one market and moving on to the next that we think could be fun and in need of our basket of products."
Blue Vectors is presently providing services to reputed companies like Audi (Gurgaon), Porche Centre (Gurgaon), DSport by Discovery Channel, Sterlite Power, iZenica, Yoo Noida, and Trump Towers India.
For the Luxury Lifestyle Weekend held in Mumbai, they did a short aftermovie. Piyush Kedia feels that though this does not fall under the conventional advertising or marketing agency spectrum of services, it gave them an opportunity to begin making aftermovies, a better-executed and better-known industry format.
What Sets Them Apart from the Competition
Emphasizing what sets Blue Vector apart from others in the market, Piyush Kedia said, "We combine the creative prowess of a big established agency with the agility of a young passionate agency and that's why we call ourselves a small-big agency."
He further added, "Because we avoid the set processes of the industry and literally create them from scratch, our clients range from local schools and business to startups, high-end restaurant chains and global brands such as Audi, the Trump Organization and Sotheby's. Even our product catalog ranges from simple Social Media posts to full-fledged TVC's. We are essentially an idea shop that operates all along the spectrum and beyond."
About Piyush Kedia, the CEO of Blue Vector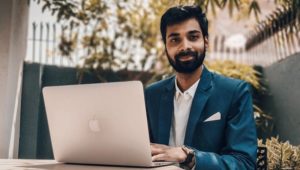 Piyush Kedia, the CEO of Blue Vector is a graduate from the Delhi University. He was working with Ernst & Young (E&Y) before his entrepreneurial aspirations made him walk a different path.
Blue Vector is his second startup. He started the first startup, 'Skribble' when he was in college. But Skribble did not do well and had to be shut after 6 months.
After graduation, he joined E &Y for a short while. During this period, he was asked to design marketing content by a few acquaintances and eventually, he was approached by a major publishing house. Finally, in early 2015, Piyush Kedia decided to take the plunge and start his second startup Blue Vector.
Today, Blue Vector with expertise in design, branding, and communication has grown its revenues from INR 1 Crore in 2016-17 to INR 3 Crore in 2017-18. We wish Piyush Kedia and his team the best of luck and hope that in the coming days, we will get to hear more success stories about them.