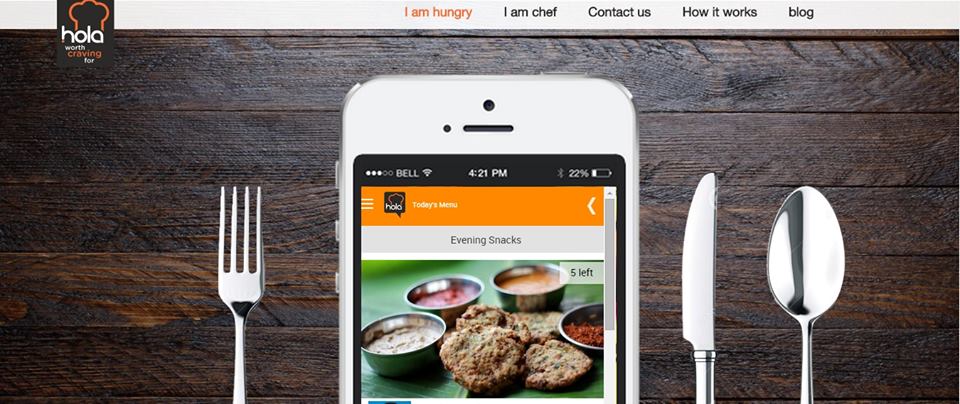 Holachef offers daily new menus for lunch, and dinner, bakery good and condiments prepared by some of the best chefs in the city.
If you remember exactly, eating at home was a huge operational process starting from planning on what to eat, buying those veggies (or meat), fixing a food time and start the preparation keeping the end time in mind, it involved a lot of management principles more than just eating. Then, came the hotels, fast foods that brought world class foods to your very own city and food-tech startups that let you taste the multi-cuisines right from your house. The Indian food industry is expected to reach USD 65 billion by 2018 and the market is gaining its momentum in online food order and home delivery at a whopping 40 per cent (CAGR). Billions of marketing dollars have been spent by QSR chains to make food an on-demand service. There are so many food -tech startups that are eyeing to make a name for itself in this market, where the technology is more or less limited to order and delivery support. Some of them have faced their fair share of problems, and the main concern from the majority of the consumer's side is the late delivery.
Holachef, a Mumbai based online curated food delivery service is bridging and extending the conventional food preparation (at home) and food delivery service and guess what! they are actually eliminating late deliveries, by moving into a space where food is not on demand any longer. Yes, with Holachef you can just pre-order your food, and deliveries are made with the pre-selected time slots with one person meal format. 40% of our orders are pre-booked hours or even days in advance. They're working with chefs for menu planning, food packing, storage, customer service, quality control, et al. Holachef's dynamic, crowd managed menu offers the best in taste and quality from chefs preparing the dishes with fresh ingredients in state-of-the-art kitchens. Their menu comprises a range of cuisines from Mexican to Middle-Eastern and from Kashmiri to Chettinad.
Customers can place the orders through company's mobile app (Android and iOS) or their website.
Holachef Facts
Venture Started: May 2014
Launch Date: September 2014
Founders: Saurabh Saxena and Anil Gelra
Current team size: 35+
Head Office: Powai, Mumbai
Number of chefs: 200+
Number of customers: 40,000+
Sales: Over 1,00,000 orders served till date (@ an average of 1200 orders per day), 80% repeat purchase rate and more than 8,000 hits on website everyday.
Number of cities: 2
Funding: Rs. 22 crores in 2 rounds + undisclosed amount from Mr. Ratan Tata
The Chefs
Saurabh Saxena, CEO & Founder, is an IIT Bombay alumnus. He has been part of the startup ecosystem in India since 2006 – as an entrepreneur as well as an angel investor. His first entrepreneurial venture, Aakar Knowledge Solutions, built educational products & services that reached out to 2000 schools in India and 10 countries abroad under the brand name iKen. The company was acquired by Mexus Solutions in 2008; within two years of its launch. Owing to his in-depth understanding and vision for the venture, Saurabh headed the Sales & Marketing division of Mexus Solutions for over 5 years. Since then he has been an Angel Investor for 4 Indian startups and is a core member of Powai Lake Ventures, an Angel Investment Group. He has formulated and executed the go-to market strategy for Toppr.com, a one of its kind adaptive platform that helps IIT-JEE and Pre-medical students with their exam preparation.
Saurabh Saxena (Left) and Anil Gelra
Anil Gelra, CTO & Co-Founder, is an IIT Bombay alumnus. He has worked with Maruti Udyog Limited for 3 years before starting his first entrepreneurial venture, Sodel Solutions, as its Database Architect. Sodel Solutions creates applications that cater to millions of daily users, enabling them to stream petabytes of data daily and analyze terabytes of data in real time. Some of his marquee clients are Thomson Reuters, Huffington Post and a couple of fastest growing startups in the US – Sport195.com and HelpRX. Sodel Solutions is now an autonomous company, with over 2 million USD in revenues dedicated to developing big data applications.
Together, they founded Holachef with the intent of materializing a long-standing dream of creating unprecedented value in the food consumption ecosystem. Anil brings to Holachef his acumen for designing, developing and scaling big data applications. Saurabh leads the business, strategy, scalability and profitability of the company.
"The key will be to create a new tech driven value chain and not just food deliveries."
Food-tech is a huge industry and food-delivery is a small part of it. Food-tech should not be confused with just enabling an online purchase and then delivering the food, it is wrong to categorise the food-tech industry as a food-ordering cum delivery service only.
Holachef is neither a restaurant nor a delivery company. We are more focused on the use of technology at every step while we optimize deliveries.
The 'tech' in food-tech from Supply Chain to End Deliveries, refers right from food sourcing, processing, storage, packaging to even cooking, that can be backed by technology.
The Recipe
They currently focus to optimize delivery using technology, as they feel the biggest cost driver in the food business is the fulfillment, which is related to food delivery, and not the food itself.
They constantly work to know their customers better with regards to their choices, consumption patterns, preferences and how open they are to experiment with food. They are also focused on how to automate processes at every stage because that's the only way to achieve scalability. They plan to create a boundary less play-field as far as food is concerned.
A chef who is based in another continent should also be able to collaborate with us.
Observing a standardized quality control process, Holachef onboards chefs with FSSAI license, provides Hazard Analysis and Critical Control Points to chefs and other kitchen staff, follows rigorous practices for food inspection, sanitation for cooking, storing and carrying food for delivery, personal hygiene of food-handling staff, chef and vendor audit, etc.
Strategic Focus
Expansion Plans:
Their plan for the next six months is to consolidate their operations in Mumbai and Pune. They are utilizing all the resources in putting their automation plans in place and executing them.
Funding
They've recently received (an undisclosed amount of) investment from Mr. Ratan Tata in August 2015. Having received seed fund of Rs. 2 Crore from Anand Lunia (Partner – India Quotient) in February 2015, they had raised Series A funding of Rs. 20 Crore in a round led by Kalaari Capital in June 2015.
They will be looking for funding only for multicity expansion. They are in a business that does not require too much capital burn once the operational processes are set in motion.
"Use of technology is crucial in making us profitable very fast and we are focused on backing all of their processes with technology."