The Pokémon Scarlet and Violet Teal Mask DLC has brought a wave of excitement for trainers as they embark on a new adventure in Kitakami. This expansion not only offers a fresh journey but also welcomes back some beloved Pokémon that were absent in Generation IX games. Among these returning favourites is the Bug/Flying-type Pokémon Yanma. If you've managed to catch a Yanma in Kitakami and are curious about how to evolve it into the formidable Yanmega, you've come to the right place. In this guide, we will walk you through the steps to evolve Yanma into Yanmega.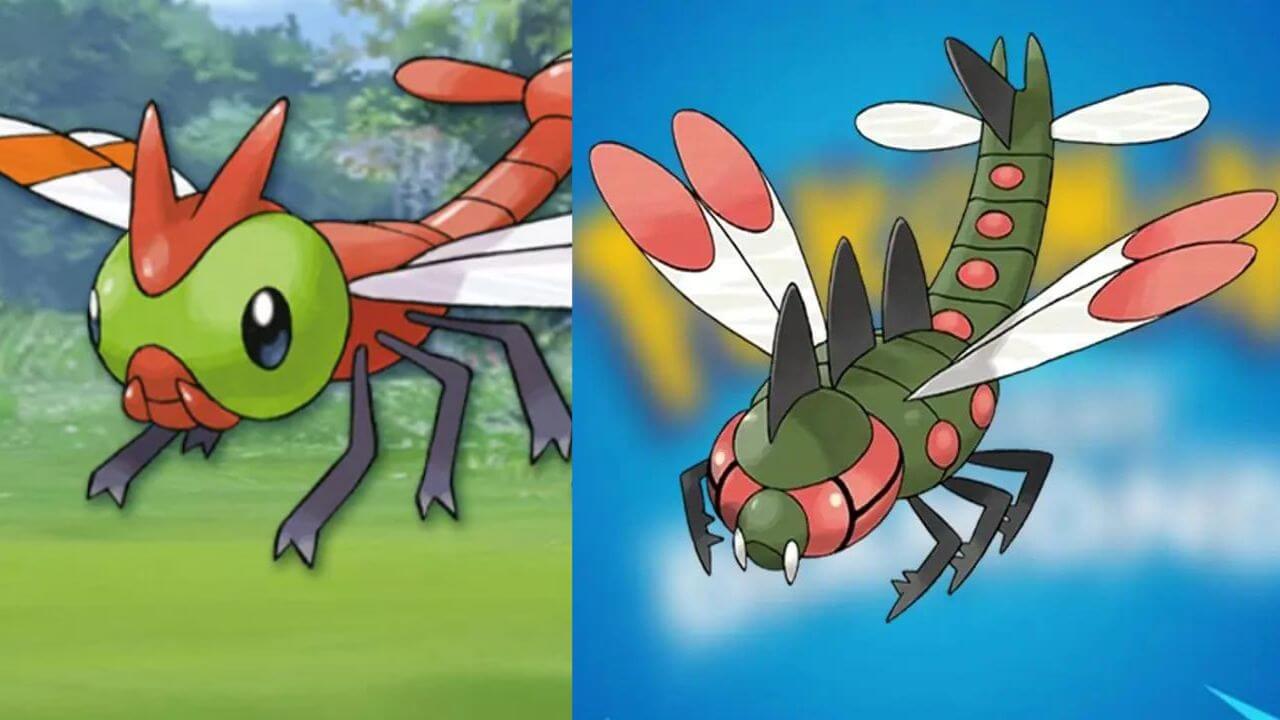 Where to Find Yanma 
Yanma is a relatively common sight in the wilds of Kitakami, and you can encounter it in various locations, particularly in grassy and rocky areas. To help you narrow down your search, we've included a map screenshot highlighting Yanma's habitats in yellow:
However, the most efficient place to find Yanma is along the road between the Bus Stop and Mossui Town. You'll spot plenty of them flying around, but take note that they tend to appear during the morning and daytime. Keep this in mind when setting out on your quest to catch Yanma.
Evolving Yanma into Yanmega 
Now, let's get to the exciting part – evolving Yanma into Yanmega. Unlike many Pokémon, Yanma doesn't evolve simply by reaching a certain level. Instead, you'll need to teach it a specific move: Ancient Power. Fortunately, this process is relatively straightforward if your Yanma is already at a high level.
Check Yanma's Moveset: First, access Yanma's summary and navigate to its moveset. You can do this by pressing the 'A' button on your Nintendo Switch controller.
Remember Moves: Once in the moveset, select the "Remember Moves" option. This will allow you to review Yanma's available moves.
Locate Ancient Power: Look for Ancient Power on the moves list. If you don't see it, don't worry. You'll need to level up your Yanma until it can learn this Rock-type move. In previous generations, Yanma typically learned Ancient Power at level 33, and this is likely the case in Pokémon Scarlet and Violet as well.
Add Ancient Power: When Yanma can learn Ancient Power, add it to its moveset. This is a critical step in triggering the evolution process.
Level Up Yanma: Now that Yanma has Ancient Power in its moveset, all you need to do is level it up one more time. This will initiate the evolution, and your Yanma will transform into the powerful and swift Yanmega, ready to join your team.
You can level up Yanma by keeping it in your party and engaging in battles with other Pokémon. Alternatively, you can use Experience Candies obtained by participating in Tera Raids scattered throughout the game. One Exp. Candy L should be sufficient, but you can also use a regular Rare Candy if you prefer.
It's worth noting that there's no obligation to keep Ancient Power in Yanmega's moveset once it evolves. You can reteach its previous moves or even introduce it to some new moves using the TMs available in the DLC. There's a wide array of TM moves to explore, so don't miss out on the opportunity to enhance Yanmega's capabilities.
Conclusion
Evolving Yanma into Yanmega in Pokémon Scarlet & Violet Teal Mask DLC is an exciting journey that requires a strategic approach. By following these simple steps – teaching Yanma Ancient Power and leveling it up – you'll witness the transformation of this Bug/Flying-type Pokémon into a formidable Yanmega. With Yanmega on your team, you'll be better equipped to take on the challenges that await you in Kitakami. So, gear up, catch that Yanma, and embark on this thrilling evolution adventure!