Spam text messages are just about as welcome as robot calls and junk mail. They appear as unexpected and unwanted messages on our phone screens. It is very frustrating, but it gets even worse. Whoever is sending you a spam text message is most probably trying to defraud you.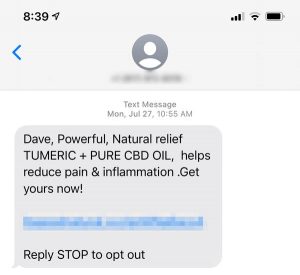 But it is important to note that most spam text messages are not coming from another phone. They often originate from a computer and are being delivered to your phone — at no financial cost to the sender — through either an email address or an instant messaging account.
Although they are painfully annoying, more importantly, spam texts expose you to identity theft,  might install malware on your device, and can end up accessing your personal information. According to the Federal Trade Commission, it is illegal to send spam commercial text messages to a wireless device unless you give your permission to the sender.
But there is no need to worry. You can reduce the volume of unwanted text messages you receive and help prevent them from showing up on your mobile devices.
Do not reply directly to any spam text message. If you do so, the sender can sell your phone number to other spammers who might bombard you with promises of product offers and free gifts.
Treat your personal information as if it is your money. Spam text messages may trick you into disclosing personal information, such as how much money you make, how much you owe the bank, your credit card details, etc. Most legitimate companies do not request such personal information through text messages. When in doubt, look up the phone number of the company, call them, and verify if a legitimate request was made, but do not call the number of the sender.
Do not click on any links that are in the text message. Clicking on a link in a spam text message could install malware that can steal important information from your device. It can lead you to spoof sites that look real but are designed to collect personal information. Malware can also slow down the performance of your cell phone by taking up space on your mobile's memory. Once the spammer has your information, it can be sold to marketers or even identity thieves. It can also lead to unwanted charges on your monthly phone bill. Your wireless carrier may charge you for receiving a text message, regardless of whether or not you personally requested it.
Review your cell phone bill on a regular basis. It is a smart move to check your phone bill regularly and make sure that it reflects the correct amount and your current activity. If there are charges that look suspicious, call the phone company and find out if you are either receiving or sending spam messages from your phone.