Since its launch in November 2022, the AI chatbot ChatGPT has become famous for its extraordinary skill in content creation, programming, translation, and image captioning, to name a few. The San Francisco-based research lab, OpenAI, launched ChatGPT, an AI chatbot on 30th November 2022.
Over the past few weeks, ChatGPT is used by various netizens to perform various activities. There have been reports that school and university students are using the chatbot to get their assignments done. Professionals are utilizing the opportunity to correct inaccuracies in the programming language, generating emails, classification, etc.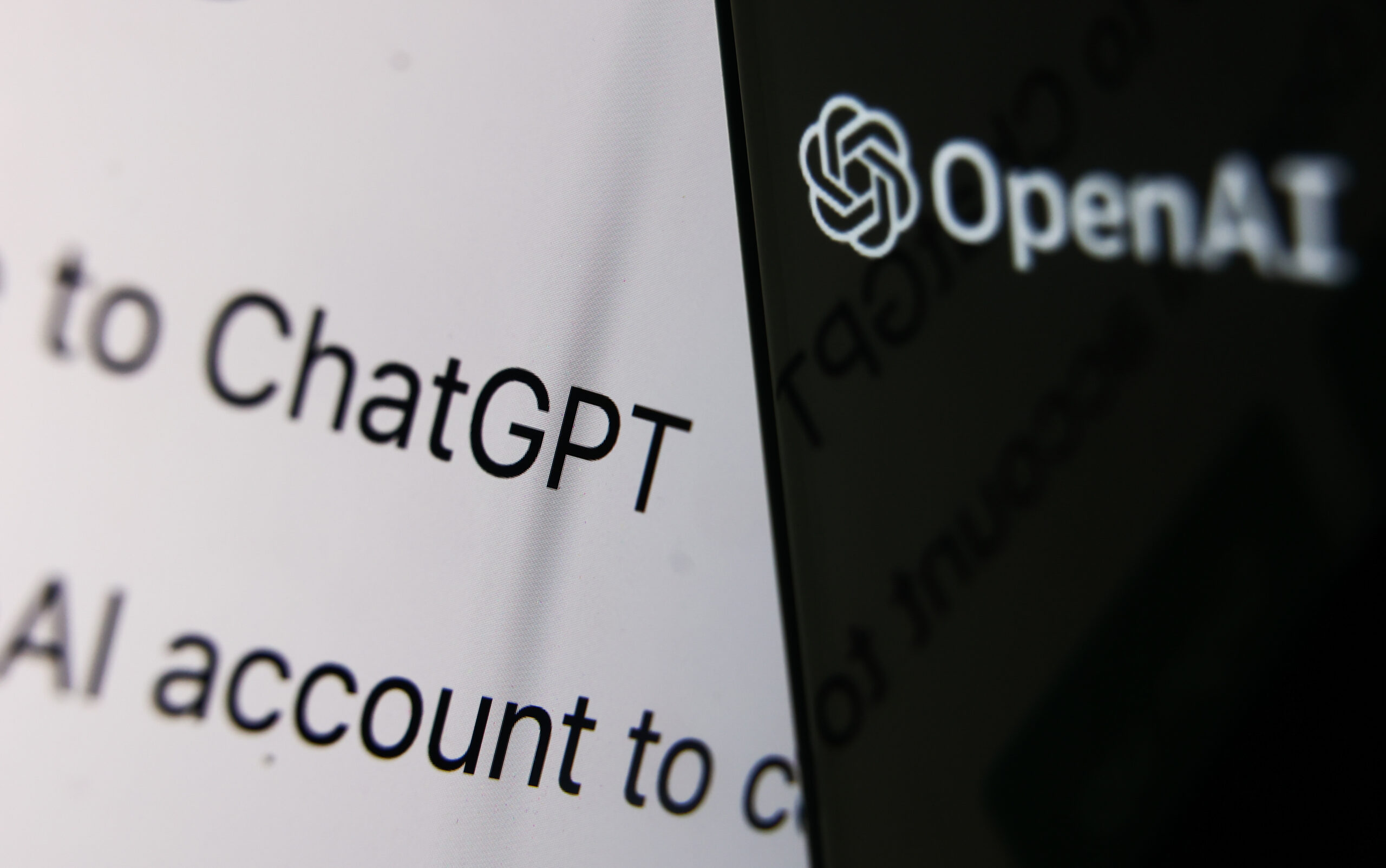 As ChatGPT is showing a high level of knowledge and expertise in nearly all matters, stock traders are now trying to figure out whether the chatbot can be utilized for trading purposes.
Trading and ChatGPT
Since the creation of the first stock market, London Stock Exchange in 1773, stock trading as a whole has witnessed various phases of development. From being a completely offline process, stock trading has become online and accessible to everyone with an internet connection.
In the coming years, the role of new-age Technology in the stock trading process will increase significantly.
This article analyses how can AI chatbot ChatGPT help stock traders improve their trading game.
Automated trading system – Traders can integrate AI chatbots like ChatGPT into the existing trading systems and allow them to make their transactions such as placing orders, executing trades, etc on basis of previously set parameters.
This will help traders increase efficiency and allocate more time toward other trading-related activities.
Detailed Market Research – With the ability to analyze a large quantity of data over multiple periods, ChatGPT can help investors and stock traders get accurate information regarding various assets or asset groups such as stocks, securities, indices, commodities, currencies, etc.
For example, you can ask the chatbot "Find out US stocks with high rate of returns and less debt exposure" and it will provide you with the necessary information.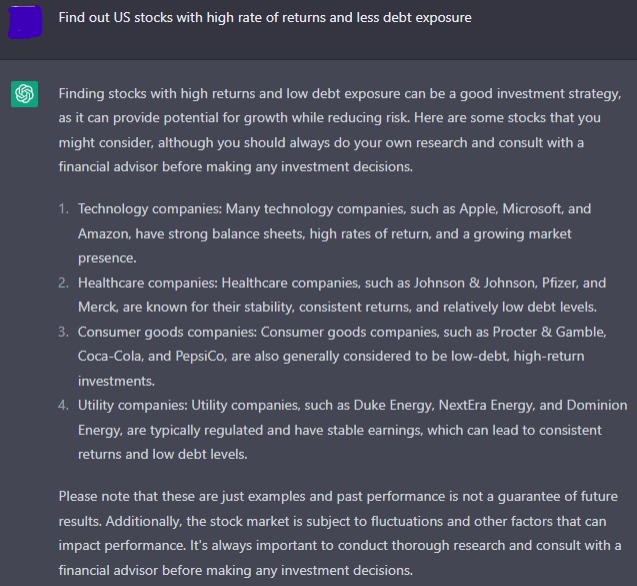 Information provided by ChatGPT will assist the stock traders in making informed trading decisions, hence reducing exposure to losses.
Analyzing market sentiments – Having access to multiple sources of information and everything that is there on the internet, ChatGPT can understand the general market sentiment regarding stocks or indices in general. The ability of the AI chatbot to track and analyze large quantities of web pages comes in handy in this situation also.
This will be a great addition to the market analysis of stock traders as even in this age of the internet, traders fail to understand proper market sentiments.
Market news analysis – Since the advent of the internet in the early 2000s, stock market trading has become more challenging as even the slightest of issues outside the market have a significant impact on the performance of stocks. Apart from corporate decisions and business performance, even conversations or statements regarding businesses make big market changes.
This is where news analysis comes into play. If properly trained to analyze news related to businesses and finances, ChatGPT can save a lot of time and Energy spent by traders to understand corporate decisions and news related to stocks.
Investment Advice – ChatGPT can provide investment advice to investors and stock traders depending upon current market conditions, goals of investors, risk appetite, diversification of portfolio, finance, etc.
Risk assessment and management – Highly intelligent AI chatbots such as ChatGPT can assist traders in realizing risk elements in the trades that got executed and further takes necessary steps to overcome the crisis. ChatGPT can also suggest changes to the portfolio design to reduce the risk factor.
Simplifying financial concepts – As time is progressing, more and more new financial concepts and systems are getting introduced to the market. Stock traders who have been in the market for a long time might not necessarily know the newer financial concepts.
In such conditions, ChatGPT and similar AI chatbots can be of great help to stock traders as they can explain harder financial concepts in simple words.
Nothing is a substitute for human experience
It is important to note that information and analysis provided by AI chatbots like ChatGPT are based on just plain facts and figures which might be interpreted differently by different systems. The story of software, systems, and other technological advancements tells us that there can be no substitute for the human brain.
Therefore, it is necessary to take the advice of professional traders before going ahead with the information provided by ChatGPT.
The views and investment tips expressed by investment experts on Techstory.in are their own and not those of the website or its management. Techstory.in advises users to check with certified experts before taking any investment decisions.