The Atlanta Falcons and Jacksonville Jaguars are set to clash at Wembley Stadium, offering fans a unique football experience across the pond. However, what makes this game even more special is the introduction of an alternative NFL broadcast called "Toy Story Funday Football." This groundbreaking broadcast will transport viewers into the enchanting world of Andy's room, where Buzz Lightyear, Woody, and other beloved toys come to life. In this article, we'll guide you on how to tune in to this extraordinary event and provide you with all the details you need to enjoy the Toy Story Funday Football game.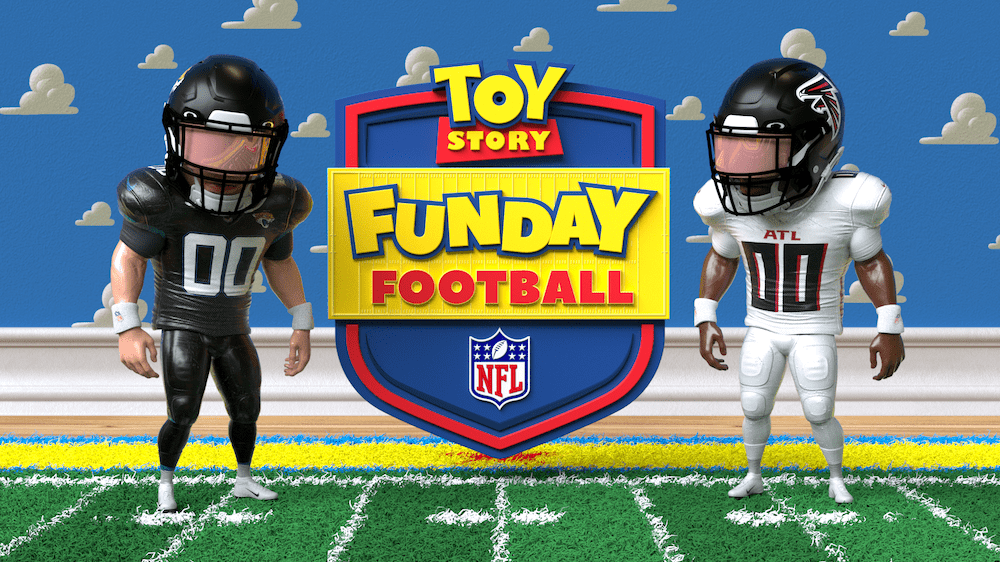 What is Toy Story Funday Football?
Toy Story Funday Football is a one-of-a-kind NFL broadcast that takes football to a whole new level. Instead of watching real players on a traditional football field, viewers will be treated to a completely animated game. The action on the field will be transformed into real-time animation, thanks to the efforts of Beyond Sports and the NFL's Next Gen Stats, which will track player data and synchronize their movements to create this unique telecast.
This extraordinary collaboration between ESPN, the NFL, and The Walt Disney Company brings the Atlanta Falcons and Jacksonville Jaguars game into the enchanting universe of Pixar's "Toy Story." While the actual game takes place at Wembley Stadium in London, England, Disney and Pixar will transport the players and the action into Andy's room, providing a whimsical backdrop for Funday Football.
Each player will have their animated counterpart on a field within Andy's room, allowing fans to witness animated reenactments of every play from the game. Toy Story Funday Football will feature a panel of announcers, including Drew Carter for play-by-play, Booger McFarland as the analyst, and the 12-year-old reporter Pepper Persley for commentary. These animated characters will interact with beloved Toy Story characters like Woody, Buzz Lightyear, Bo Peep, Jesse, Bullseye, and many more.
In addition to the on-field action, the game will include a halftime performance by stuntman Duke Caboom, adding to the entertainment factor.
How to Watch Toy Story Funday Football
Now that you're excited about Toy Story Funday Football, let's talk about how you can tune in and be a part of this fantastic animated football experience. The broadcast will be available on Disney+ and ESPN+ starting at 9:30 a.m. ET. If you prefer to watch on your mobile device, you can access the broadcast through the NFL's app, NFL+.
Match Details
Teams:

Atlanta Falcons at Jacksonville Jaguars

Start Time:

9:30 a.m. ET

Live Stream Options:

Disney+, ESPN+
The Revolutionary Appeal of Toy Story Funday Football
Toy Story Funday Football is a revolutionary broadcast that aims to capture the hearts of fans of all ages. While older fans will undoubtedly appreciate the Pixar nostalgia and the innovative presentation of a weekly football tradition, Disney's NFL adaptation is designed to appeal to a much younger audience.
Following in the footsteps of Nickelodeon, which found success with its NFL game broadcasts in recent years, Disney is taking a unique approach by fully animating the game. Nickelodeon maintained a standard live broadcasting format while infusing it with signature Nick quirks. However, Disney is going a step further by immersing viewers in an entirely animated football world.
Disney and ESPN are well aware that this broadcast will attract a younger audience, and they have incorporated several features to cater to them. Throughout the game, you can expect to see 'how to' videos, trivia, and other demonstrations that will help educate young viewers about the game of football. Additionally, players from the Falcons and Jaguars will participate in the broadcast through pre-recorded interviews and segments, adding a personal touch that resonates with fans of all ages.
Conclusion
The Toy Story Funday Football game promises to be a delightful and innovative experience that merges the excitement of football with the enchantment of Pixar's "Toy Story" universe. With the game set to air on Disney+ and ESPN+ at 9:30 a.m. ET, fans of all ages can easily access this unique broadcast. Whether you're a long-time football enthusiast or a young fan just beginning to explore the world of sports, Toy Story Funday Football is bound to capture your imagination and make football even more enjoyable. So, mark your calendars and get ready to step into Andy's room for a football adventure like no other!