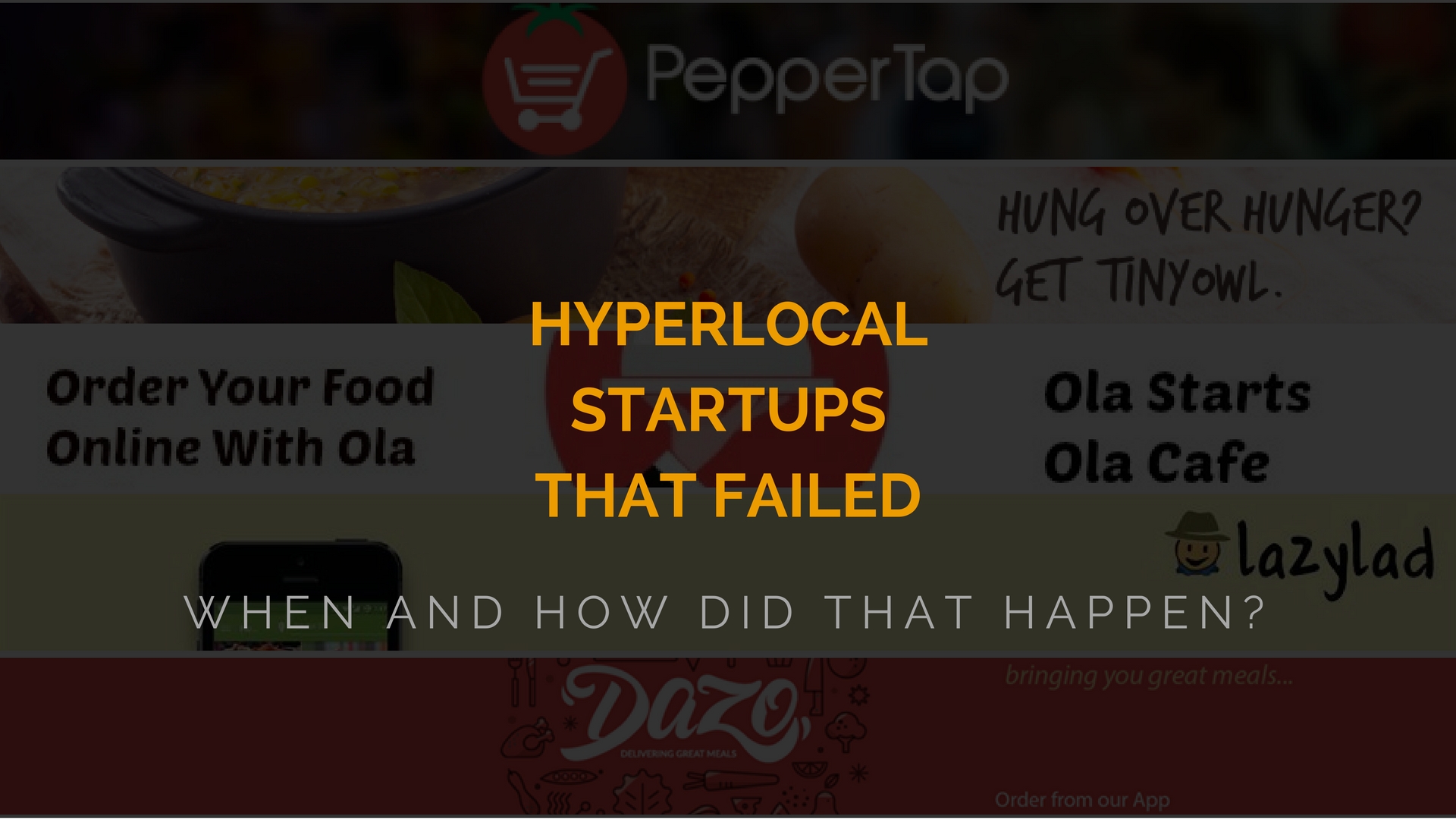 The classic method to start a business-to-consumer model is to start hyperlocal and those are the very principles of the lean model too. Before an e-commerce or any other successful B2C company for that matter, takes off pan India, they generally start by catering to a niche category and a specific target audience. Since early 2014, the Indian startup ecosystem witnessed a fair share of hyperlocal startups that have sprung up at numerous locations across the nation.
Some of the prominent names that have been able to expand at best include Zomato, Big basket, Flipkart nearby, Swiggy, etc, giving its customers access to nooks and corners of their locality with a touch on their mobile phones. Given the big names, there were many others that had to shut down their operations due to various operational and market issues. The success stories might provide you inspiration, but the failure stories can provide you valuable lessons.
Here is a list of few such startups and the information about what went wrong.
Peppertap

Peppertap was a grocery delivery start-up founded in November 2014 by Milind Sharma and Navneet Singh. It got a total funding of $51.2M in four rounds. Within one year of its beginning, it had spread to 17 cities with an average of 20,000 orders delivered daily. They operated on a 100% inventory-less model. But by March 2016, it had to shut down owing to the following reasons.
The integration of the app with partner stores was not perfect. At times, customers were unable to see the entire list of items from a store; sometimes essential items were not listed.
To enlarge their customer base, a lot of offers and discount were given which ultimately drained their funds
To keep up their promise of two-hour delivery service, they had to recruit regularly for their logistics and operations team. This increased the amount of cash that they were burning for every order.
Tinyowl

TinyOwl was a Mumbai-based food delivery startup founded in August 2014 by IIT-Bombay Alumni Harshvardhan Mandad. It had raised Rs.152 crore from various investors but finally had run out of options.
To increase the customer base, too many offers and discounts were given, burning the cash.
A common mistake that a start-up makes is over-hiring. In September 2015, it fired 300 employees after over-hiring. Later, they kept on firing employees leading to weakening of the founder-employee relationship.
In December it launched a new version of the app which would suggest the customer to order a particular dish from a particular store. Customers disliked it and customer base went down drastically.
Homemade food, a business in which they were pioneers was shut down. It was finally acquired by Roadrunnr in May 2016.
Ola Café and Ola Store

India's famous taxi-aggregator Olacabs had started Ola store and Ola café in order to deliver grocery and food on an experimental basis in June 2015. Ola café showed few particular dishes from a handful of restaurants in the vicinity of the consumer. Ola's cab drivers would buy the food from the partner restaurants and delivered whenever there was an order from a nearby locality. Ola café and Ola store were shut down in March 2016 due to the following reasons.
Stiff competition from startups like Swiggy, Zomato and Grofers.
 Logistics charges were not in proportion with the average order value. Thus the margin per order was very low.
Ola finally decided to concentrate on its cab business by introducing car-pooling, ride-sharing and even bike taxis.
Lazylad

Lazylad was founded in April 2015 by IIT-Guwahati alumni Saurabh Singla, Paresh Goel and Ajay Sethi. LazyLad's app gave access to neighbourhood retailers in six product categories that included flowers, daily groceries, fruits and vegetables, stationery, bakery and confectionery items, and meat and seafood. It operated in Gurgaon, Chandigarh, Sirsa, Roorkee, Mohali, Panchkula and Zirakpur.
Owing to very high logistics cost, small margins and high competition it shut down its B2C operations in June 2016 and its founder stated that they have moved onto B2B model instead.
Dazo

Many of you might not have heard of this, but Dazo, previously called TapiCibo was India's first curated food demand platform founded in 2014. The start-up began with its own chefs and partners and worked as an online kitchen servicing a few localities in Bengaluru. As demand increased, it converted itself to an aggregator of restaurants such as Zomato and Swiggy. As demand and supply increased the quality and delivery of the food went out of its hands and finally it had shut down.
Reasons for failure
When it comes to business plans, there is a lot of stress on grabbing the market share and the amount of money that is burnt on that is usually higher than the estimated value. There are a few factors that come into play while deciding the fate of a startup, and so far money has been dominating those factors.
Related Read: A Complete View Of Food Tech Space In India !
Here is a breakdown of some of the key reasons behind the failure.
The average order size in India is Rs.300/- and the logistics company charges a minimum of 10 to 15% which itself comes to about Rs.50/order. Thus the profit margin is very much lesser.
There is too much competition from already existing companies and upcoming startups.
To acquire newer customers and to hold on to the existing customers, the startup has to give a lot of discounts and offers for its products. This puts a huge pressure on the companies financial resources.
Second and third rounding funding has come down sharply.
As the company tries to expand operations, more operations and logistics staff and resources are to be acquired which proves to be uneconomical.
Remember this is a mere observation from a consumer's point of view, but how these startups could've avoided the failure is open to discussion in the comments below !
Image Source: facebook