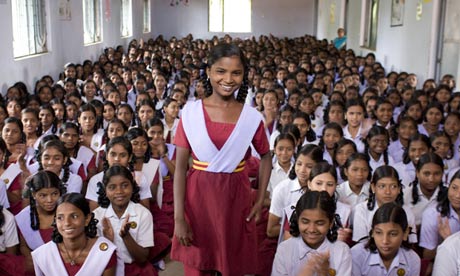 New Delhi, India – March 18,2015: IKEA Foundation, the philanthropic arm of Swedish furniture retail major IKEA, is allocating 25 million euros this year for India to enhance activities on preventing child labour and women empowerment through its partners.
The foundation that had set a target of helping 100 million children globally by this year has already reached 178 million with over 100 million in India alone since starting its activities 15 years ago in Uttar Pradesh.
"We started with a couple of million euros of allocation for India. Today our activities have scaled up and we have earmarked 25 million euros for India this year," IKEA Foundation Head of Communications and Strategic Planning Jonathan Spampinato told PTI.
IKEA Foundation had started activities in India by supporting Unicef and Save the Children to prevent child labour in the cotton supply chain. The number of partners has now gone up to about a dozen now from two with activities spreading to 19 different states in India, he added.
"Our main focus has been on how to increase the number of kids in schools and reduce child labour. We tried to address root causes of child labour and address issues related to their education, health, home and providing opportunities to increase family income," Spampinato said.
Reflecting on how its programmes have grown, he said: "Globally one of our big pictures was to reach 100 million children by 2015. We have exceeded it and reached 178 million with around 100 million in India alone."
When asked about strengthening the foundation's activities in India, considering IKEA is also in the process of rolling out its full-fledged stores in the country, Spampinato said it has been an ongoing process.
"Today we are also focusing on women empowerment. The other areas we are also looking is skill development and programmes for adolescent girls," he said.
IKEA, which had announced plans to invest Rs 12,500 crore in India to set up 25 stores over the next decade, is working on setting up its stores in cities such as Mumbai, Delhi, Hyderabad and Bangalore in the initial phase.
Last September, the world's largest furniture retailer announced a new initiative 'Make More in India' as it plans to double its sourcing from the country to about 630 million euro by 2020.
Considering the long term focus in India, he said IKEA Foundation could increase the number of its partners in India in future.
Moreover, it is also trying to replicate learnings from India in other global locations.
"The first one we are doing that is in Brazil, in the leather supply chain belt in the Amazon. There are similarities in child labour issues related to cotton supply chain in India," he said.
(Image Credits : The Guardian)
Comments
comments