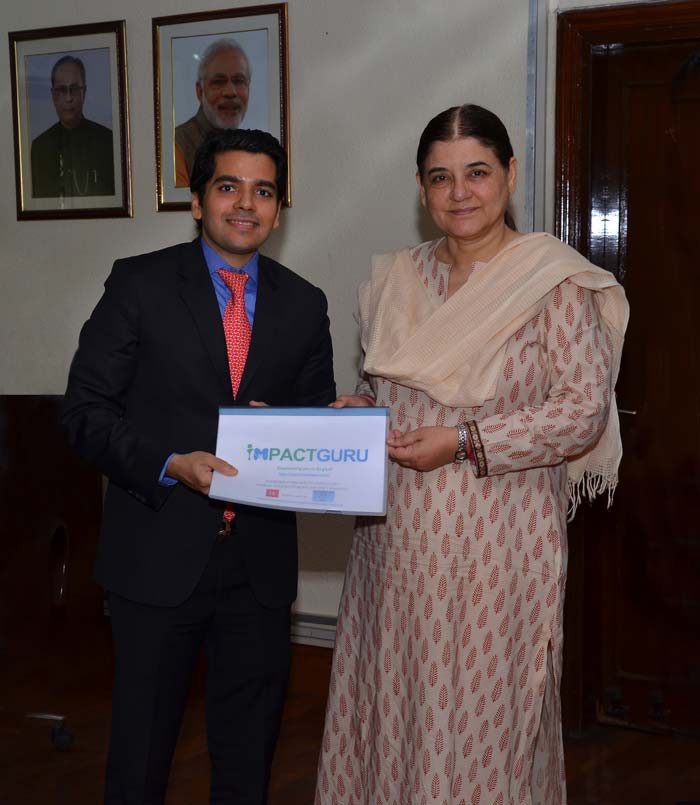 28 April, 2016, Mumbai: Impact Guru, a Harvard Innovation Lab incubated fintech company, has announced a seed round of US $500,000 from RB Investments, a Singapore based venture capital firm, and Fundnel, a Southeast Asia-based private investment platform. Impact Guru and Fundnel have also created a first in the world strategic partnership between a social/rewards crowdfunding platform and a private investment platform.
The capital raised from RB Investments and Fundnel and the strategic partnership with Fundnel will enable Impact Guru to scale social/donation crowdfunding (online) for nonprofits, social enterprises and personal causes; and leverage Fundnel's private investment network for facilitating equity or debt funding (offline) for startups and social enterprises in India and Southeast Asia. Fundnel will select and invite startups and/or social enterprises that have successfully leveraged Impact Guru's crowdfunding platform in India to demonstrate traction to Fundnel's network of family offices, venture capital funds, and accredited investors for international investment and for further scaling within Southeast Asia. Both Impact Guru and Fundnel will engage in the exchange and collaboration of relevant know-how in crowdfunding, technology and deal syndication.
The partnership with Fundnel will particularly help Impact Guru to extend its influence beyond India to attract more philanthropic and/or investment capital from NRIs (Non Resident Indians) / PIOs (Person of Indian Origin) abroad especially those residing in Singapore, Hong Kong, Malaysia, and Indonesia which are estimated to be 2.5mm. The funds will also be utilized to expand Impact Guru's core team, to accelerate product development and sales and marketing efforts particularly for rewards crowdfunding for startups and social enterprises, and to build a larger community of donors, customers, and investors.
Piyush Jain, Co-Founder and CEO,  Impact Guru, said, "The traditional charity and social enterprise fundraising model in India is broken. The alternatives to online fundraising are outdated, expensive, and ineffective. We firmly believe that a full stack crowdfunding solution that combines social, rewards, and investment crowdfunding will make Impact Guru a platform of choice for individuals, non-profits, social enterprises, or startups for all their fundraising needs – be it small or large. RB Investments has a proven track record of helping its portfolio companies scale their businesses in India and Southeast Asia and has already backed several high profile startups.We are certain that RB Investments' expertise and networks will help us accelerate our growth."
Harshavardhan Bothra, Director at RB Investments, commented, "Impact Guru is well aligned with our investment philosophy of investing in companies with great founders, who are tackling a complex multi-faceted problem through a disruptive approach that provides a rapidly scalable business opportunity. Crowdfunding and fintech are at a very early stage of evolution in India and Southeast Asia. The strategic partnership with Fundnel differentiates Impact Guru from other players in the market and will further accelerate its growth. Impact Guru is one of several startups that have been inspired by the 'Start-up India Stand Up India' initiative of the Indian government."
Kelvin Lee, Co-Founder of Fundnel said, "We believe that this exclusive partnership will give us access to more investors and deal flow from the Indian community, which will allow us to provide more products and services to our existing customer base in Southeast Asia. Weaim to further scale our footprint through this partnership in order to gain access to the Indian startup and investment community. Furthermore, with this door into the niche market of social enterprises, we believe that we can provide our new and existing investors with more innovative deals and socially responsible investing opportunities."
Impact Guru is pleased to announce two additions to its Advisory Board: Harvard Business School Professor Ramana Nanda, an expert in entrepreneurial finance and management, and Gaurav Gupta, Regional Director for Asia, Dalberg, a thought leader in the social sector. They will provide mentorship, and strategic guidance to the Impact Guru management team along with other existing members of the Advisory Board.
Also Read-
Bioworld Merchandising Enhances Their Global Presence Through The Acquisition Of VoxPop
GirnarSoft acquires SaaS startup Connecto