According to IIFL Wealth Hurun India Rich List 2022, which was released on Wednesday, billionaire Gautam Adani has more than doubled his wealth in the past year to surpass Amazon Founder Jeff Bezos as the second-richest man in the world. Adani has been growing his wealth at an unprecedented rate of Rs 1,612 crore per day.
The businessman from Ahmedabad saw a 116% increase in wealth over the previous year, or an addition of Rs 5,88,500 crore, thanks to the rise in the share prices of the Adani Group equities.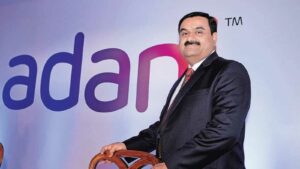 A total of Rs 10,94,400 crore is thought to reside in Adani's 60-year-old bank account.
The first generation entrepreneur's wealth has expanded by an amazing 1,440% over the past five years because to acquisitions and organic growth. The seven publicly traded businesses that make up the Adani group and bear the industrialist's name have seen a huge rise in market value recently.
"From an Indian wealth creation perspective, 2022 will be remembered for Adani's meteoric rise. Briskly expanding his commodity trading company into a coal–to–port-to-energy conglomerate, he is the only Indian to have built not one, but seven companies with a market cap of one lakh crore," said Anas Rahman Junaid, MD and Chief Researcher, Hurun India.
In contrast to the total wealth growth of 9%, Adani's exclusion from the IIFL Wealth Hurun India Rich List 2022 results in a cumulative wealth growth of only 2.67 percent.
The 65-year-old Ambani lost the top spot for the first time in ten years, despite his wealth rising 11% over the previous year. According to the research, his net worth is estimated to be Rs 7,94,700 crore and has grown by 115% over the past five years.
Cyrus S. Poonawalla, the creator of vaccines, and his family climbed the ladder to the third slot on the rich list after seeing a 25% increase in their wealth from the previous year.