Cricket is a very popular sport in world. It is 2nd most followed sport in the world with more than 2.5 billion fans globally.
Hitwicket is an online, strategy-based cricket simulation game. It allows users to own cricket team (virtually) and manage it. It has features like selecting pitch, training and recruiting players.
Hitwicket was founded by Kashyap Reddy and Keerti Singh in 2015.
Recently, we had the honour of conducting and interview with Kashyap Reddy, Co-Founder and CEO of Hitwicket.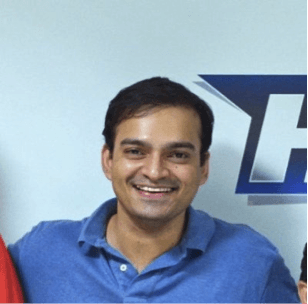 Here is the complete interview:
What motivated you to start this game? Tell us about your journey.
I have been designing board games since I was 11 and later graduated as a Comp Science Engineer from VIT, Vellore. Following graduation, I gained experience in web development and UI/UX design.
As an avid cricket follower and a passionate gamer, I was drawn to the idea of creating the most immersive experience for a global cricket fan and launched Hitwicket. This would be a product that is highly differentiated from the tons of other cricket games in the market with deep game mechanics to engage users for months and years.
As an Owner, Captain, and a Coach of a cricket team the user competes with other users in a challenging journey for glory.
How many members are working in your team?
We are a team of 22 members (Tech, designers, data analysts, product managers). Our work philosophy is centred around building a company like a 'Sports Team' where each member has an important role to play for the success of the company as a whole with an operational model optimised for speed and innovation.
Our pioneering journey incorporates the use of new age technologies like Artificial Intelligence and Machine learning.
Can you tell us something about upcoming features/new version of the game?
To further our mission of building India's first mobile Esports IP, we will be launching our new game, Hitwicket Superstars.
The new game will have vernacular support and audio chat features to enhance user engagement. We will be introducing female characters in the game to make it more inclusive and show our support for the rising Women's cricket. The new game will have features geared towards user generated streamable content.
Hitwicket Superstars is in Beta, with a full launch scheduled for early July. We've crossed 700,000 users and expect to hit 4 Million users by the end of the year.
Users are spending close to 28 minutes per day on the game. The product will be in a continuous state of development and evolution to keep the content fresh as users progress in the game. Soon users will be able to use vernacular support and GPS based match-making.
The T20 matches on Hitwicket is popular among youths, but there is a certain set of players/users who want One-day and Test matches on Hitwicket platform. Any plans for it?
From our experience and data on user sessions and session length, we have seen user's preference for multiple short sessions. However, we do understand the novelty of one-day and test matches for a certain user cohort. We may introduce it in future as a special game mode.
Your offline meet-ups have attracted many users. When are you visiting tier-II cities?
One of the most rewarding experiences of building Hitwicket has been the love users have shown for Hitwicket. We are one of the few games in India to have triggered an offline engagement among the users. All Hitwicket meet-ups have been organised solely by our users to catch up with other users in the game and show their passion for Hitwicket and cricket. As we include vernacular support in the new game, we are sure to see Hitwicket users from tier-II, tier-III cities and towns organising offline meetups.
Who are your competitors?
We are in the space of digital entertainment which is a highly competitive market, every app is competing for a user's screen time from social media to mobile games to video content. We see Netflix, Fortnite, PUBG as our indirect competitors who have been able to deeply engage with their users for months and years.
Comments
comments