Isha & Akash Ambani
Reliance Industries Limited (RIL) chairman Mukesh Ambani's twins, son Akash and daughter Isha, were recently inducted into the boards of Reliance Retail and Reliance Jio Infocomm as directors at a board meeting of the two firms. For a few months now  Akash has been working towards RIL's re-entry in telecommunications with Reliance Jio. Isha was a business analyst at McKinsey & Company's New York office before being inducted in RIL group firms' board. Akash Ambani did his undergraduate studies at Brown University in the US while younger brother Anant is pursuing studies in the US.
Jai Anmol Ambani
Reliance ADAG chairman Anil Ambani's elder son Jai Anmol, joined group company Reliance Capital in June this year, is expected to play a larger role in the company in a couple of years. Jai Anmol has a degree from Warwick Business School in the UK, his younger brother, Jai Anshul, is pursuing higher studies in the US.
Shashwat Goenka
Shashwat Goenka, son of RP-Sanjiv Goenka Group chairman Sanjiv Goenka, has taken charge of Spencer's Retail chain, making the 23-yearold Wharton Business School graduate the youngest business head of the country's organised retailing business.
Ashni Biyani – Director, Future Ideas
The first woman in the family to enter the business, Ashni, daughter of Future Group CEO Kishore Biyani, has brought in designled thinking within the group. Ashni graduated as a textile designer and has attended courses on scenario planning at New York's Parsons School of Design and the Summer Institute of General Management at Graduate School of Business, Stanford.
Tanya Dubash, Nisaba and Pirojsha Godrej
All three children of Godrej group chairman Adi Godrej have joined the business in various roles. Harvard Business School alum Tanya Dubash, has been with Godrej for more than 22 years and is executive director and president, marketing, and heads the strategic marketing group.
Nisaba Godrej, an alumnus of Harvard and Wharton, drives human resource policies and innovation at Godrej Industries Ltd and its associate companies. She wants Godrej to attract and develop outstanding talent and make the culture more agile and innovative. She's also credited with turning around Godrej Agrovet Ltd, now one of the fastest-growing units of the group.
Pirojsha Godrej,  runs the real estate business of the conglomerate as managing director of Godrej Properties Ltd (GPL). Articulate and personable, he's been a hit at press briefings and with shareholders at annual general meetings. With an undergraduate degree from Wharton Business School and a post-graduate one from Columbia, he was a management trainee at GPL from 2004 to 2006. He interned at the ministry of external affairs in the summer of 2003 and has numerous research papers to his credit.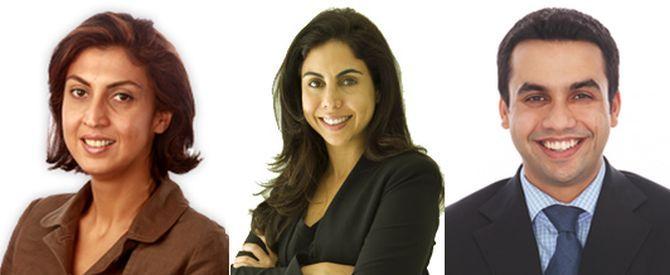 Nandini Parimal
Nandini Piramal is the Executive Director, Piramal Healthcare Limited. Piramal Healthcare is an Indian business conglomerate, which is headquartered in Mumbai. Nandini is responsible for the Over-The-Counter Business of Piramal Healthcare. Ms. Piramal works closely with Mr. Ajay Piramal in taking the business to the next level. She also contributes to Piramal Foundation which conducts sustained community activities in health, education, rural employability and youth empowerment. Prior to her induction on the Board, Ms. Piramal was the General Manager – Strategic Marketing, during which time she was closely associated with the Pharma Solutions Business. She played a key role in implementation of Operational Excellence Projects at the Company's locations in UK and Canada. She has also been actively involved in due diligence of acquisition and joint venture targets.
Comments
comments