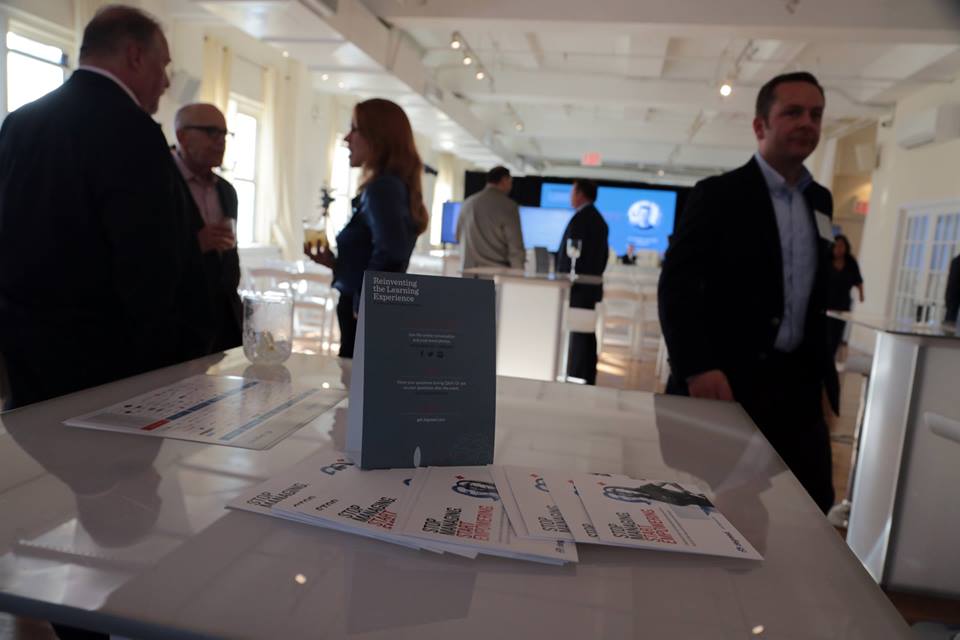 There is a rough estimate that about 80% of entry-level IT jobs will get automated. Automation would require lesser workforce and with 25% to 40% of the workflow already automated and with technologies like AI and cloud computing on the rise, there is a projection of about 45% of people losing their jobs in India.
In light of this, technology professionals must redefine their resumes and upgrade their skills to ensure that they keep up with the fast transforming markets. Upgrading their skills will also ensure that they don't face stagnation and redundancy in their career.
Technology platforms have been trying bridge the issue of parity gaps for years. To dive deeper into the issue, we recently caught up with Kat Kennedy, Chief Product Officer of L&D platform Degreed who is currently in India currently for a UN sponsored seminar on gender diversity.
For starters, Degreed was setup in 2012 by career long learning evangelist, David Blake, San Francisco. Degreed's skill benchmarking feature allows curated L&D for users decoding their digital body language even at the enterprise learning level. The company has raised over $76 million till date, and closed their Series C of $42 million yesterday.
Degreed currently works with 100+ clients worldwide and 10 significant clients from the IT/ITeS/Mfg segment in India (in less than 6 months of setting up base here) and Degreed itself ranks very highly on gender diversity goals.
Here are a few excerpts from the exclusive interview.
What according to you is the most important problem that organizations face in today's date when it comes to finding talent?
The most important problem is knowing what skills your business needs to thrive, what skills your people already have, and what skills still need to be developed. When business strategies evolve, so does demand for workers' skills. When that happens, organizations need people ready with the skills their business needs to survive everything that comes next. And yet 56% of workforce skills don't match shifts in companies' needs.
And it's a big problem for businesses: 77% of CEOs say lack of key skills is a serious threat to their businesses' growth prospects.
These disconnects show that traditional approaches to education and training – and to quantifying and communicating people's skills – are not responsive enough to keep up with the pace of change. These days, careers span 60+ years, but many critical skills have useful lives of only a few years.
What do you think are the bigger microeconomic factors that have caused the skill problems that organizations face?
People build skills over time, stitching together infinite combinations of courses, books, articles, videos, podcasts, experiences, and coaching. And it comes from thousands of sources, including startups, non-profits, media brands, and businesses as well as academic, corporate classrooms and LMSs.

But most of those resources don't interact with each other and therefore, don't give anyone a complete, up-to-date view of all the learning that's happening, or our skill-sets.
A big factor that is causing a problem for organizations is they don't have a universal way to measure actual skill level. Organizations use signals like education and experience, which provide more opportunities for those who have traditional education and experience.
If organizations have a true universal way to measure skill level, regardless of age, race, or gender, they can see what gaps exist in their current workforce and fill them, and they can see the best candidates for open jobs based on real skill level.
That's why Degreed exists – to empower people and businesses with the resources, tools and insights they need to continuously discover, build, and measure the skills they need to tackle whatever's next.
How is Degreed solving this problem and what are you doing differently than any other learning platforms?
Degreed is the only learning system that's designed for people's actual learning habits. It is open, diverse and lifelong. It integrates all the resources your workforce uses to learn and grow, including your internal systems (LMSs, etc.) and the content you've already paid for, as well as millions of free and low-cost courses, videos, books, articles, podcasts and more from thousands of sources.
Degreed's, Skill Certification, is the first universal, scientifically-backed way to quantify skill level and with this product, we're able to help companies solve their internal skills gap issues.
As a whole, Degreed enables you to personalize development at scale. Degreed uses data science and AI to provide both workers and L&D teams with tools (what do you need to learn next?), insights (who's learning what?) and feedback (who's got what skills?) to guide and focus development on the knowledge and skills that matter – to your business and to their careers.
Tell us more about some of the important results that you have been able to drive for your clients.
Active users on Degreed are 50% more likely than non-users to say they're more productive, more effective in their jobs, and growing their careers.
9 in 10 Degreed clients agree they're building more productive cultures, adapting to shifting needs faster, and learning more efficiently.
Degreed has won more than 25 industry awards for innovation and we're still just warming up.
A few specific client examples:
At Purch, leveraging Degreed results in huge time savings. Traditionally, one hour of classroom training required eight hours of development. With Degreed Pathways, Juli can curate content from the best sources. Two hours of training takes about 2 hours of development time. Now, curriculum development now takes ⅛ of the time.
Employee engagement at Mastercard has taken off organically. Employees are forming their own groups, creating content pathways, self governing and learning on their own. Degreed feeds into each learner's curiosity, which fuels their learning culture.
Since starting with Degreed, new hires at Hirevue are closing deals within a couple of weeks, where it might have taken a year or more prior. Their learning manager attributes the improvement to the structured first four weeks being laid out within Degreed pathways. New hires now have easy and immediate access to what they need to hit the ground running.
Your views on the issue of gender inequality affecting the workplace.
There is no country in the world where women earn the same as men, and they are also less likely to advance as far in their careers as men. If the current rate of change continues, women will not reach pay parity with men until 2119.
The aim of gender equality in the workplace is to achieve broadly equal outcomes for women and men, not necessarily outcomes that are exactly the same for all.
The Peterson Institute for International Economics released a study a few years ago that said there is a positive correlation between the presence of women in corporate leadership and performance. We want our companies to perform better? We need more women in leadership and it's up to business leaders to make it a priority.
In spite of a lot of women working at the top ranks in the industry we still see a pay disparity. What according to you is the reason for that? And how can we reduce this pay gap?
Even when women and men do the same work, there is still a pay disparity – especially in higher paying jobs. I believe this is because until now, we did not have a universal standard by which to measure skill. Much of the compensation depended on the ability to navigate that particular conversation.
In a recent Glassdoor survey, 40% of men said they were confident they will receive a pay rise over the next year; just over a quarter of women said the same.
Transparent gender agnostic skills and experience based performance evaluation is the single mantra to bring pay parity.
Tell us more about your concept of skill parity deciding pay parity
Skills are the currency for career growth and employability. Customer demands for any business are evolving. So is the demand for skills to remain engaged with customers. It cannot be left to mass resources that are currently doing the rounds online.
You need a mentor to guide you through learning, handling leadership roles, charting your path to success and obviously getting a fair compensation. It is a two way street – employees need to recognize the need for measurable and trackable career long learning and employers need to reward and recognize better skilled workers for higher positions within the organization.
How would you see the industry 10 years from now in terms of gender and ethnic diversity?
The industry needs to take a wide view of their workforce, including bench strength to fastrack its gender diversity goals. Technology is rapidly changing the way businesses are done worldwide.
This is opening up a whole new segment for learning and development at a speed that no one could ever imagine. In a country like India with a huge demographic dividend, the opportunity to have matured gender and ethnic diversity is not a far fetched dream. The caveat being AI led curated learning for the span of everyone's career.
Also Read: Fundamentals Of Building An Inclusive Workplace: Key Insights From Dell EMC India Leadership Team
Comments
comments