Do you dream of beginning a venture on your own, being your own boss and working to realize your dreams? If entrepreneurship is the path that you have chosen, then Kerala is the place to be. Let's take a look at the Kerala startup scenario.
How did Kerala Start up?
A group of friends studying at College of Engineering, Trivandrum, wanted to do something different. The result was MobMe Wireless, a startup that the group established in 2006, while still on campus. The team did not have too many role models and learnt on the job, the hard way. In the process, the students even mentored a few others who were keen on becoming entrepreneurs. This, in turn, got them thinking about having a technology incubator, one that would help entrepreneurs in a more organized manner.
Thus, the way was paved for a new ecosystem for entrepreneurs from Kerala. As luck would have it, Kris Gopalakrishnan, co-founder, Infosys (a tech legend and a native of Kerala) also believed in this plan to herald something new and different for students planning to startup.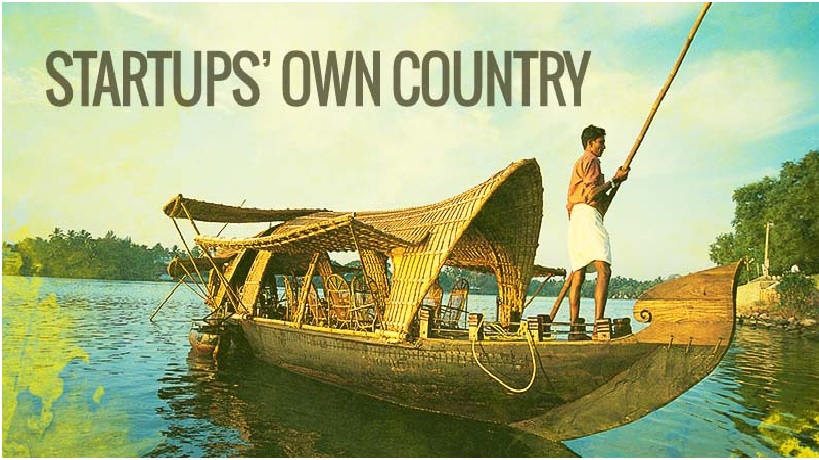 Kerala's Startup Village
Thus was born Startup Village, God's Own Country's first incubator, with the idea to support maximum number of youngsters exploring entrepreneurship by giving them a platform. Startup Village began operations in Kochi in April 2012 and has been established as a not-for-profit society under the Travancore-Cochin Literary, Scientific and Charitable Societies Registration Act, 1955. It has been set up under the National Science & Technology Entrepreneurship Development Board scheme of the Department of Science and Technology.
Useful Link: Register your startup now!

Apart from offering physical infrastructure, Startup Village ensures that entrepreneurs receive help in training, networking, mentorship, connecting with angel investors or seed funding support. It does not directly invest in the ventures nor does it take a stake in them, but it offers seed fund support for ventures that require it. The money for this comes from the Seed Fund Support Scheme for Start-ups in Incubators, an initiative of the Department of Science and Technology.
The incubator operates from a 20,000 sq ft facility in Kochi and a 2,000 sq ft facility for start-ups in Kozhikode. Start-ups applying for incubation can be associated with the incubator as a physical incubatee, operating from the space provided by Startup Village, or a virtual incubatee, which means they will operate from their own space but have access to all the services provided by Startup Village.
The Beginning of a New Era
After focusing and building tourism in the State, Kerala is now single-mindedly focussed on one thing: building a startup ecosystem. For years now, there has been migration of people from the State to different parts of the world. Believing that this has resulted in a significant 'brain drain' which, in turn, has affected the knowledge economy of Kerala, the government of Kerala has created the Kerala Startup Policy. It aims to build an entrepreneurial ecosystem in the State.

Kerala Startup Mission
Kerala Startup Mission (KSUM) formerly known as 'Technopark Technology Business Incubator'(T-TBI) is the India's first and most successful Non Academic Business Incubator, hosted and housed inside the Asia Largest IT Park Technopark. It is a joint association of Technopark, Trivandrum and the Department of Science and Technology (DST), Government of India, to help the technology business start-ups, started operation during 2007. KSUM is the pioneer champion among incubators which functions with a vision to support and nurture the startups in Kerala.
The Kerala Startup Culture
From the smartphone application that could be used to book Onam payasam to the one that almost functions like a second brain, it's raining apps developed by Keralites in the digital world. Rise in Internet penetration in the state, increase in the number of student entrepreneurs and growth in smartphone usage seem to have paid off well, as Keralites are bagging awards in the app world. Kerala is seeing a rise in electronic hardware-based startups thanks to the proclivity of engineering students in the state to opt for the Electrical and Electronics streams.
Coming from a society that discourages entrepreneurial ventures as it promises no security, the Startup Village has changed the scene. Today, a good number of fresh graduates are starting companies and developing apps using the facilities provided by the Kerala startup scenario.
Most of these popular apps from Kerala are more than just timepass apps. They are socially relevant ventures that look to make a difference.
The Harbinger of a New India
All these startups employ dynamic, young people from Kerala and outside, in the process adding their bit to the building of a thriving and self-sufficient ecosystem.
Ask these young entrepreneurs, why they're not at a regular high-paying job, after all most are equipped with solid engineering degrees. And pat comes the answer, "we want to make a difference, we want to build the best products out of India and we can do it". Now, this is the voice of a new India.